Danielle Andersen on the Bet, Raise, Fold Documentary and Life After Black Friday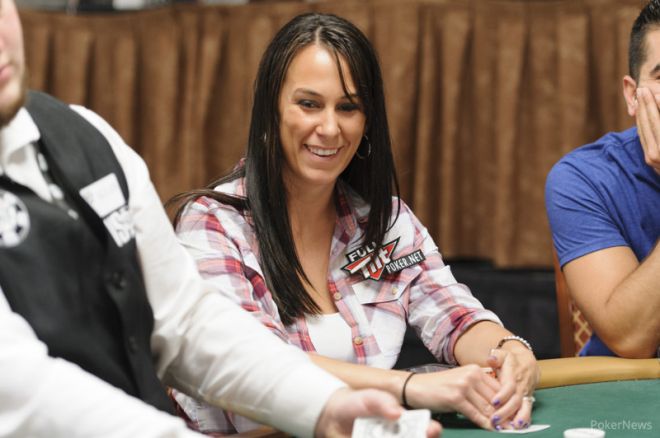 A lot has changed for Danielle Andersen in the last two years. The unconventional online poker player from Lake Crystal, Minnesota saw her ability to earn a livelihood taken away by the U.S. government on April 15, 2011, but with despair sometimes comes opportunity as Andersen found out when she was approached by the creators of Bet, Raise, Fold to be a subject of their groundbreaking poker documentary.
Born on May 21, 1984, Andersen grew up as a quintessential Midwestern girl. It wasn't until she met her future husband, Kory Andersen, that she discovered the game that would change her life.
"He was my boyfriend at the time," Andersen explained. "He and his buddies used to play all the time, and I used to play with them. I was better than them, and it was pretty obvious. My husband convinced me to put some money online. I put in $50 and ran it up."
Andersen went on to marry the man that introduced her to the game, and the two ended up having a son, Easton, who is going on six years old. Before long, Andersen began to ascend the online poker ranks, though her husband's affinity for the game remained stagnant.
"Straight off the bat, I was better than my husband," Andersen laughed. "He loves the game and he still plays it as a recreational player, but he just never really got to a point where he could consider making it a career, which is okay I think because having two professional poker players in the family my be a little much. The balance we have is nice."
Things were going well for the all-American family right up until the day Black Friday struck and left Andersen without a way to contribute to the household. Like so many other players, she initially had no choice but to sit and wait. When it became apparent that online poker wasn't coming back anytime soon, Andersen had a choice to make — what to do next?
Moving out of the country wasn't a viable option as neither Andersen nor her husband were interested in uprooting their family, so the next logical choice was to transition from the virtual felt to live play, something that has proven easier said than done.
"It's definitely different. It took me a lot longer to adjust than I thought," Andersen admitted. "I'd say the first year that I was playing, which was only seven days every other month, I was break even. I kind of had to tone it down a little bit. It's very different going from six-max online to nine-handed live, but I feel I've adjusted much better now, and I'm confortable with where I'm at."
Amidst all of this turmoil, Jay Rosenkrantz and Taylor Caby approached Andersen via the TwoPlusTwo forums to be featured in a new poker documentary. She agreed and this past summer that film, titled Bet, Raise, Fold, premiered during the 2013 World Series of Poker.
"The consensus has been pretty positive, but I'm not sure the people who have negative things to say are going to come up and say them to me," Andersen said of the film's reception. "I've had quite a few people come up to me and talk to me about it, and it's refreshing to hear that people are thankful that I kind of represented that side of poker. I think there are more family-type grinders out there than are represented in the media. I think it's been positive, and it's certainly been cool."
Indeed, the general consensus has been that Andersen was one of the stars of the film, which no doubt amplified her profile as she became an instant celebrity in the poker world.
"Andersen was a perfect choice because she is the exact opposite of what the public perceives to be a typical online poker player," PokerNews' Rich Ryan explained in his review of the film. "Seeing her parents, who generally have no clue what online poker is about, talk openly about trusting her decision to become a professional is very interesting, and her son is hilarious and elicits plenty of smiles."
While her appearance in the film hasn't made her a fortune, it has opened a few doors including a flirting relationship with Full Tilt Poker, who sponsored her in the 2013 WSOP Main Event and then flew her over to the UKIPT Galway Festival last month. It was Andersen's first time in Europe, and she was intent on experiencing Ireland to the fullest both on and off the felt.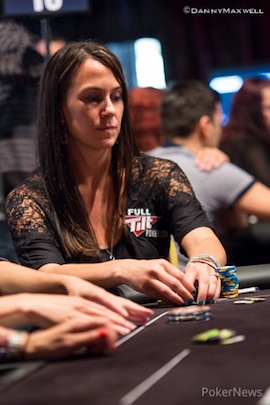 "To be honest, I was pretty focused on tournaments, but other than that I was basically balancing drinking with not drinking, so I ended up not playing too much poker," Andersen explained. "It was more about enjoying myself, enjoying Europe. It was a great experience and I just wanted to take it all in. I can play poker anywhere."
The trip was the longest she had been away from her family, and while that was painful, she was able to experience some places she probably wouldn't have had the chance to visit otherwise including Dublin and the Cliffs of Moher. As for her relationship with Full Tilt Poker, Andersen isn't sure where it's going, if anywhere, but she is appreciative for all that they've done.
"FTP put me in the Main Event this year, and I thought it was an appropriate ending to my story," Andersen said. "I was very thankful for that opportunity, and then after that they flew me to Galway. We had the premiere there, I played the Galway Main Event for them — it's just been awesome for me so far. It's nothing long term, but even if I never do anything else with Full Tilt, I'm still very appreciative of what they've done for me."
As for the future, Andersen is keeping all of her options open. "If it becomes apparent that I'm not going to be able to play online poker in Minnesota, which I'm thinking is probably the likely scenario, we would very seriously consider moving somewhere," she said. "My husband and I definitely talked about it a lot. In fact, we're still talking about it. It's still a possibility, we're still in discussions."
Until then, Andersen, who prefers to play cash games, will continue to travel to select stops to in the hopes of adding to her poker résumé, which most recently includes a 44th-place finish in the 2013 World Series of Poker Ladies Championship for $3,709. She'll also continue to enjoy the limited fame that has come with Bet, Raise, Fold, which she suspects won't have a sequel anytime soon, if at all.
"It doesn't bother me at all, to be honest," she said with a smile when asked if she enjoyed the attention. "I find it flattering when people come up and want to talk to me. I think it's cool."
"My goal is to be able to continue making a living while playing poker and maintain the freedom and flexibility that I have," Andersen finished. "It would be nice if I could turn it into making money some way other than just playing — it's kind of nice not to have all your eggs in one basket—so sponsorship stuff would be great, but I feel like stuff like that is out of my hands and there is nothing I can do about it. I just want to continue improving."
For more on Andersen, check out the interview she did with Laura Cornelius' at the Full Tilt Poker UKIPT Galway screening:
Get all the latest PokerNews updates on your social media outlets. Follow us on Twitter and find us on both Facebook and Google+!