Full Tilt Poker Montreal: Duhamel Discusses Poker in Quebec, the November Nine, and More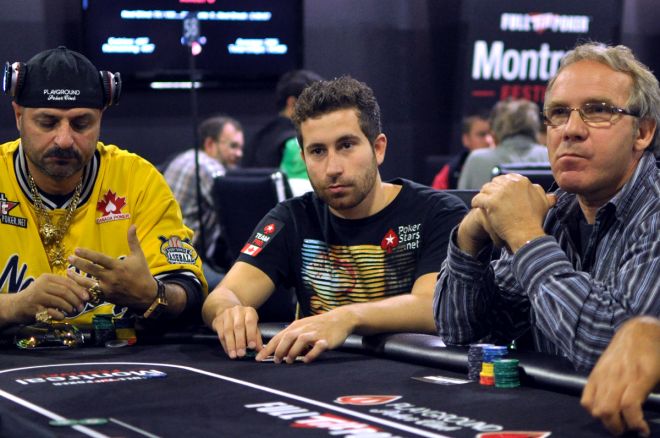 Chants of "Oleeeeeeee! Ole! Ole! Oleeeeeee!" filled the Penn & Teller Theater roughly three years ago, as a young French Canadian named Jonathan Duhamel posed with his nearly $9 million in winnings and the 2010 World Series of Poker Main Event bracelet.
The bracelet Duhamel received that night has since been stolen in an unfortunate series of events, but the 2010 champ has added over $3 million in career tournament earnings. In the last decade, only Joe Hachem (over $4 million) has earned more money after winning the Main Event, and the 2005 champ has a five-year advantage.
Appropriately, Playground Poker Club opened the same year Duhamel, who grew up roughly 15 minutes away in Boucherville, Quebec, Canada, won the big one. The 2010 champ is currently grinding on Day 1b of the Full Tilt Poker Montreal Main Event, and was kind enough to speak with PokerNews during a break.
PokerNews: How is the day going thus far?
Jonathan Duhamel: It's going a lot better than 1a [laughs]. Yesterday I was out after three levels, now I have 50,000 from the 30,000 starting stack, so it's much, much better. I have a pretty good table, I'm having fun, and I have a [Toronto Maple] Leafs fan at my table so I can make fun of him a little bit [laughs].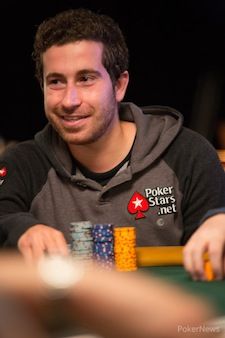 Is table talk something you're accustomed to doing, or are you assuming the role as a hometown guy?
Well, I'm not that good with English, so it's a lot easier to speak in French. In English, before saying something, you have to think about it. So it's tougher to have a quick answer when someone says something, but in French it's easier for me. And those guys aren't that experienced, so it's easier to try and make some moves. I'm trying to do a little bit of that today, and so far it's going pretty well.
Beyond the language, how fun is it to be in your home province of Quebec and playing at Playground?
It is a lot of fun. Usually, I don't play a lot of $1,000 buy-in events, but because it was in Montreal and because it was at Playground – such a nice place, and Full Tilt is doing a great job – it's a lot of fun to be here. It's fun to be in Montreal, it's not far away from home, I know all of the spots, where to go out and where to go for dinner, and people are just nice. I'm happy to see everyone, and so far it's a big success. We already smashed the guarantee, and it's the first of many tournaments here.
You've witnessed the growth of poker in Montreal – and I may have something to do with a certain tournament win in 2010 – can you talk about the growth of poker in the area?
If that had something to do with it, it's a good thing. I know there are a lot more people playing, and you see a lot of French Canadians making big scores on the international scene, which is pretty cool. We have another [French Canadian] on the WSOP final table, so we'll all be there in November railing him and trying to help him win. The WPT came last year, Full Tilt is here now, we're starting something that's going to get bigger and bigger, and you're going to see some major tournaments here hopefully in the next few years.
You obviously get stopped for a lot of photographs and to have a chat with fans, but it probably happens a lot more here. How hard is it to be a poker ambassador?
It depends if you're tired or not [laughs], it's a big thing. When you're tired, you don't want to take pictures, you don't want to talk with everyone and stuff like that, but when you're well-rested, it's just part of the game. People are always nice to me, and when people are nice to me, it's easy for me to be nice with them. It's easy to take a picture, or talk, or anything. For some of those guys they might have one chance to see me playing, so it's a big thing for them. So I'm just happy to do it. It can be draining, it takes a lot of energy, but at the end of the day it's fun. It could be a lot worse.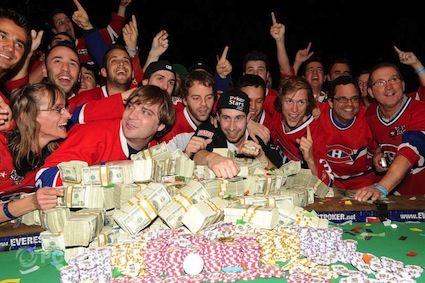 You alluded to Marc McLaughlin making the November Niner. As a former champion, what advice would you give to the players who will be returning to Las Vegas for the final table?
Enjoy it. Have some fun. It's a once-in-a-lifetime experience, so you want to make the most of it. Those three months leading up to the final table are very draining. You don't sleep much. You think about it all the time. But at the end of the day, just try to enjoy it, especially when you get to Vegas. The first few days are going to be really special, so try and relax. Poker is obviously super important, but having all of your friends and family there is really special.
Did you notice any dynamics that changed when you returned for the November Nine?
Some of them changed the way they played, but not all of them. Most of them played the exact same way they were playing. Some of them will have coaching and will understand the pay jumps so they will play tighter. I remember in 2010, Filippo Candio played completely different than when he played before, but then some guys played the same. Joseph Cheong played exactly the same — super aggressive. You have to figure out who is going to change and who isn't, and adjust to that.
Are you headed to EPT London after this event?
Oh yeah, absolutely. My flight is already booked to get there in time for the £50,000 High Roller. If I do final table this one I won't make it in time, but that's a win-win scenario. EPT London is going to be a big one, of course, then World Series of Poker Europe in Paris, then I'm off to Barcelona for some shootings and Vegas for Marc. There's a lot of fun stuff coming up.
Get all the latest PokerNews updates on your social media outlets. Follow us on Twitter and find us on both Facebook and Google+!