Poker to Help 7-Year-Old Weston Keeton Receive Heart and Double Lung Transplant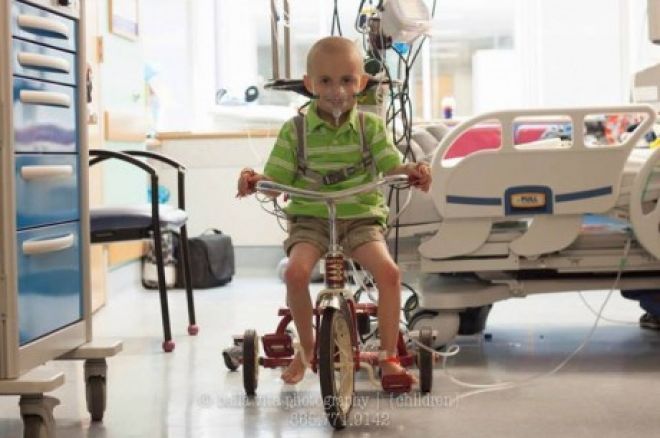 For the last two years, a seven-year-old boy named Weston Keeton has been awaiting a life-saving heart and double lung transplant at the Children's Hospital of Philadelphia. This has been especially taxing on the Keeton family as Weston's mother, Julie, and his six siblings have spent time away from their Tennessee home while his father, Adam, shuffles back and forth between Tennessee and Philadelphia to work to keep up with bills and health insurance. Now, with the help of family and friends, the Keeton's are turning to poker as a way to help their son.
On Tuesday, December 10, the "All In for Weston" charity poker event will take place at 7 p.m. at Chickie's and Pete's Crab House and Sports Bar at 1526 Packer Avenue on South Philadelphia. The $175 tax-deductible buy-in includes food, soft drinks and a donation to Weston. In addition to a poker tournament, there will be both Chinese and silent auctions for donated items such as restaurant certificates, spa/salon items, wine tastings and tours, skincare products, a bakery, a photographer, and an indoor sports center gift certificate.
"It was actually Julie, Weston's mom, who came up with the idea of a poker tournament to raise money for Weston," explained Jennifer Terruso, a family friend who is helping organize the event. "The Keeton's have all become close friends with myself, husband and my son. My husband, Mark, loves to play poker, and every few months he and his friends take turns hosting a game in their homes and he also plays at the casino a few times a year as well."
Weston, who has called the Children's Hospital of Philadelphia Cardiac Care Unit home since June 2011, was diagnosed with aortic and mitral stenosis and an abnormal left ventricle at birth, and at just nine days old was transferred from Tennessee to the Duke University Medical Center for a valvuloplasty. Months later, Weston was able to return home, but soon required further surgical intervention.
"After all of that, we had three great, easy years back in our beautiful East Tennessee mountain home. Weston was able to remain at home with us in relatively good health until he was three years old," Weston's mother explained. "Then he began to have episodes where he would turn blue and show seizure like activity. This was a terrifying time for us. We brought him back to Duke, again. This time, however, we learned his condition was more involved that we previously knew. Weston was diagnosed with pulmonary hypertension. The physicians and experts determined that Weston would benefit from an in depth cardiac repair. While Weston was turned away at many top hospitals, Dr. Spray at CHOP indicated that he was willing to attempt the complex repair, so Weston was transferred to CHOP. There he underwent a complex open-heart surgery in August of 2010."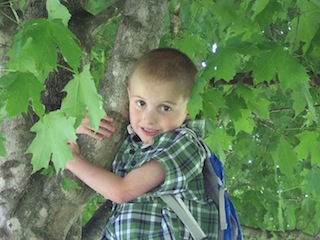 She continued: "We all hoped so hard that the open heart surgery would resolve the pulmonary hypertension. That this would be the end to all of his heart's struggles and he could return to the life of a rambunctious little boy who loves to run barefoot in the grass, play in the mud, and help his dad around the house. Unfortunately, it did not. Weston continued to have episodes of pulmonary hypertensive crisis. After ten more months of continued terrifying episodes, in June of 2011, we left Tennessee. We returned to CHOP. Weston was immediately listed for a heart and double lung transplant."
Despite his condition and being away from home, Weston continues to show "tenacity and spunk." He likes the same things as many young boys such as Spiderman, Star Wars, and Batman, and has been known to play tricks on the doctors and nurses caring for him. Even so, his favorite activity is a simple trip outside, which is a rare and limited experience due to his condition. As you can imagine, this is especially trying for a little boy who used to play in the mountains of East Tennessee.
The event for Weston is really just a gathering of friends, family and strangers who love to play poker and this time they are doing so for a good cause. We have been able to recruit a decent amount of players to start with but we would love to get at least 100 players," said Terruso. "We decided to do a Chinese auction as well as a silent auction to draw in more people who may not know how to play the game but would be willing to buy tickets and try their luck at winning some awesome prizes."
Even so, the event has attracted the attention of some in the poker world:
HELP! A 7-year-old boy in Philadelphia is in need of heart & double lung transplant. Poker to the rescue on Dec. 10. http://t.co/IQM8qorki5

— Aaron Massey (@nevermissmassey)
Will u help a 7 y/o boy in Philadelphia needs heart & double lung transplant? Poker event on Dec. 10. http://t.co/HqKn26HscY PLZ Retweet!

— Randy Dorfman (@RandyDorfman)
Great poker charity event on Dec. 10th in Philadelphia for 7-year-old boy in need of heart and double lung... http://t.co/NmYOghKaS6

— MidStatesPokerTour (@msptpoker)
For more information, there is an open group on Facebook, Praying for Weston, as well as a website, cotaforwestonk.com, that tells Weston's story. For those interested in going "All In for Weston" either by attending or donating, please contact Jennifer Terruso at 215-260-0101 or jennterruso@comcast.net.
*Lead photo courtesy of Bella Vita Photography.
Get all the latest PokerNews updates on your social media outlets. Follow us on Twitter and find us on both Facebook and Google+!