The Emergence of a New Macau? Solaire Poker Room Opens in Manila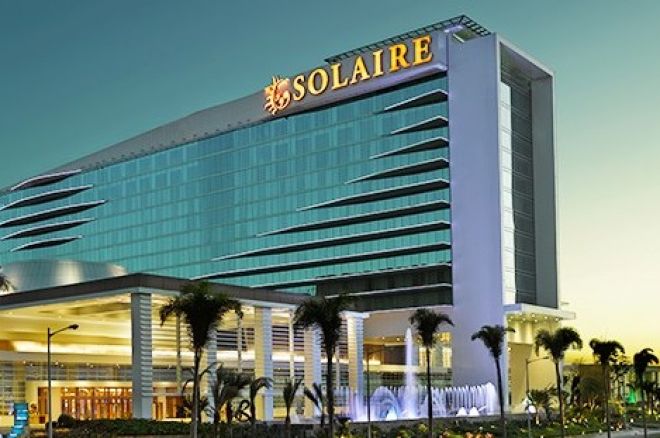 Glass ceilings, fine dining and super-exclusive tables are Solaire Poker Room's recipe to bring part of Macau's proverbial high-roller action to the heart of the Philippines.
Inaugurated on Dec. 12 as part of the $1.2 billion Solaire Casino and Resort complex that opened last March, the poker room is part of an ambitious plan rolled out by initiator Mike Kim which intends to "explore a brand new market for the local entertainment industry and at the same time create some new fishes."
"We wanted to have those kind of big tables no one else has in the Philippines," said room coordinator Ronald "RedAirkson" Regis. "So far, we went beyond expectations, but to really evaluate things we will have to wait until the excitement for the opening has cooled down."
The signs of a good start are all there, according to Regis. "During the opening day, we had far more people per square foot than I expected. And judging by the tables, I think we have a good thing going."
The early success came despite an unusual opening that surprised a good part of the Asian poker community. "We did not start with a freeroll because we thought that would attract a kind of player that does not gamble. And that is not what we promised Solaire," Regis told PokerNews.
"I wanted walk-ins to have at least two of the four tables we placed next to the casino VIP area. A week before the opening a lot of our regulars started asking about the room. I really wanted them to get the chance to play."
But the problem there turned out being that not all regs are created equal, and some were not able to afford the action that Solaire hosted on its very first day.
"Regs were able to open the first table but could not squeeze on any of the other ones, as the games there were way too big for them," Regis said. "We managed to keep only one table down to PHP50/100 (approx. $1.13/$2.26 USD) as then we had two running PHP200/400 (approx. $4.52/$9.04 USD) games and another one offering Omaha with pretty big limits as well."
Nonetheless, many weren't fully satisfied by the games, as "almost everyone asked us to buy more than the 500 big blinds allowed." You can do the math, if you wish.
The new poker room is part of a long-term plan that includes the opening of a brand new Solaire-owned standalone poker room with 14 tables by 2015. The current room has the clear target of attracting a consistent crowd of Asian high rollers, at the same time making the local poker scene a good target for an elite group of international pros.
"Right now, if we have a full table of nine players, the trend is that seven of them will be Koreans and two will be Europeans, which is what Mike Kim wanted to bring here," said Regis. "As for the locals, there are already other rooms around: seven gamblers and two grinders would be the perfect ratio."
"During these days we had also three Russian guys opening the tables every time. For what I can tell you, they look like grinders and they really like what they are seeing as they are often both the first on the list and the last ones to close the tables."
And if you, like us, found yourself wondering if four tables and high limits are really all it takes to get some Macau-like games rolling, you should listen to the explanation given by Kim and Regis.
"We are trying to bring at least two big events to Solaire in 2014," Regis told PokerNews. "Sang H. Park came over before the opening to discuss bringing the World Poker Tour in as early as April and I know Mike has spoken to the APPT about doing their next event at Solaire."
And then there's the leisure part. As Solaire already focuses on spoiling its "clients" with fine gourmet restaurants, the Philippines might have much more to offer than Macau's hypnotizing casino life.
"We know people go to Macau to gamble," said Regis. "But then, when they feel like taking a break, they find themselves having to leave the country. Here in the Philippines, instead, they can go to Solaire, chill at a beautiful beach and then head back to do their gambling."
Get all the latest PokerNews updates on your social media outlets. Follow us on Twitter and find us on both Facebook and Google+!