Gus Hansen Accuses Online Poker Rival "SallyWoo" of Using Forbidden Computer Program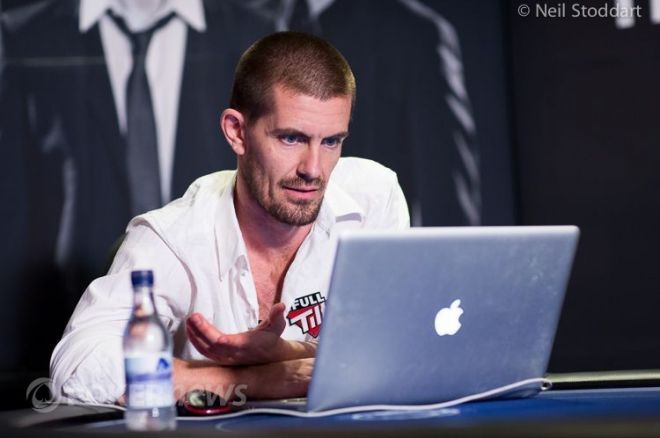 We're less than a week into the New Year, and already it's been a promising 2014 for "SallyWoo," the unidentified high-stakes online pro that relocated from the United States to Mexico after Black Friday. The Omaha Hi/Lo (FLO8) specialist is already up $504,679 from 1,738 hands over eight sessions.
Interestingly, "SallyWoo" is friends with Kyle "KPR16" Ray and Kyle "cottonseed1" Hendon. Like them, "SallyWoo" has recently joined the movement of opting out of having his long-term results tracked, an issue I recently addressed in my op-ed titled The Problems of Opting Out from Online Tracking.
Apparently another high-stakes player, Gus Hansen, has a problem with the recent trend. Hansen, who finished 2013 as the biggest loser after dropping more than $8.4 million playing online, lashed out at "SallyWoo" in the chat box over at Full Tilt Poker just prior to the New Year.
Hansen, who is up $155,111 in 4,485 hands over 27 sessions so far this year, apparently became upset after he was three-bet in a game of FLO8 and subsequently became disconnected. He stated his "friend" believed "SallyWoo" should pay back the $4,000 Hansen had invested before being disconnected. "SallyWoo" referenced a deal the two had previously made regarding such situations, and suddenly Hansen accused his opponent of misconduct through the use of a computer program.
Here's a look at the applicable part of the chat log:
SallyWoo: and this "friend" of yours told u i closed the table, when i didnt
SallyWoo: and i explained why, this "friend" should have also seen what happened
Gus Hansen: the computer program right by your side - could be slippery slope
SallyWoo: ?
SallyWoo: huh
SallyWoo: are you accusing me of cheating?
Gus Hansen: and funny enough all the guys taking about integrity is you KPR and Cotton like you have to prove something
Gus Hansen: nope I am not
Hattenford (Observer): confirmed Gus, i was here to, he didnt close it
Gus Hansen: accusing you of cheating
Gus Hansen: of course not
SallyWoo: you accused me of closing tables to pull and angle and then have a computer prgram next to me, thats out of line imo
Gus Hansen: Please tell me that will swear right hear that you dont have a O8 computer program
Gus Hansen: anyways - I dont have a case in court - but I doubt any poker player would rule that you should keep the 4K
SallyWoo: you really are accusing me of this gus?
Gus Hansen: do whatever you think is right
SallyWoo: tell me upfront
Gus Hansen: I am not accusing you of anythjing
SallyWoo: what was our deal with dc, i will always honor it now and in future
Gus Hansen: I believe you have an O8 program - thats all I said
SallyWoo: i thought deal was if either player dc we return btns (i have done that for u 30 times)
SallyWoo: and if guy dc we check it down
Gus Hansen: maybe 130
SallyWoo: but if he dc after we bet its on player?
Gus Hansen: 571
Gus Hansen: ok
SallyWoo: im honoring our deal, as i always have
SallyWoo: what is 130 and 571?
Gus Hansen: times you have paid me back after disconnect
SallyWoo: every time u have those short dc dont i always adjust btns for u?
Gus Hansen: I havent said you didnt
Gus Hansen: just enjoyed your exaggeration
SallyWoo: state the deal with dc and i will honor it, always have, but u were the one when we made deal that said if guy dc AFTER we bet its on him
SallyWoo: i remeber the conversation vividly
Gus Hansen: not sure we specifically said that
Gus Hansen: but this was preflop
SallyWoo: we did, ill ask FT to retrieve chat if they will, can u have them do it? i give you them and u permission to read it
Gus Hansen: whatever
Gus Hansen: since this was probably last time we played - I just wanna add it was funny you were so offended of me saying you have an O8 computer program - since obviously you do
SallyWoo: ohh lord gus, i dont cheat
SallyWoo: i did nothing wrong here, ill ask ft for our conversation about our deal and send it to u on twitter or something
Gus Hansen: lol - I guess you are trying to start a career as a politician, since you like to answer in east when the question came from west
The accusations by the FTP Professional have caused quite a stir in the forums, with many posters taking sides. However, most railbirds seemed to believe that while Hansen may have been voicing his suspicions – which are shared by some in the community – he was out of line in doing so.
"Gus was clearly tilting when he made these accusations, and none of them are clear, concise accusations. They are just wild tilting shouts of a person who is losing millions and millions online playing games he thinks he's the best at, but in reality the world has moved passed him," said HighStakesDB forum member "LostSam". "As often is the case, accusations without any proof whatsoever other than loose conjecture will stain a person's image. People will now think Sallywoo cheats, even though there actually is ZERO proof other than the fact he's very good at a game he's been playing for the last decade."
Whether or not Hansen will return to play "SallyWoo" in 2014 remains to be seen. In the meantime, "SallyWoo" was busy winning $241,300 on Saturday by taking $151,000 from Viktor "Isildur1" Blom at the $2,000/$4,000 FLO8 tables in just 26 hands over 14 minutes and $89,700 from "Sanlker" in 288 hands of $500/$1,000 CAP no limit hold'em.
What are your thoughts on the situation? Was Hansen out of line with his chat box accusations? Let us know your thoughts in the comments section below.
Get all the latest PokerNews updates on your social media outlets. Follow us on Twitter and find us on both Facebook and Google+!
Executive Editor US, PokerNews Podcast co-host & 2013 WSOP Bracelet Winner.