Inside Gaming: Genting's Agreement With Gulfstream, Fines in Philly, and More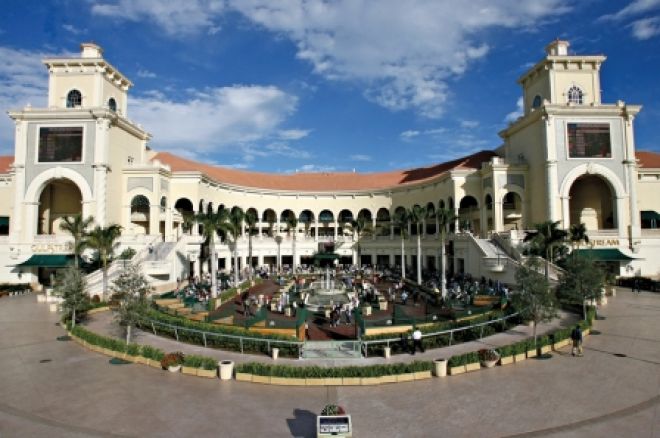 In this edition of Inside Gaming we take a look at Genting's deal in Florida, Harrah's Philadelphia's fine, the Gaming Commission Chairman in New York, and casino gambling in Maine.
Genting and Gulfstream
Resorts World Omni and Gulfstream Park have inked a deal to possibly bring slot machines to a downtown Miami Property. The proposal is dependent upon a permit from Florida lawmakers – a previous proposal for a huge property was already rejected by the state.
The agreement between Gulfstream and Resorts World, a division of the Malaysia-based Genting Group, is contingent upon a permit to relocate to a bayfront property in Miami purchased for $236 million in 2011. Investors hope Florida lawmakers will approve the proposal this year, as the state legislature plans to review casino gambling in 2014.
"We think we're one of the preeminent gaming companies in the world," Resorts World CFO Christian Goode said. "We're looking for a way to move the initiative forward. This is just one opportunity or potential opportunity. If it's not viable, then we'll pursue other means."
Gulfstream President and General Manger Tim Ritvo called the agreement, "the single most important thing that's happened to thoroughbred racing in a long time."
"Our ownership is heavily, heavily invested in horse racing," Ritvo added.
The current permit was issued to the Gulfstream Park Thoroughbred Aftercare Retirement Program, a non-profit group which also owns Gulfstream. Proceeds from the non-profit go toward retired horses, benefits for disabled jockeys, and purses. Gulfstream is in Broward County, however, and the proposed location is in Miami-Dade County.
State law allows pari-mutuel permit holders in the two counties to operate up to 2,000 slot machines. Under the deal, the horse races would still be held at Gulfstream, while the slot machines and card room would be operated downtown.
Some South Florida horse track owners are skeptical about the move, and the prospects of a possible "destination resort," but opposition is expected.
"Obviously it's understandable that other facilities would try to oppose it because who would like increased competition?" Ritvo asks. "But the idea of the permit is not just to benefit a single entity, but to benefit the entire racing industry."
For more, check out CBS Miami
Harrah's Philadelphia Fined
The Pennsylvania Gaming Control Board fined Harrah's Philadelphia Casino and Racetrack $90,000 on Wednesday for violating casino credit processes and underage gaming laws.
The fine was issued to Chester Downs and Marina, LLC after much deliberation between the Office of Enforcement Counsel and the casino license holders.
The majority of the fine ($70,000) was levied because the property violated casino credit issuance procedures. According to a consent agreement, Harrah's credit department "routinely violated board regulations between July 2010 and Jan. 2013 by failing to get authorization from a second approver before credit was issued."
The department also failed to separate the credit verification process from the credit approval process.
The remaining $20,000 was imposed due to underage gambling. According to a second consent agreement, Harrah's operators allowed a 20-year-old woman to spend two hours on the casino floor, where she "gambled at slot machines and drank alcohol."
The agreements were approved by the Gaming Control Board on Wednesday during a public meeting in Harrisburg, Pennsylvania.
Philly.com has more
Gov. Cuomo Appoints Gaming Commission Chairman
During his State of the State address on Wednesday, New York Gov. Andrew Cuomo announced that Mark Gearan would be the chairman of the state's gaming commission.
"Our challenge now is to make casinos a reality – make it happen, make it happen fast, and make it happen correctly," Cuomo said.
Gearan, the president of Hobart and William Smith Colleges, has deep Democratic roots. He served as President Bill Clinton's deputy chief of staff and assistant. President Clint later named him director of the Peace Corps.
In a brief interview, Gearan indicated that he doesn't participate much in game, and doesn't know the four other members of the commission.
The state expects four full-scale casinos – two in the Saratoga region – to be chosen by either the Gaming Commission or a siting board, whose members will be appointed by the commission.
"Our current plan is March 2014 for the RFP to go out, bids come back in June and we hope to make the selections in early fall," Cuomo said on Wednesday.
Requests for applications will be made in March, and bids will be due in June. Casino licenses will be issued in early fall.
Saratoga Gaming and Raceway intends to compete for selection for the site of a full-scale casino. James Featherstonhaugh, part-owner of the venue, graduate from Hobart and William Smith Colleges back in 1966.
For more, check out the Saratoga Wire and Times Union
Casino Reps Argue Against Expanded Gambling in Maine
Representatives from Oxford Casino and Hollywood Casino met with state legislatures in Maine on Wednesday to discuss expanding casino gambling. According to them, casino gaming has reached its saturation point in the state, while representatives of other groups argue that expanding the laws will help them survive and prevent a financial collapse.
One bill, LD 1111, would allow Scarborough Downs to operate slot machines, creating a "racino." The race track tried to push for slot machines in 2011 with a statewide referendum, but Maine residents voted it down by a count of 215,115 to 176,718.
Scarborough Downs owner Sharon Terry told the committee that the track is fighting for a "level playing field" against the aforementioned brick-and-mortar casinos. Oxford Casino is located just 45 minutes north of Scarborough Downs.
Terry says that revenue has dropped 21.8 percent since slots went into operation at Oxford Casino.
"The Downs cannot survive under the current laws," she said.
The two casinos operate about 900 slot machines each. Oxford netted $58 million in slots revenue in 2013, and Hollywood Casino raked in $47 million.
John Osborne, Hollywood's general manager, fears that expanded laws would "cannibalize the industry" because there aren't enough gamblers in the state.
"Should further facilities open or expand, we would see further erosion of our customer base," Osborne said.
There is also fear of casinos in New Hampshire and Massachusetts could further dry the market in Maine.
"New casinos or racinos in Maine will simply move money from one casino to another and serve no benefit for the state," Jack Sours, general manager at Oxford, said.
The Sun Journal has more
Photo courtesy of Southern Gaming
Get all the latest PokerNews updates on your social media outlets. Follow us on Twitter and find us on both Facebook and Google+!