The Year That Was: Looking Back On An Amazing 2013, Pt. 2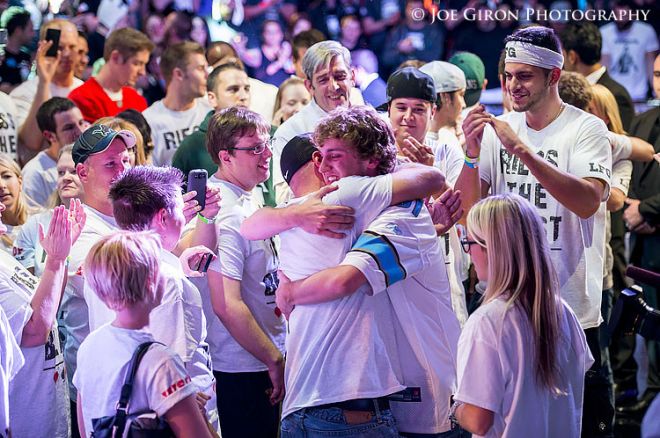 Each year is over before you know it, and with so many big happenings in the poker world, much can often be forgotten. Trying to remember some of the key stories coming out of the past 12 months can be a daunting task, but hopefully this PokerNews Year in Review for 2013 will be able to joggle your memory a little bit. After all, this was one of the best years for poker.
Yesterday, we took a look at January through July for Part 1 of this article. For Part 2, author Jonathan Zaun continues and takes a look at the second half of the year, August through December.
August 28 — Blair Hinkle Wins Seminole Hard Rock Poker Open $10 Million Guarantee for Over $1.7 Million
It's not every day that a poker tournament guarantees a $10 million prize pool, so when the Seminole Hard Rock Poker Open $10 Million Guarantee Championship advertised the eight-figure event, many poker pros remained wary of the promise. Despite these initial doubts, however, tournament organizers were able to keep their word, an accomplishment due in large part to the reentry format allowing the game's brightest stars to fire multiple bullets. When the tournament's registration and reentry period was closed, a total of 2,384 entries were recorded to build a guarantee-exceeding prize pool of $11.92 million.
When that fateful moment came, 27-year-old poker pro Blair Hinkle earned the win, taking home nearly $1.75 million in first-place prize money after defeating fellow pro Justin Bonomo. The huge win moved Hinkle over the $3.5 million mark in career tournament earnings, and the score was made even sweeter considering Hinkle had more than $1 million in funds ensnared by the federal government on Black Friday.
August 29 — Steven Silverman Wins Inaugural WPT Alpha8 Event
A total of 21 entries were registered at the inaugural World Poker Tour Alpha8 $100,000 Super High Roller, which took place at the Seminole Hard Rock Poker Open, forming a prize pool of just more than $2 million. Eighteen individual players ponied up the six-figure buy-in, with Daniel Alaei, Daniel Perper and Isaac Haxton opting to reenter after early eliminations. In the end, it was pro Steven Silverman who claimed the first WPT Alpha8 crown and $891,660 in prize money.
September 1–7 — High-Stakes Poker Players Allegedly Targeted in Laptop Scam in Barcelona
Poker players are notoriously lackadaisical, but going the extra mile to secure one's laptop is a must in today's society no matter your profession. For high-stakes online grinders still plying their trade in Europe and other locales featuring legalized online gaming, the integrity of their computer has become a point of paramount importance — and increased paranoia. After learning of the suspicious series of events which occurred over the first week of September, during the European Poker Tour Barcelona stop, poker players are likely to become even more vigilant when it comes to safeguarding their devices from external intrusion.
According to allegations made by Finnish high-stakes pro Jens "Jeans" Kyllönen, which were made public via the popular TwoPlusTwo online poker forum, a number of unseemly activities were documented during his stay at the Arts Hotel in Barcelona. PokerStars' Lee Jones confirmed the pair's allegations in a public statement, and a subsequent investigation revealed that both players had been targeted with sophisticated hacking software by unknown cheaters and their in-house accomplices. Later, a third party confirmed an attempt at data intrusion known as "sharking" on Kyllönen's device, with the offender's objective being to spy on hole cards to fleece the Finns out of their bankrolls.
September 16–18 — Full Tilt Poker Claims Administration Begins Email Notices, Petitions Begin Sept. 18
Despite a series of delays and false starts, the newly-created Full Tilt Poker Claims Administration sent out official email notices on September 16, with the goal being to inform all American players affected by Black Friday that the petition process would begin immediately. On September 18, a sidebar tab was installed on the FTP Claims Administration website which allowed any player potentially eligible to participate in the remissions process to file a petition detailing their claim.
September 17 — WPT Announces World Championship Move To Borgata
On September 17, it was announced that next year's World Poker Tour World Championship will take place in May at the Borgata Hotel and Casino in Atlantic City, New Jersey. The WPT's season-culminating championship event had previously been held at the Bellagio in Las Vegas, but Season XII will see the tour's biggest tournament head to the East Coast. The impetus for the move could be because of the WPT World Championship's steady decline in terms of turnout, as the field has decreased every year since 2007. As part of the announcement, partypoker was named as the event's major sponsor, a choice intended to capitalize on New Jersey's recent legalization of online poker rooms through land-based casinos like the Borgata.
September 19 — WSOP.com Launches Real-Money Poker Room
Under the auspices of Caesars Interactive Entertainment, WSOP.com made its highly-anticipated entrance to Nevada's newly formed, legally operated online poker industry. Dealing its first hand of real money poker at 9:19 p.m. on September 19, WSOP.com officially joined UltimatePoker.com as the two fully-operational real-money poker sites to spring up in the wake of Nevada's legalization of online gaming. The gameplay awaiting players on WSOP.com was modeled on software powered by 888 Holdings.
September 28 — Chris Moorman Surpasses $10 Million in Lifetime Online Earnings
When a player with the simple screen name of "moorman1" took top honors in a $215 buy-in partypoker tournament on September 28, the $9,500 score appeared to be just another in an endless line of cashes added to the pile by longtime pro Chris Moorman. This win was something special, however, because the win meant that Moorman had eclipsed the fabled $10 million amount when it came to lifetime online tournament earnings. To put Moorman's incredible achievement into its proper perspective, PokerNews senior reporter Rich Ryan noted at the time that, according to data compiled by PocketFives, there were no other players on the planet who could claim to have earned even $7.5 million competing in online poker tournaments.
October 1 — Tom Sexton Passes Away
On October 1, the poker world lost a member of its family, as Tom Sexton passed away following complications from a stroke and Stage 4 pancreatic cancer. The brother and best friend of WPT host and Poker Hall of Fame member Mike Sexton was an active contributor to PokerNews and other publications for a number of years. Published under the Sexton's Corner column, Tom's personally-recalled stories from his life and times offered a glimpse into the world of poker as it once was.
Tom Sexton also worked as the WSOP's official photographer during the event's early era at the Binion's Horseshoe, and he contributed to the development of several poker projects alongside his brother Mike, including the original incarnation of the WSOP Tournament of Champions.
October 17 — Phil Hellmuth Records 100th WSOP Cash
Reaching the century mark in any sport has always been a milestone — with Wilt Chamberlain's 100-point game and Wayne Gretzky's 100-goal season standing as unbreakable records to this day — so when Phil Hellmuth made the money in Event #5: €2,200 No-Limit Hold'em at the 2013 WSOP Europe, the achievement was rightly regarded as historic. The cash came on October 17 and gave Hellmuth exactly 20 more cashes than his next closest competitor, Erik Seidel, with 80. With more than $12 million in WSOP earnings alone, "The Poker Brat" further enshrined himself among the game's all-time greats.
October 22 — UltimateBeat Documentary Released
Poker documentaries were all the rage in 2013, and the release of UltimateBeat on October 22 only continued the yearlong trend of filmmakers examining poker from every angle. The film was directed by Scott Bell and released via the modern creative-funding website Kickstarter.com, generating $6,650 in support in one month. Featuring interviews with online pros like Mike "trambopoline" Fosco, Todd "Dan Druff" Witteles and Brad Booth, along with industry insiders, UltimateBeat provided an investigative-themed analysis of the UltimateBet cheating scandal which consumed the online poker world in 2008.
October 24 — Daniel Negreanu Wins WSOP Europe High Roller, Sixth Bracelet, and Player of the Year
A player like Daniel Negreanu has already accomplished so much — multiple WSOP bracelets, WPT titles, millions of dollars in sponsorship deals, and a growing impact in the poker industry — which is why his resurgent 2013 was that much more impressive. After suffering through a relatively downswing in terms of premier live tournament results for the last five years, "Kid Poker" finally broke back through by winning the WSOP Asia-Pacific Main Event for more than AU$1 million, and with momentum on his side 2013 turned out to be one of the best years of his career.
To cap things off, Negreanu entered the WSOP Europe €25,600 High Roller event knowing that a deep run could clinch another Player of the Year title, and make him the first player to win the WSOP Player of the Year twice. Never one to back down from a challenge, Negreanu played his best game and reached the final table, all but locking up his second WSOP POY crown. With the pride part now taken care of, Negreanu was on the cusp of a more tangible prize — his sixth WSOP gold bracelet — and just to dispel any doubts as to who the best player in 2013 really was, he took the whole thing down. For the win, Negreanu added another €725,000 to his lifetime earnings.
November 5 — Ryan Riess Wins the 2013 WSOP Main Event for Nearly $8.4 Million
Proudly wearing the jersey of his beloved Detroit Lions — a team that has never won a championship game in its long history — 23-year-old Michigan native Ryan Riess made sure the silver and blue will always be synonymous with winning. When Riess' ace-king of hearts held up over the suited queen-five of amateur Jay Farber, the young circuit grinder realized his life's ambition with plenty of time to spare — he had won the WSOP Main Event. As a reward for becoming the 45th WSOP Main Event champion, Riess earned over $8.36 million and the right to reign as poker's ambassador to the world.
November 8 — Delaware Becomes First State to Launch Full-Scale Real-Money Online Gambling
Every poker player can attest to the allure of table games like blackjack, roulette, and even slot machines, but the world of online gaming has traditionally focused on spreading poker tournaments and cash games. On November 8, the state of Delaware sought to change the status quo, launching the nation's first legalized full-scale online-gaming operation. A total of three Delaware casinos began offering virtual gaming through their websites and under the jurisdiction of the Delaware State Lottery, with Delaware Park, Dover Downs and Harrington Raceway utilizing a software platform maintained by 888 Holdings. Users of Delaware's newest gaming institutions — which offer poker, roulette, blackjack, and slot-machine options — found that the WSOP.com virtual card room in Nevada had been used as a template in terms of appearance and gameplay. One of the most innovative features of Delaware's gaming operation was the introduction of "face2face" poker, which enables players to observe their opponents in real-time by using a standard webcam. Payers must be physically located within Delaware's jurisdiction to participate, and the social security number requirement serves to exclude all non-U.S. citizens from joining the game.
November 16 — Deadline for Full Tilt Poker Refund Remission Petitions Passes
As announced earlier in the year, the deadline for filing a claims petition to participate in the Full Tilt Poker Claims Administration remission process passed on November 16. Although the Garden City Group provided a window for late filings and special circumstances, the day effectively represented firm cutoff point for American players seeking remuneration.
November 21 — Bodog Asia Offices Raided
On November 21, offices maintained by Bodog Asia in the Philippines were raided by that country's authorities, with employees of the worldwide gaming company sequestered for questioning while documents and other materials were seized. The raid was believed to be in relation to Bodog's suspected operation of illegal gambling rings in the Philippines, although these allegations were refuted by the company's representatives.
November 25 — WSOP Announces Biannual Scheduling Structure for Asia-Pacific and Europe Events
Despite the rousing success experienced by both the WSOP's Europe and Asia-Pacific editions in 2013, tournament organizers announced that international expansions will be held on a biannual basis. This alteration to the schedule means next year will feature the 2014 WSOP Asia-Pacific, followed by the 2015 WSOP Europe. According to WSOP Executive Director Ty Stewart, this rotation will allow for expanded marketing efforts to improve turnout at both series.
November 26 — PartyPoker and Other Online Gaming Venues Officially Launch in New Jersey
When a five-day soft launch period for New Jersey's operation of legalized online gaming was completed on November 26, a total of six casinos were authorized to offer real-money games. Utilizing cutting-edge software provided by partypoker, BorgataPoker.com and NJ.PartyPoker.com quickly emerged as the fledgling industry's standard bearers, offering users a streamlined gameplay experience that was leaps and bounds ahead of competitors.
December 11 — Team Ivey Pro Dan Smith Wins 2013 WPT Doyle Brunson Five Diamond for $1.16 Million
The WPT Doyle Brunson Five Diamond World Poker Classic Main Event was named for the game's most storied player, and befitting such a prestigious tournament the event's list of winners has been littered with rising stars: Gus Hansen (2002), Daniel Negreanu (2003), and Antonio Esfandiari (2010) are among the champions. On December 11, the Five Diamond at Bellagio was the scene of yet another coronation, as Team Ivey Pro Dan Smith captured his first WPT title and $1.16 million in prize money after defeating a field of 449 entries.
December 13 — Alex Masek Captures Seventh Ring to Tie All-Time WSOP Circuit Record
The WSOP Circuit has become the stomping grounds of many rising poker stars, but the ongoing duel between Alex Masek and Chris Reslock has made them the Circuit's undisputed stars. After Reslock won two gold championship rings in May — giving him seven career Circuit rings — he passed by Masek to take the all-time lead. Masek was undeterred, however, and on December 13 he emerged as the victor in Event #8: $365 No-Limit Hold'em at Harrah's Rincon stop in Southern California. With the win over a field of 151 runners, Masek added $12,231 to his career earnings, but more importantly he climbed back to even footing with his ring-hunting rival Reslock.
December 16 — The Weinstein Company Announces "Rounders 2" to be Produced "Instantaneously"
The concluding scenes from the original Rounders — a critically unheralded cult classic that made hold'em hip five years before the Chris Moneymaker boom — left the fate of hero Mike McDermott tantalizingly open ended. After weathering severe downswings both on and off the felt, "Mike McD" had vanquished his nemesis in a heads-up duel, reclaiming his $30,000 bankroll and lighting out for the territories to play in the WSOP Main Event. Every fan of the first film has wondered how McDermott might have fared on his westward excursion, and after fifteen years of wondering the poker world will finally learn his fate.
On December 16, an announcement by The Weinstein Company confirmed that production on the long-awaited sequel would be "instantaneous," after years of legal and contractual wrangling finally came to a close.
December 16 — Tom "durrrr" Dwan No Longer a Full Tilt Poker Professional
Every sport has seen young phenoms announce their arrival in dramatic fashion, dominating their competition to an almost disturbing degree before disappearing from the spotlight without warning. Bobby Orr, Mark Fidrych, Barry Sanders... and Tom Dwan?
When astute posters on the TwoPlusTwo forums began discussing Dwan's disappearance from the Full Tilt Poker Professionals page, where his image had been removed from its previous perch alongside Gus Hansen and Viktor Blom, the writing was on the virtual wall. A report published by PokerListings on December 16 confirmed initial suspicions, revealing that the high-stakes legend known as "durrrr" had parted ways with FTP, with each side opting against the renewal of their previous sponsorship contract.
December 17 — Schemion Overtakes Negreanu in the Global Poker Index Player of the Year Race
After winning two more WSOP bracelets, adding a second WSOP Player of the Year title to his resume and padding his lifetime earnings total with another $3.2 million, the poker world had all but crowned Daniel Negreanu as 2013's top performing tournament pro. The Global Poker Index (GPI) agreed, with "Kid Poker" leading the GPI Player of the Year race heading into the PokerStars European Poker Tour Prague Main Event. Despite his dominance, however, Negreanu faced a threat from the rear, as German wunderkind Ole Schemion had quietly put together an impressive year of his own.
Schemion finished sixth or better in 13 major tournaments during 2013, including the PokerStars Caribbean Adventure $25,000 High Roller (fourth), PCA $10,000 Six-Max (fifth), Lebanese Poker Tour Main Event (first), EPT Barcelona Super High Roller (sixth), EPT Barcelona High Roller (sixth), and a £5,000 turbo event at EPT London (second). Despite earning nearly $2 million less than Negreanu, Schemion won enough side events during EPT stops to give himself a legitimate shot at claiming the GPI POY crown. Needing to place 17th or higher in the EPT Prague Main Event to take the title, Schemion did more than enough to nudge past Negreanu, reaching the final table and finishing in fifth place.
December 19 — World Series of Poker Announces 2014 Dates
The international poker community convenes every year in Las Vegas for the World Series of Poker, and on December 19 the itinerary for next year's historic edition was set. Tournament organizers announced that the 10th WSOP to be held at the Rio All-Suite Hotel and Casino — and the 45th Series overall in the game's grandest tradition — will begin play on Tuesday, May 27. In the official press release issued by the WSOP, Executive Director Ty Stewart assured players that bracelet events, satellites, cash games, and Daily Deepstack tournaments would occur as expected over 49 consecutive days of nonstop poker action, culminating with the play-down to the $10,000 Main Event final table on Monday, July 14.
And with that, PokerNews' Year in Review for 2013 is all said and done. A brand new year is upon us, though, and there will be plenty more stories from the global poker world, so stay tuned right here to PokerNews.com.
Get all the latest PokerNews updates on your social media outlets. Follow us on Twitter and find us on both Facebook and Google+!