The Year That Was: Looking Back On An Amazing 2013, Pt. 1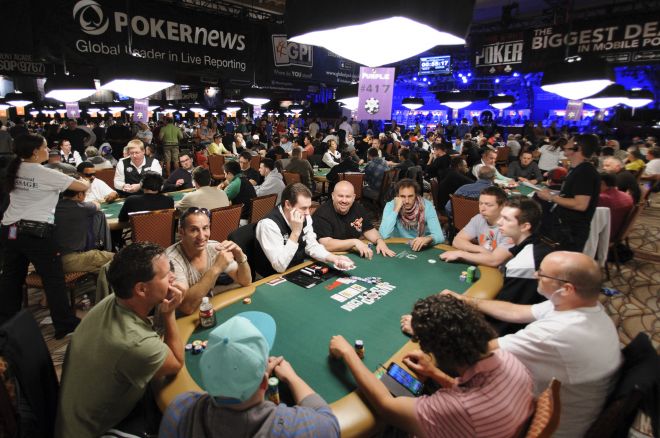 Each year is over before you know it, and with so many big happenings in the poker world, much can often be forgotten. Trying to remember some of the key stories coming out of the past 12 months can be a daunting task, but hopefully this PokerNews Year in Review for 2013 will be able to joggle your memory a little. After all, this was one of the best years for poker.
For Part 1 of this article, author Jonathan Zaun takes a look at the first half of the year, January through July.
January 9 — All-Time Greatest Olympian, Michael Phelps, Dives Into the Deep End to Play $10,000 PCA Main Event
As the most-decorated Olympic athlete of all time, American swimmer Michael Phelps has made a habit of finishing in first place on the biggest stage in sports. So it was only natural that the 18-time gold medal winner began his retirement plan by playing in one of poker's premier tournaments: the 2013 PokerStars Caribbean Adventure $10,000 Main Event. The 28-year-old Phelps, known for indulging his intensely competitive spirit in the poker arena throughout the latter stages of his storied swimming career, dove headlong into big buy-in poker action at the Atlantis Resort in the Bahamas.
January 14 — Vanessa Selbst Becomes Poker's Winningest Female
After another successful year that included winning her second World Series of Poker gold bracelet in 2012, Team PokerStars Pro Vanessa Selbst began 2013 by bagging the PokerStars Caribbean Adventure $25,000 High Roller title for a first prize of over $1.4 million, padding her statistics with a second million-dollar payout in the process.
The January 14 victory further cemented Selbst's hard-earned reputation as one of the most consistent performers on the major tournament circuit, and it also earned her the top spot on poker's female all-time money list.
January 26 — Mike "The Mouth" Matusow Wins NBC National Heads-Up Championship
When Mike Matusow was included in the 64-player field assembled for the revitalized NBC National Heads-Up Poker Championship, "The Mouth" was considered a throwback to poker's past. After a number of tumultuous years in which his arrests outnumbered his tournament wins, Matusow was no longer widely considered to rank among the game's best, but on January 26 he proved his doubters wrong in resounding fashion.
En route to victory, Matusow defeated Michael "The Grinder" Mizrachi, Viktor "Isildur1" Blom, Barry Greenstein, John Hennigan, Scott Seiver, and finally Phil Hellmuth. For the win, Matusow took down $750,000.
February 3 — Mervin Chan Wins 2013 Aussie Millions Main Event
When 29-year-old Malaysian amateur Mervin "The Cat" Chan entered just the sixth live poker tournament of his life in Melbourne, Australia, he was just another face in a major tournament field. But then, Chan proceeded to win the 2013 Aussie Millions Main Event, and the poker world took notice. For the improbable feat of emerging from a field of 629 runners, Chan pocketed the grand prize of AU$1.6 million ($1.3 million), a $40,000 gold bracelet, and a $70,000 luxury vehicle.
February 14 — Global Poker Index Suspends Pasqualini and Rossi Following Suspicious Video Evidence
When a pair of poker pros hailing from the same French island of Corsica finished in first and second place at the 2009 Partouche Poker Tour Main Event at the Palm Beach Casino in Cannes — taking a haul of more $1.6 million between them — there was little reason, if any, for suspicion to be raised. However, an eight-minute video compilation was later posted to YouTube on by French poker-player and author Nordine Bouya that lent itself to cheating allegations. The video presented an increasingly damning set of evidence against Jean-Paul Pasqualini and Cedric Rossi, using footage of just 18 hands to clearly illustrate the depth and scope of their sinister plot to undermine the integrity of poker in one of the major European events at that time.
As shown actual footage from the final table, Pasqualini and Rossi managed to employ a complex series of hand signals to communicate their hole cards while colluding against their competitors. By viewing the video just a few times, it became quite apparent to anybody with even a cursory knowledge of poker strategy that something foul was afoot, and a careful examination of the footage revealed the "key" to the caper's complicated set of hand signals and gestures. In February, the Global Poker Index (GPI) agreed with this consensus, suspending Pasqualini and Rossi indefinitely for their alleged participation in the collusion scandal.
February 18 — L.A. Lakers Owner and Poker Enthusiast Jerry Buss Dies at Age 80
In the list of accomplishments found in countless obituaries penned and published for Dr. Jerry Buss — the outspoken owner of the NBA's Los Angeles Lakers and multimillionaire real estate mogul who passed away on February 18th of this year — his third-place finish at the 1991 WSOP Seven-Card Stud event would likely be forgotten. After all, the man ushered in the golden age of Laker basketball in L.A., presiding over both the Showtime era of Magic Johnson's heyday and the "Shaq and Kobe" dynasty. All told, 10 NBA championship rings won under his tenure made Dr. Buss one of the most decorated owners in all of sports, but for those who knew him best, it's no secret that the longtime poker aficionado would've likely traded few from the fingers for the feeling of a gold bracelet around his wrist.
February 21 — Nevada Passes Online Poker Bill
As the undisputed capital of America's legalized gambling jurisdictions, Nevada's willingness to embrace the regulation and reemergence of online poker after Black Friday was never in doubt. On February 21, the state's legislature confirmed its support for poker as a morally and legally permissible game of skill, unanimously passing a bill authorizing the operation of online poker and gaming websites within Nevada state lines.
February 26 — New Jersey Governor Chris Christie Signs Online Gaming Bill
Just days after the momentous occasion to take place in the Nevada Old Assembly Chambers, lawmakers thousands of miles away in New Jersey heard the call to action loud and clear. When Governor Chris Christie — a potential candidate for the Democratic presidential nod in 2016 — signed a legislative document known as A2578 into law on February 26, his approval ushered in a new era of gaming within New Jersey's struggling Atlantic City casino industry.
March 12 — Jerry Yang's 2007 WSOP Main Event Bracelet and Other Property Up for IRS Auction
When the Internal Revenue Service issued a standard posting to describe the contents of an upcoming public auction sale, the everyday news item did not appear to involve the poker world. Until, that is, a curious description contained within the posting began to circulate online, revealing the following item as available to the highest bidder: "Corum bracelet and Corum watch won at the 2007 World Series of Poker Main Event."
The 2007 WSOP Main Event was the scene of amateur Jerry Yang's improbable $8.25 million victory, and seeing the symbol of Yang's greatest accomplishment — the gold WSOP bracelet most coveted by cardsharps around the world — now up for auction was a startling turn of events. Thorough reporting by both industry news outlets and the mainstream media soon revealed the circumstances of Yang's precipitous fall from grace, as a series of tax liens had been issued against the former champion after his alleged inability or refusal to pay the proper rate of income tax on his winnings.
March 13 — Garden City Group Tasked as Claims Administrator for American Full Tilt Poker Funds
The launch of a simple website designed in a decidedly outdated style typically does not merit much attention nowadays, but when a simple site bearing the title "Full Tilt Poker Claims Administration" and accompanied by a generic company logo went online March 13th, the event was heralded by hundreds of thousands. With the site's launch, an actual framework through which American players could seek remission of their account funds from Full Tilt Poker was codified; funds which have been left in a state of limbo since 2011, when the Department of Justice froze the online poker behemoth's assets and unwittingly revealed that Full Tilt's management had defrauded the company's player accounts. The website's launch coincided with a Department of Justice announcement which appointed the Ohio-based Garden City Group (GCG) to serve as the claims administrator supervising the repayment of American player deposits from Full Tilt Poker.
March 14 — 2004 WSOP Main Event Champion Greg "Fossilman" Raymer Arrest in Prostitution Sting
Continuing the month's theme of former WSOP Main Event winners experiencing unexpected falls from grace, 2004 champion Greg Raymer made national headlines March 14, when he was arrested on charges of prostitution and attempted crimes against nature. Nabbed during an undercover prostitution sting conducted by the Wake Forest Police Department in North Carolina, the 48-year old Raymer was one of six men charged in connection with their solicitous response to an advertisement posted to a popular online venue for such ads. Bond was set at $1,000 for each of the six men accused of soliciting the sale of sexual favors.
After completing 75 hours of community service to assist a local non-profit organization in the Wake Forest area and submitting to a mental health assessment, all charges against Raymer were subsequently dropped.
March 15 — Melbourne's Crown Casino Investigates $33 Million Heist
Mere months removed from another successful Aussie Millions series, the Crown Casino in Melbourne, Australia experienced the worst-case scenario envisioned by security experts everywhere. According to reports initially published by the Herald Sun, Australia's premier gaming establishment was victimized on March 15 by a professional operation in which $33 million was stolen in a matter of minutes. The heist involved an individual using unauthorized remote access to the Crown Casino's cutting-edge camera system to gain knowledge of dealer cards in a game of chance.
April 10 — Phil Ivey Wins Historic Ninth Gold Bracelet at Inaugural WSOP Asia-Pacific
When Phil Ivey sat down for yet another final table in the $2,200 Mixed Event at the WSOP's inaugural Asia-Pacific swing at the Crown Casino, the poker world waited in anticipation of yet another Ivey moment. This time, the cards cooperated long enough for Ivey's world-class skill in all forms of poker to shine through. After outlasting Brandon Wong in an epic heads-up contest, the man believed by many to be the best poker talent playing today added his ninth gold bracelet to the trophy case.
April 16 — Daniel Negreanu Wins WSOP Asia-Pacific Main Event
When the inaugural WSOP Asia-Pacific Main Event kicked off in Melbourne, Australia, organizers were no doubt hoping for a marquee name to top the headlines. On April 16, "Kid Poker" himself — Daniel Negreanu — emerged from a stacked field of 405 entrants to claim the crown, the AU$1.04 million top prize. Along with the money, Negreanu managed to get the monkey off his back, winning his fifth WSOP bracelet nearly five years after he won his last. Negreanu's accomplishment tied him with poker legends like John Juanda, Scotty Nguyen, and Stu Ungar, but he would eventually eclipse them in the bracelet count at the WSOP Europe later in the year.
April 16 — Poker Pros Charged for Involvement in Illegal Gambling Ring
On April 16, the poker world was shaken by an announcement that the FBI's Eurasian Organized Crime Squad had served federal search warrants throughout four major American metropolitan areas as part of an ongoing investigation into an illegal gambling ring allegedly connected to the Russian mob. Among the 34 individuals to be indicted by the United States District Court of the Southern District of New York were several top-notch poker pros, including Abe Mosseri, Bill Edler, Justin Smith, Peter Feldman, Joe Mancuso, Vadim Trincher, John Hanson, and Eddie Ting.
April 30 — Ultimate Poker Deals First Legal Hand of Online Poker in the United States
At 9 a.m. on April 30, virtual cards were dealt out to begin an online ring game on Nevada-based UltimatePoker.com, and with American players ponying up real money to pay their blinds, the simple hand of small-stakes hold'em made history. As the first company in America to offer fully legal, regulated, and real online poker — breaking new ground in the wake of Black Friday's shuttering of a once thriving industry — UltimatePoker.com paved the way for the reintroduction of online poker in states like Nevada and New Jersey.
May 7 — Phil Ivey Files Suit Against Crockford's Casino
Not many low-stakes grinders out there were familiar with the baccarat variant known as punto banco before May 7, but that changed when nine-time WSOP bracelet winner and poker superstar Phil Ivey filed a lawsuit to recover more than $12 million in winnings earned playing the high-variance game of chance. According to the lawsuit filed by Ivey against British-based Crockford's Casino, Ivey was betting £50,000 per hand alongside an unknown woman, falling into a £500,000 hole before raising the stakes to £150,000 per hand. After a reversal of fortune saw Ivey book a £2.3 million profit, he returned the next night to win another £7.8 million. According to Ivey's lawsuit, he was issued a receipt for his winnings, but was subsequently stiffed by the Gentings-owned Crockford's, which denied payment pending their own investigation as to Ivey's suspected use of a technique known as "edge-sorting" to gain an advantage. Although Ivey would eventually admit to using edge-sorting to identify asymmetrical patterns on flawed cards, he claimed that "advantage players" like himself are permitted both by moral and law to seek an advantage based on casino or dealer error.
May 9 — PokerNews Launches MyStack App
When the Season 9 European Poker Tour Grand Final kicked off on May 9, several players in attendance could be seen tapping away at the smartphones throughout the series, with many doing so seemingly after every hand. The launch of PokerNews' innovative MyStack App had finally provided players with the ability to update their chip counts and tournament progress in real time, and many of the top pros in the field were happy to take advantage of the new toy.
May 10 — Audio Tapes Expose Extent of UltimateBet Cheating Scandal
There have been few chapters in poker history as sordid and seedy as the so-called "superuser scandal" that was committed by individuals associated with former online poker powerhouses UltimateBet and Absolute Poker. Former UltimateBet owner Russ Hamilton — the only WSOP Main Event winner with his banner blacked out as a demonstration of disgrace — was already considered a criminal of the highest order by industry insiders for multiple allegations of cheating on the felt. When the release of an incriminating audiotape on May 10 positioned him as the perpetrator of the biggest fraud in all of online poker, those familiar with the man were not surprised in the slightest.
According to the taped conversations disclosed by Travis Makar, who worked as Hamilton's assistant during the UltimateBet scandal, Hamilton exhibited no remorse while admitting his use of a computer program known as "God Mode" to reveal opponent's hole cards during high-stakes heads-up matches. Hamilton can be heard clearly confirming his theft of between $16 and $18 million from several well-known professional players through his exclusive use of the internally-generated program, stating coldly "I did take this money, and I'm not trying to make it right."
Hamilton mentioned longtime pros Mike Matusow, Prahlad Friedman, Robert Williamson III, in addition to award-winning actor and poker enthusiast Ben Affleck, as victims of his fraudulent activities. Annie Duke, who was associated with UltimateBet as a sponsored pro and representative at the time of the superuser scandal, was also mentioned by Hamilton as possessing knowledge of the God Mode program and its use for nefarious gains.
May 14 — Doyle Brunson Announces Plans to Forgo Tournament Play at the WSOP
As a man who played in the first edition of the WSOP way back in 1970, while amassing a total of 10 gold bracelets between 1976 and 2005, Doyle Brunson had become an enduring symbol of poker's most prestigious tournament series. So when the 79-year-old living legend known to the world as "Texas Dolly" and the "Godfather of Poker" took to Twitter of all things, his typically humble announcement on May 14 was shocking, even if it wasn't a surprise: "Afraid I am finally gonna give in to Father Time and pass on tournament play at WSOP. #toomanyhours"
May 19 — 10th Anniversary of Chris Moneymaker's Epic WSOP Main Event Win and the Poker Boom
There are very few poker players on the planet who don't remember the moment they first watched Chris Moneymaker fill up on the river to best suave professional Sammy Farha, completing the most improbable of WSOP Main Event triumphs in 2003 with a flourish. Nobody could've expected the monumental evolution that the game would soon experience thanks to the mild-mannered accountant's miraculous win against the best players in poker. It proved to millions of people that the oft-repeated mantra "anybody can win" was actually true, and the "Moneymaker Boom" would soon begin.
Ushering in the Golden Age of online poker, Moneymaker's made-for-Hollywood story — parlaying a $39 satellite buy-in on PokerStars into a $2.5 million payday — proved to be the catalyst for a billion-dollar industry to be built. Ten years later, May 19 may not be a holiday, but for poker players earning a living on the felt today, or industry members making ends meet by reporting their progress, this date stands as one of the most significant in the venerable game's long history.
May 22 — Bill Simmons' Grantland.com Publishes Oral History of the 2003 WSOP Main Event
Penned and published to coincide with the anniversary of Moneymaker's miracle, ESPN and its pop culture outlet Grantland.com recreated the 2003 WSOP Main event with a stirring oral history. The piece, which went online on May 22, combines firsthand accounts from key figures in what will always be remembered as the most important tournament in the history of poker.
May 24 — At-Large Qualifier Jonathan Hilton Wins WSOP Circuit National Championship
After grinding the WSOP Circuit for his first full-time tour of duty, 23-year-old Jonathan Hilton registered eight cashes, five final tables, and one first-place finish, earning nearly $90,000 for his first foray into the world of professional tournament poker. This performance was enough to earn Hilton an at-large bid to the invitation-only WSOP Circuit National Championship, which moved this year from Las Vegas to New Orleans. Consisting of 20 WSOP Circuit Main Event winners, 18 Casino Champions, 62 at-large qualifiers like Hilton, and 27 WSOP POY $10,000 buy-ins, the National Championship generated a prize pool of $1.27 million. With his impressive win against many of the game's young guns, Hilton pocketed the top prize of $355,599.
May 25 — Chino Rheem Wins 2013 WPT World Championship; Erick Lindgren Finishes Second
Winning the World Poker Tour World Championship has long been regarded as a pinnacle for poker pros, as the event combines the world's best players under one roof, each competing to win the biggest event on the WPT schedule. When Chino Rheem and Erick Lindgren sat down for the heads-up contest to crown the 2013 WPT world champion, the moment meant a little more for each player. Rheem eventually secured the redemptive victory on May 25, earning more than $1.1 million while making major strides toward rebuilding his standing in the poker world. Lindgren pocketed just over $650,000 for his runner-up finish.
After a bad run both on the felt and off, Rheem had developed an unsavory reputation among the close-knit community of poker pros, with rumors of his inability or unwillingness to settle debts dogging Rheem for the last few years. Lindgren also encountered similar financial swings recently, with rumors of mounting sports-betting liabilities leading the longtime pro to seek professional addiction counseling late last year. So when the two squared off under the bright lights of the WPT Championship final table at Bellagio, the stage was set for both players to prove their worth to backers, fans and family alike. Although Rheem took down the tournament's last pot, and the title along with it, both players used this mid-year milestone to revive their careers.
May 31 — PokerNews' Very Own Chad Holloway Wins First WSOP Bracelet in Event #1: Casino Employees Championship
There is a singular image which has become iconic in the world of poker: A triumphant player, moments after watching the final card fall to seal the deal on a WSOP victory, proudly displaying their precious gold bracelet to the world. Poker fans around the world have come to know this image from ESPN's decade of dedicated broadcasts, and nearly every professional on the circuit has watched friends and foes alike flashing their first piece of jewelry. For a veteran tournament reporter and aspiring semi-professional player like PokerNews' very own Chad Holloway — who has watched dozens of players don their first gold bracelet during his years in the field — witnessing the emotional experience firsthand so many times proved to be a source of inspiration.
On May 31, Holloway's profession enabled him to accomplish a long held personal dream, as the Wisconsin native captured his first WSOP gold bracelet to kick off the summer series. For his win, Holloway earned a $84,915 payout, but the real prize came afterward, when he was joined by friends and colleagues on the final table stage he had covered so many times before. After reporting on player after player living out their poker dreams, Holloway had turned the tables to become the story, and what a story it was.
June 4 — WSOP Smashes Expectations with Inaugural "Millionaire Maker" Event
After having turned countless amateurs into instant millionaires, the good folks at the WSOP decided to make things official, offering a special $1,500 event in this year's edition with the express goal of making one lucky player feel like a million bucks. With two starting flights and a reentry format, the inaugural "Millionaire Maker" event attracted an astronomical turnout, with a total of 6,343 entries lining up to try their hand. The figure made instant history, as the field represented the largest single-day starting field in the long history of the WSOP, topping the 6,012-player field generated in a 2009 event.
When it was all said and done, a prize pool of over $8.56 million was generated, and four days after the event began, Benny Chen captured the last chips in play to take down nearly $1.2 million for the win.
June 7-17 — Tom Schneider Sweeps H.O.R.S.E. Events at WSOP for Third and Fourth Bracelets
The mixed game of H.O.R.S.E. tests a poker player's skill across the five primary variants of Texas hold'em, Omaha hi-low eight-or-better, razz, seven-card stud, and seven-card stud hi-low eight-or-better. Winning one of the H.O.R.S.E. events on the WSOP schedule can certify a player's reputation as an all-around cardsharp rather than a single-game specialist, but sweeping all of the events in the span of just 10 days? That feat transformed Tom "DonkeyBomber" Schneider into the world's undisputed H.O.R.S.E. champion, doubling the former WSOP player of the year's bracelet count from two to four in one fell swoop.
June 12 — Online Poker Documentary Bet Raise Fold Premieres at Palms Las Vegas
Brenden Theatres at Palms Casino Resort in Las Vegas was the scene of a gala affair on June 12th, as the poker world turned out for the premier of long-anticipated online poker documentary Bet Raise Fold.
Whenever the mainstream media can cover a poker-related event from a positive angle, the industry stands to benefit from the positive publicity, and the premiere of Bet Raise Fold allowed audiences to examine the online poker boom from an interesting new angle. Because the film presented the glory days of online poker as they existed for three players who actually lived through them, before suddenly shifting focus to the desolate landscape of post-Black Friday poker, the premiere of Bet Raise Fold provided a telling glimpse into the heady days when poker became the last American gold rush.
June 21 — Erick Lindgren Wins Second WSOP Gold Bracelet and Over $600,000
Fresh from nearly winning the WPT Championship in May, Erick "E-Dog" Lindgren capitalized on the momentum to take down his second WSOP gold bracelet. Event #32 of the 2013 WSOP was a star-studded affair, with the $5,000 buy-in and six-handed format attracting 516 top pros and ambitious amateurs from around the world, and the final table lineup confirms that the tournament was a murderer's row of top-notch competitors. Lindgren was joined by fellow old-school pro Lee Markholt, and a representative of poker's recent, rapid evolution in Jonathan Little, and in the end these were the last three players left standing.
Lindgren dispatched Little, and then defeated Markholt to claim victory, standing tall to celebrate his vindication alongside his wife Erica. With his financial troubles getting a boost in the right direction after earning nearly $2 million in two months, the relief on Lindgren's face as the final card hit the felt said it all.
June 26 — Duhamel's Ex-Girlfriend Imprisoned for Home Invasion and Robbery of WSOP Champ
In December 2011, a terrible crime was committed against 2010 WSOP Main Event champion Jonathan Duhamel. The Canadian-born poker pro was bound by unknown assailants, beaten mercilessly, and robbed of over $115,000 in cash and assorted valuables. To top off what was very likely the worst night of the 26 year old's life, the symbol recognizing his greatest achievement was also absconded with. Duhamel's WSOP gold bracelet — earned by virtue of capturing the top title in the game — was taken as well, adding insult to injury in one of the more regrettable episodes to rock the poker world in recent memory.
On June 26, a form of resolution was reached for Duhamel, as the robbery's primary culprit, Bianca Rojas-Latraverse, was sentenced to serve three and a half years in prison for her role in the conspiracy. An ex-girlfriend of Duhamel, Rojas-Latraverse pleaded guilty to three of the five charges she faced: kidnapping, breaking and entering, and conspiracy to commit an armed robbery.
June 26-27 — Linda Johnson and Daniel Negreanu Clash Over Tournament Rule Change
Every two years, a meeting of the minds is held in Las Vegas, as the Tournament Directors Association (TDA) convenes to hold a biannual summit involving more than 2,000 tournament directors, poker room hosts, and other industry professionals. The goal of the TDA summit is to standardize the rules, regulations, procedures, and policies used to govern tens of thousands of poker tournaments held around the world every year. This year, the TDA Summit was dominated by a lively debate over one particular recent tournament rule change, the "First Card Off the Deck" (FCOTD) rule.
Daniel Negreanu openly expressed his opposition to the new rule, while Poker Hall of Fame member and TDA board member Linda Johnson fought for the rule. The debate spawned several articles, social media warfare, and chatter within the industry as the FCOTD rule quickly became poker's hottest topic.
June 29 — Anthony Gregg Wins WSOP $111,111 One Drop High Roller for $4.83 Million
Last year saw the first seven-figure buy-in tournament in poker history take place, as Antonio Esfandiari took down more than $18 million in inaugural Big One for One Drop event. With the buy-in alternating to $111,111 this year, as it will on a biannual basis, the One Drop tournament still generated a first-prize payout of over $4.8 million. Twenty-year-old poker professional Anthony Gregg navigated through a field featuring 166 of the game's best players — along with an assortment of affluent businessmen who love the game, philanthropists with bankrolls to burn, and the fortunate few with backers who believed — to take home one of the most massive hauls in recent memory.
July 3 — Dana Castaneda Wins WSOP Open Event
It had been six years since a woman not named Vanessa Selbst (2008 and 2012) won an open event at the WSOP, and amateur Dana Castaneda became the first to do so on July 3. She took down the title in Event #54: $1,000 No-Limit Hold'em, emerging as the sole survivor from a huge field of 2,883 runners to bag her first gold bracelet and a $454,287 payday.
July 7 — Loni Harwood Joins Castaneda, Adds Bracelet Win in Torrid 2013 WSOP Run
After becoming accustomed to women booking open-event wins on a sporadic basis simply by virtue of the game's skewed demographics, the poker world was definitely not expecting Castaneda to be joined before the summer came to a close. Loni Harwood did, however, and as one of the shining stars of the past WSOP Circuit season with two gold rings in the prior season, the young pro put herself in position to top that on multiple occasions. Harwood amassed an impressive five cashes during the 2013 WSOP, including two final tables and a fourth-place exit in Event #53: $1,500 No-Limit Hold'em, but her big breakthrough was yet to come.
On July 7, Harwood won the last pot in Event #60: $1,500 No-Limit Hold'em, earning over $600,000 and her first WSOP bracelet in a short, yet highly successful career.
July 10 — Doyle Brunson Opts to Play WSOP Main Event
Perhaps fueled by the motivation that only a bronze bust can offer, Doyle Brunson showed that his poker face was still better than most. Despite previously announcing his intention to forego WSOP play as a result of age and fatigue, Brunson decided to enter the $10,000 Main Event — the same event he won in consecutive years back in the late 1970s. No stranger to the spotlight having won 10 WSOP bracelets, "Texas Dolly" soon found himself seated on the feature table stage, the collective eyes of the poker world fixed squarely on his chip stack. His run would eventually fall short of a Hollywood ending, but the living legend had reminded the world exactly why he deserved to be immortalized by the WSOP just days earlier.
July 11 — The WSOP Raises More Than $1.3 Million for the ONE DROP Foundation
After the tremendous success of the inaugural Big One for One Drop last year — which saw 11.1 percent of entry fees donated to drought relief charities in Africa — WSOP organizers knew they could continue giving to a good cause this time around. Event #58: $1,111 Little One for One Drop drew 4,756 players and added more than $550,000 to the charitable kitty. With the another $553,278 contributed by the 166 high rollers to play the $111,111 One Drop High Roller and another $246,012 donated largely by amateurs participating in the "All in for ONE DROP" campaign to pitch in a percentage of their summer's winnings, the final tally taken on July 11 showed that poker players had voluntarily parted with over $1.3 million to assist the One Drop Foundation's continuing worldwide effort to improve access to sustainable sources of fresh drinking water.
July 16 — Carlos Mortenson Bubbles WSOP Main Event Final Table
There have only been four men to win the WSOP Main Event more than once: Johnny Moss (1970, 1971, 1974), Doyle Brunson (1976, 1977), Stu Ungar (1980, 1981, 1997), and Johnny Chan (1987, 1988). Due to the sheer difficulty of accomplishing the feat against today's four-figure fields, tracking the progress of former Main Event champions as they attempt to join this exclusive club has become an annual tradition of sorts. So when Carlos Mortensen — winner of the 2001 edition of poker's Super Bowl — made a deep run at this year's Main Event, ultimately finishing in 10th place, the near miss on a November Nine appearance nearly became a bigger story than the final table itself.
July 18 — WPT Announces Alpha8 Series; Lynn Gilmartin New Anchor
High-roller tournaments featuring astronomical buy-ins and elite fields have become all the rage in recent years, and on July 18 the WPT worked to continue the trend by announcing the creation of its own series of exclusive super-high-roller tournaments. Known as the WPT Alpha8, this novel experiment in exclusivity was sponsored by ClubWPT.com, and an expected launch date of August 26 was slated for the Seminole Hard Rock Poker Open. The WPT Alpha8 also announced that a slate of tournaments boasting buy-ins of at least $100,000 throughout North America, Europe, Asia, and South Africa would eventually be finalized. In addition to this news, PokerNews' very own Lynn Gilmartin was tabbed to be the tour's new presenting anchor during televised broadcasts.
July 22 — Global Poker Index Acquires Hendon Mob Poker Database
Poker fans, players, and media members have come to consider the Hendon Mob Poker Database for live tournament poker data. In recent years, the GPI has also risen to a position of prominence in terms of objective evaluation, assessing players according to a complex set of metrics to comparatively measure their performance.
On July 22, a major merger between these two industry leaders happened, as GPI CEO Alexandre Dreyfus announced the pending acquisition of the Hendon Mob Poker Database from founders Joe Beevers, Barny Boatman, Ross Boatman, and Ram Vaswani.
That takes us through the first seven months of the year, January through July, and we'll be back tomorrow for Part 2 of the PokerNews Year in Review for 2013. The second part will take a look at August through the end of the year, and there are plenty more interesting stories to remember, so stay tuned!
Get all the latest PokerNews updates on your social media outlets. Follow us on Twitter and find us on both Facebook and Google+!