WPT on FSN Legends of Poker Part II: Passing the Torch & Laak's Misguided aggression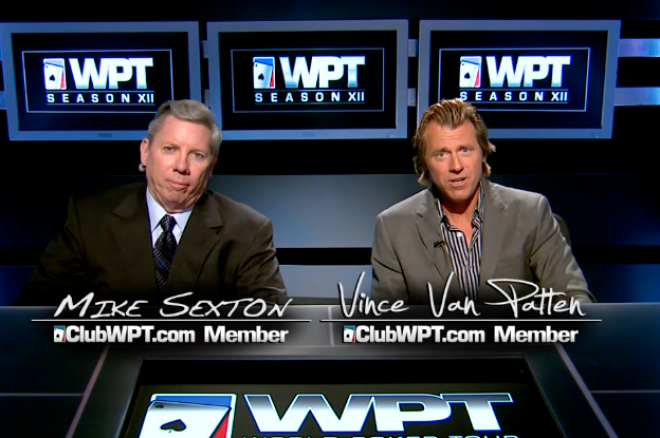 The World Poker Tour kicked off their Season XII broadcast on Fox Sports Network last week with the Legends of Poker, a $3,500 Main Event that attracted 716 entries at the The Bicycle Casino in Bell Gardens, CA back in September, 2013. For my recap of that episode, which included the debut of Lynn Gilmartin and my final table fashion report, simply click here.
In this week's episode — Part II of the Season XII Legends of Poker — action resumed with all six players still in contention for the $613,355 first-place prize.
Here's how things stacked up at the top of the broadcast:
WPT Season XII Legends of Poker Final Table
| Seat | Player | Chips |
| --- | --- | --- |
| 1 | John Gordon | 305,000 (2BB) |
| 2 | Jordan Cristos | 5,125,000 (42BB) |
| 3 | Alex Masek | 2,025,000 (16BB) |
| 4 | Phil Laak | 4,560,000 (38BB) |
| 5 | Ryan Goindoo | 6,355,000 (52BB) |
| 6 | Dan Heimiller | 3,090,000 (25BB) |
Love is in the Air: Season XI WPT Player of the Year Matt Salsberg was seen at the Royal Flush Girl Bar sweating the action with his significant other, Renae Garcia, whom he has been dating for five years. For those not familiar with Garcia, she did the hilarious What Happens in Poker series during the 2013 World Series of Poker.

Numerous poker players appeared in the 10-episode series including Salsberg, Faraz Jaka, Jonathan Little, Allen Kessler, and my personal favorite, Marvin Rettenmaier. You can check out some of the videos by clicking here.
Passing the Torch: As I mentioned last week, Lynn Gilmartin took over hostess duties for Season XII. In a nice sit down together, Kimberly Lansing joined Gilmartin and discusses some over her favorite moments from over the years.
"I'm going to be spending some time with my friends and family, doing a little vacationing, traveling, so it's not too different from working for the World Poker Tour," Lansing said when asked what she'll be doing next.
It was a nice passing-of-the-torch moment between the two, and I'm sure I speak for everyone at PokerNews when I say to Lansing, thanks for all your years of service on the WPT and best of luck in the future.
As for Gilmartin, I had the chance to ask her what it was like to see herself on her first WPT broadcast.
"It is surreal to see myself sitting at a desk that is so familiar after years of watching the show," she told me. "Joining the WPT family is a huge honor. It's honestly a dream come true."
"I was on a 14-hour flight to South Africa for WPT Alpha8 when the show premiered," Gilmartin said when asked about the reaction of her family and friends. "Once I landed, I was inundated with supportive messages and tweets. Suddenly it became real. I wanted to squeal with excitement in the middle of Johannesburg customs."
Meet the Finalists: The following video actually appeared in Part I of the Legends of Poker, but since I didn't share it in my prior recap, I thought I would here.
The Yellow Shirt: In last week's recap, I lambasted John Gordon's yellow shirt. Interestingly, there was a story associated with that shirt that aired in a little segment with the Royal Flush Girls. Gordon actually gave the RFGs his ID and credit card and told them to go pick him out a shirt. The yellow getup is what they chose, and they said he needed to wear it if he made the final table. I guess I can't blame Gordon for his wardrobe choice, and who am I to argue with the style sense of the RFGs?
Unfortunately for Gordon, he would be the first casualty at the final table when his
failed to hold up against Ryan Goindoo's
on a
board. The former pawnshop owner took home $85,080 for his sixth-place finish.
WPT Player of the Year: The aforementioned Salsberg won a heated race against Jonathan Roy and Paul Volpe to win the WPT Season XI Player of the Year, and he was recognized by Mike Sexton and Vince Van Patten during a break at the Legends of Poker.
Salsberg, who shed his slob reputation by dressing in a collared button up with a blazer, was awarded a massive trophy and gave a brief speech.
"Everybody was telling me that I'm a lock to win, and then all of a sudden within two weeks Paul Volpe vaults ahead of me, but then I was like, you know what I'm gonna go after this," Salsberg said. "I played a bunch of tournaments in a row, six tournaments, and got deep in I think three of them, and it was great. It was really exciting."
The Raw Deal: Tony Dunst was back for his first Raw Deal segment of Season XII. In it, he talked about Phil Laak and his reputation for erratic behavior.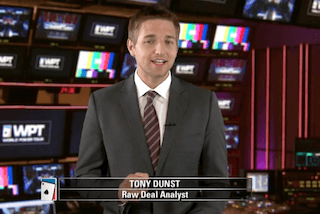 Among Laak's cited antics were:

Shadowboxing as the Unabomber
Walking like a dinosaur
Looking like a member of Daft Punk
"He's simultaneously too aggressive and too passive," Dunst explained. "But how is that possible?"
Dunst then broke it down by examining a couple hands. The first was when Laak held the
against the
of Jordan Cristos. Laak checked a low board and somehow failed to win a bigger pot. Oppositely, he chose to play a big pot against Dan Heimiller with the
. Laak ended up moving all in when he paired his six on the
board, and Heimiller folded. Dunst didn't like Laak's misguided aggression as he believed Heimiller would only call with a better hand, fold worse hands, and doesn't have a chance to bluff the hand.
"So while Phil always finds a way to surprise me, it was actually his play at this final table that was truly shocking," Dunst concluded. "Then again, nobody really watches Phil for his stellar poker abilities. We're all compelled by the cartoonish antics."
Five to the Final: The broadcast came to an end with five players still in the tournament, which is certainly a rarity when it comes to the WPT on FSN. That means the third and final hour of coverage will be chalk full of big hands and eliminations. Unfortunately, it'll have to wait a week.
Tune in Next Week: The conclusion of the Legends of Pokers is set to air on Sunday, Feb. 23 on FSN, so be sure to check your local listings. If by chance you miss it, check back next week for the latest recap of all the action here on PokerNews.
Who will be the next player to add his or her name to this prestigious list of champions?
Past Legend of Poker Champions
| Season | Player | Earnings |
| --- | --- | --- |
| 1 | Chris Karagulleyan | $258,000 |
| 2 | Mel Judah | $579,375 |
| 3 | Doyle Brunson | $1,198,290 |
| 4 | Alex Kahaner | $1,125,900 |
| 5 | Joe Pelton | $1,577,170 |
| 6 | Dan Harrington | $1,635365 |
| 7 | John Phan | $1,116,428 |
| 8 | Prahlad Friedman | $1,034,500 |
| 9 | Andy Frankenberger | $750,000 |
| 10 | Will "The Thrill" Failla | $758,085 |
| 11 | Josh Hale | $500,000 |
| 12 | ??? | $613,355 |
*Pictures courtesy of World Poker Tour.
Get all the latest PokerNews updates on your social media outlets. Follow us on Twitter and find us both Facebook and Google+!