WPT on FSN Legends of Poker Part I: Lynn Gilmartin, Laker Girls, and a Fashion Report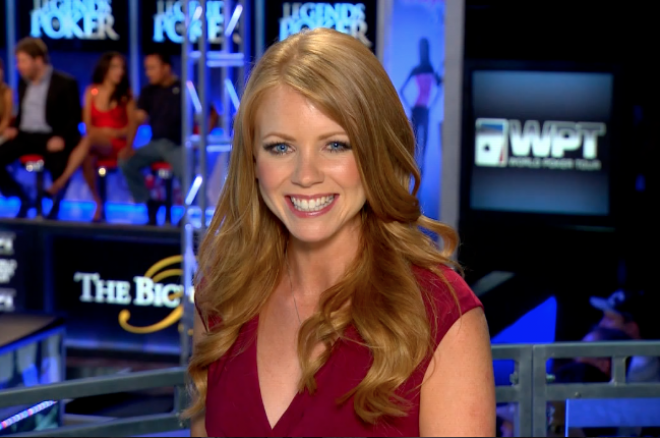 Season XII of the World Poker Tour kicked off on Fox Sports Network Sunday with the first of three episodes from the Legends of Poker, a $3,500 Main Event that attracted 716 entries at the The Bicycle Casino back in September 2013. The $2,430,820 prize pool was distributed to the top 72 players, with $613,355 reserved for the eventual winner.
I watched the episode and thought I'd offer you my thoughts in my weekly WPT on FSN recap.
Enter Gilmartin: I don't know about you, but I'm extremely excited about the new season. One big reason for that is the addition of Lynn Gilmartin to the WPT family. Long-time hostess Kimberly Lansing gave way to Gilmartin, who most of you probably know for her hard work right here at PokerNews. Gilmartin was the first person to appear on the broadcast, and she made a good first impression with a formfitting red dress and her trademark "Life's Good" attitude.
A New Class of Ones to Watch: As previously reported by PokerNews, Season XII featured a whole new Ones to Watch roster that included Jeff Gross, Loni Harwood, Kyle Julius, Christina Lindley, Aaron Massey, Athanasios Polychronopoulos, and Danny Suied. Of those, only Lindley and Polychronopoulos played Day 1a of the Legends of Poker, with the former bagging up 103,100 and the latter being sent to the rail.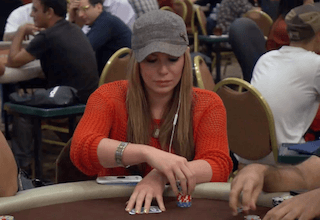 A New Approach: Even though Lindley bagged up on Day 1a, she opted to try again on Day 1b. That was due to a tournament rule that allowed players to play multiple flights and advance with their biggest stack.
"I'm gonna come in and play a completely different style and see where it leads me," Lindley explained. "I'm either going to be out in an hour or have 300K. Just to play completely insane and run up the biggest stack in the room, that's basically my goal today."
The Money Bubble: With 73 players remaining in the tournament on Day 2, Ashton Holmes got his stack all in with the
and was racing against the
of poker commentator David Tuchman. The board ran out
and it appeared Holmes would be the bubble boy; however, Jake Schindler busted at another table after calling off with the
on a board reading
. Dan Heimiller held the
to score the elimination, and that meant Holmes and Schindler split the money for 72nd place (they each received $3,525.
Here's how things stacked up when they reached the final table:
WPT Season XII Legends of Poker Final Table

| Seat | Player | Chips |
| --- | --- | --- |
| 1 | John Gordon | 2,765,000 (34BB) |
| 2 | Jordan Cristos | 4,475,000 (55BB) |
| 3 | Alex Masek | 2,900,000 (36BB) |
| 4 | Phil Laak | 4,780,000 (59BB) |
| 5 | Ryan Goindoo | 5,280,000 (66BB) |
| 6 | Dan Heimiller | 1,260,000 (15BB) |
WPT Flashback: It was a decade ago that Phil "The Unabomber" Laak introduced himself to the poker world at the Season II of the Legends of Poker where he ultimately took sixth place. Laak was able to capitalize on that appearance and was launched to poker superstardom during the poker boom – talk about being at the right place at the right time. Laak was making his fourth WPT final table appearance, and Mike Sexton believed Laak was the one to beat.
"I think Phil is the man to beat tonight," Sexton said. "Phil Laak is one of the most fun and entertaining players in the poker world, and I can't imagine a better way to start Season XII than to have Phil Laak with us at the final table tonight."
The Final Table Fashion Report: Mike Sexton has always said it's good for the games when players dress up for the TV final table. So did the Legends of Poker finalists take his advice? Here's my take on each of the players' wardrobes.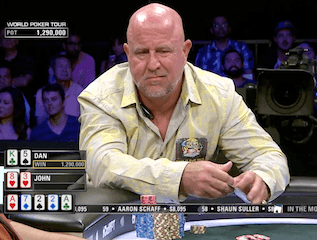 John Gordon: He's nicknamed "Muscles" for a reason. The big, bald hulk of a man was in a yellow shirt that's a bit hard to describe. He was also patched up for what appeared to be a business in Florida. I wasn't a big fan as it seemed a little too, "Hey, I want to be in my late 20s again." Grade: D
Phil Laak: "The Unabomber" got his nickname from his trademark hoodie, so it was only fitting that he was wearing one once again at the Legend of Poker. It was a rather unappealing lime green, but hey, when you think Phil Laak you don't think style. Toss in a big, droopy hat and sunglasses and it was quintessential Laak. Grade: Either an A or F (a polarizing grade reflective of Laak, who I'm not sure is either a genius or an idiot).
Ryan Goindoo: Well-groomed with big aviators, a sleek white jacket, and a black undershirt wasn't a casual getup. It could have doubled as a nightclub outfit, and while it wasn't exactly my style, I have to give him credit for dressing in whatever made him feel good. Grade: B
Jordan Cristos: Lots of sunglasses at this final table. Cristos was wearing a big pair with red lenses that were tucked under a black hood. It was reminiscent of what made Laak famous, except it was a decade too late. I couldn't really see his face, which means as a viewer I don't care about him nor will I remember him. A wasted opportunity. Grade: F
Alex Masek: I have to be honest, I consider Alex a friend, and so I could be accused of being biased. That said, his striped gray hoodie was something Masek would wear at any tournament let alone a TV final table. I kind of wish he'd dressed up a bit, but to be honest I have a hard time imagining him in anything else. Grade: C
Dan Heimiller: A black t-shirt with the saying "Winner, Winner, Chicken Dinner" written on it. It's something only Dan Heimiller, who has a recognizable mustache and slicked-back hair, could pull off. I've seen him wear that t-shirt numerous times, so I admire the consistency and appreciate the fact that he has a sense of humor. Grade: B-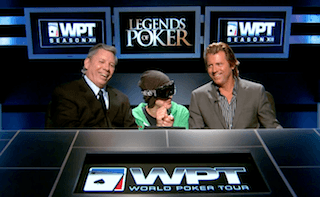 Laak's Wild Antics: In 2013, I had lunch with Phil Laak during the Seminole Hard Rock $10 million guarantee. Believe me when I say it was an experience. I remember leaving that luncheon feeling conflicted. Was Phil a genius or a madman? He seems so scatterbrained, but then there are little moments where it seems he knows something you don't. It's confusing but also endearing.
Anyway, I was reminded of that luncheon by Laak's behavior on the broadcast. He busted out a huge pair of ski goggles to wear at the table, and proceeded to bounce around the studio when he wasn't in the hand. First it was to visit his girlfriend Jennifer Tilly (who recently appeared on the TV show Modern Family) on the rail, and then he went up to the booth during a hand to chill with Mike Sexton and Vince Van Patten. The man just can't sit still.
Laker Girls: Celebrities and poker pros gather to raise money for the Lakers Youth Foundation during WPT Season XII Legends of Poker at the Bicycle Casino as part of the WPT Foundation. Check it out:
Tune in Next Week: Part II of the Legends of Pokers is set to air on Sunday, Feb. 16 on FSN, so be sure to check your local listings. If by chance you miss it, check back next week for the latest recap of all the action here on PokerNews.
Who will be the next player to add his or her name to this prestigious list of champions?
Past Legend of Poker Champions
| Season | Player | Earnings |
| --- | --- | --- |
| 1 | Chris Karagulleyan | $258,000 |
| 2 | Mel Judah | $579,375 |
| 3 | Doyle Brunson | $1,198,290 |
| 4 | Alex Kahaner | $1,125,900 |
| 5 | Joe Pelton | $1,577,170 |
| 6 | Dan Harrington | $1,635,365 |
| 7 | John Phan | $1,116,428 |
| 8 | Prahlad Friedman | $1,034,500 |
| 9 | Andy Frankenberger | $750,000 |
| 10 | Will "The Thrill" Failla | $758,085 |
| 11 | Josh Hale | $500,000 |
*Pictures courtesy of World Poker Tour.
Get all the latest PokerNews updates on your social media outlets. Follow us on Twitter and find us both Facebook and Google+!