Poker Room Manager Amanda Scarcelli Discusses Upcoming Western New York Poker Challenge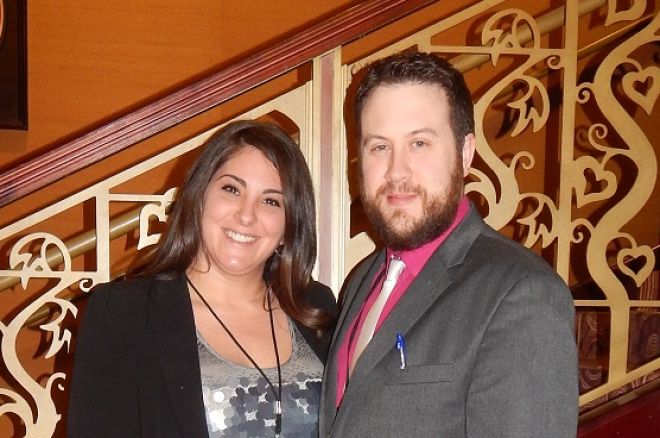 The Western New York Poker Challenge returns to Niagara Falls, New York this week, and PokerNews will be providing live coverage of seven of the 16 events on the schedule. The series runs from March 28 through April 6, highlighted by a two-day $1,100 Main Event which features a $100,000 guaranteed prize pool.
Buy-ins for the WNY Poker challenge range from $100 to $1,100, beginning with a $170+30 event on Friday, March 28. In addition to the usual no-limit hold'em tournaments on the schedule there will be a ladies-only event and a Crazy Pineapple tournament, adding more variety to the series than ever before.
This week, we spoke with Seneca Niagara Poker Room Manager Amanda Scarcelli about the upcoming WNY Poker Challenge. Scarcelli (pictured with WNY Poker Challenge tournament director Jason Brooks) has overseen the poker room in Niagara Falls since 2012.
PokerNews: What sort of things has the Seneca Poker Room been doing to prepare for the WNY Poker Challenge?
Scarcelli: To prepare for the WNYPC we have been hitting the radio hard, we made a commercial, advertised in poker magazines and social media. We gave away over 300 satellite seats and been running two step satellites since February 14th.
Are you introducing anything new to this series?
New to this series we are allowing 18-and-over players for events 10 through 16.
You've been running Main Event satellites for a couple months now. How many players have qualified so far?
We've qualified over 30 so far. We have about two weeks left and we plan on qualifying at least 80 total.
Some of the bigger poker tournaments in the past have been held on the balcony of the Seneca Niagara Casino. Where will tournaments be held for the WNY Poker Challenge?
We start off in the poker room with Events 1 through 9. Events 10 through 16 are on the hotel balcony.
The Seneca Poker Room has some of the best dealers I've seen on the tournament circuit. Where do you find these talented guys and girls?
Our dealers are very talented and sharp. Most of the dealers have been here since day one when the poker room opened 10 years ago.
Several of the tours and poker rooms around the world don't allow players to chop at the final table. We know that it's a common occurrence in Seneca Poker events. What's your opinion about deal making?
Our opinion on chops is to not get involved. We do prefer to see the tournament finish but if the players can all agree we don't see a problem with it.
Andy Spears has won two of the major tournaments at Seneca over the past year. He's already told us that he's playing in next month's Main Event. Does anyone else have a chance?
Andy has definitely been on a roll the last couple of years — not just here. We are proud of him and he always makes it interesting to watch.
We feel all of our tournament players are skilled and experienced and have the ability to take first.
Who are some of the other players to watch for during the WNY Poker Challenge?
Some of the other players to watch are Travell Thomas, Jason Nablo, Alex Rivera, Shawn Smalls, Dietrich Kuhlman, Ray Book and Lou Tomassi. I could go on and on we have so many good players.
Finally, for those who haven't visited Niagara Falls before, where are the best spots to visit? Any tips for tourists?
My favorite spot is Prospect Point at the Horse Shoe Falls. You can feel the power of the falls and the mist of the water, but dress warm because it's still a little chilly.
Be sure to follow PokerNews' live coverage of the Western New York Poker Challenge beginning on March 28! And if you're playing during the series, don't forget you can update your chip stack directly from your phone using the PokerNews My Stack app.
Get all the latest PokerNews updates on your social media outlets. Follow us on Twitter and find us on both Facebook and Google+!