WPT on FSN Borgata Poker Open Part II: Mud Massage, Kottler Bros, and Selbst's Secret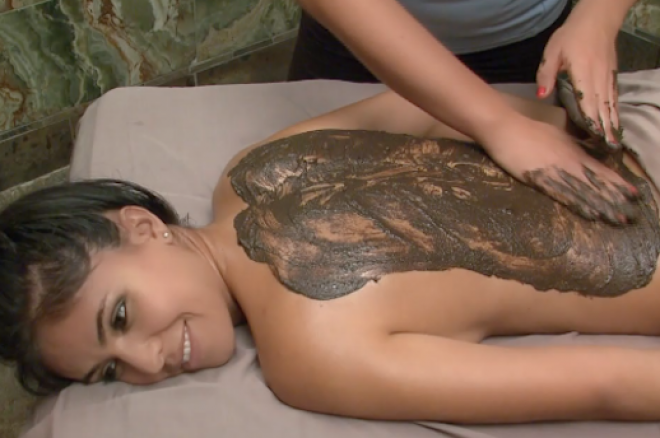 On Sunday, Season XII of the World Poker Tour continued on Fox Sports Network with Part II of the Borgata Poker Open, a $3,500 Main Event that attracted 1,189 entries back in September 2013. The $3,805,989 prize pool was distributed to the top 110 players, with $825,099 reserved for the eventual winner.
In my recap of Part I, I offered my final table fashion report (it was one of the best yet), highlighted the fall of Eric Fields in sixth place, and asked – where's Mickey Doft? You can check that out by clicking here.
Last night, I watched the latest episode and thought I'd offer you my thoughts in my weekly WPT on FSN recap.
Here's how things stacked at the top of the broadcast:
WPT Season XII Borgata Poker Open Final Table
| Seat | Player | Chips |
| --- | --- | --- |
| 1 | -empty- | N/A |
| 2 | Anthony Zinno | 4,480,000 (37BB) |
| 3 | Vanessa Selbst | 4,260,000 (35BB) |
| 4 | David Randall | 3,330,000 (27BB) |
| 5 | Jeremy Kottler | 5,220,000 (43BB) |
| 6 | Cong Pham | 18,340,000 (152BB) |
What Are the Odds?: In the second hand of the broadcast, action folded to David Randall in the small blind and he raised to 300,000. Jeremy Kottler responded by moving all in from the big and Randall quickly called off for 3.15 million total.
Randall:

Kottler:
According to the PokerNews Odds Calculator, Randall was a hefty 71.73% favorite to win the hand while Kottler would come from behind 27.97% of the time.
"Jack ball," Randall's girlfriend, WPT Ones to Watch Christina Lindley, called from the rail. Unfortunately the dealer didn't oblige and instead put out
on the flop. Kottler found an ace to become a big 90.51% favorite, while Randall's chances of survival dropped to 9.49%.
The crowd was silent as the
peeled off on the turn, which actually gave Randall a gutshot straight draw and saw him jump to 13.64%. Unfortunately for him, the
river didn't complete it. Randall, a 26-year-old nicknamed "Big Time," was eliminated in fifth place for $208,394.
"I'm not folding jacks to 20 bigs," Randall said in his post-elimination interview. "I played, I would say my A game."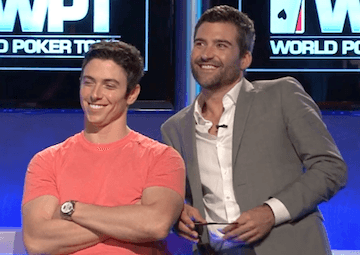 The Bros. Kottler: Jeremy Kottler was making his second WPT final table appearance (he previously placed sixth in the WPT Five Diamond World Poker Classic in December 2012), and he almost had company at Borgata in the form of his brother, Zachary, who barely missed out on the TV set finishing 15th for $30,312.
"The fact that my brother and I both made it so deep was really a unique experience," Kottler explained. "We were really hoping to both make the final table, but unfortunately it didn't turn out well for him in the end. But hopefully I can come through and represent for the family."
An RFG Massage: If you've read my WPT on FSN recaps, it's no secret that I have a crush on the Royal Flush Girls, especially Tugba. Well she made an appearance in this week's episode where she talked about her trip to her home country of Turkey. Upon getting to Borgata, she was a bit jetlagged and decided to get a massage at Immersion Spa at the Water Club. Oils and mud on bare skin, robes, and bath towels, let's just say Chaddy likey (see lead picture). Also, I want to get a massage.
The Raw Deal: In the latest installment of The Raw Deal, Tony Dunst asks one question about Vanessa Selbst – How does she do it? It's a great question as she is one of the best (imo the best) tournament poker players in the world.
Dunst then examined a hand between her and Jeremy Kottler. Here's a look at the hand:
So what did Dunst think? On the river he believed Selbst sized her bet accordingly, and then correctly assessed that she was beat when Kottler moved all in. Why did Selbst think she was beat? Here's her thought process according to Dunst:

Not a Value Bet ( does not go all in here)
Limited Bluff Range (he didn't bet the flop; pair has cheap showdown
"With less than 30 blinds to start the hand, many players would justify calling off their tournament on that river," Dunst explained, "and while people always notice the big plays or dramatic suck outs, they miss the moments smart players like Vanessa save chips by getting away without paying off. And that's how she does it."
Selbst Can't Get Away: In the last hand of the broadcast, a short-stacked Vanessa Selbst opened for 350,000 from the button with the
and Cong Pham defended from the big blind with the
. Pham then checked the
flop, and Selbst bet 350,000 on her open-ended straight draw. Pham spring to life with an all-in check-raise with his pair and flush draw, and Selbst contemplated what to do.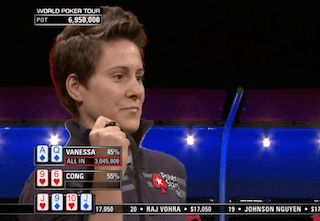 "I don't think I can fold," she said with a grimace. Eventually she called off for 3.045 million total. "He has me crushed," she told her rail upon discovering the bad news.
The
turn seemed to perk her up a bit as she picked up a flush draw and counterfeit options. Selbst grabbed her bag and watched as the
spiked on the river. Selbst hit a bigger two pair, did a fist pump, and then went to the rail to high five her wife, Miranda.
Selbst was on the brink of elimination, but now she's got some chips headed into the final stretch. That's no doubt a scary proposition to the other three players at the table.
Tune in Next Week: The conclusion of the Borgata Poker Open is set to air on Sunday, March 16 on FSN, so be sure to check your local listings. If by chance you miss it, check back next week for the latest recap of all the action here on PokerNews.
Who will be the next player to add his or her name to this prestigious list of champions?
Past Borgata Poker Open Champions
| Season | Player | Entrants | Earnings |
| --- | --- | --- | --- |
| 2 | Noli Francisco | 235 | $470,000 |
| 3 | Daniel Negreanu | 302 | $1,117,400 |
| 4 | Al Ardebili | 515 | $1,498,650 |
| 5 | Mark Newhouse | 545 | $1,519,020 |
| 6 | Roy Winston | 560 | $1,575,280 |
| 7 | Vivek Rajkumar | 516 | $1,424,500 |
| 8 | Olivier Busquet | 1,018 | $925,514 |
| 9 | Dwyte Pilgrim | 1,042 | $733,802 |
| 10 | Bobby Oboodi | 1,131 | $922,441 |
| 11 | Ben Hamnett | 1,181 | $818,847 |
| 12 | ??? | 1,189 | $825,099 |
*Pictures courtesy of World Poker Tour.
Get all the latest PokerNews updates on your social media outlets. Follow us on Twitter and find us both Facebook and Google+!