WPT on FSN Grand Prix de Paris Part II: Charania's Favorite Things & Three Eliminations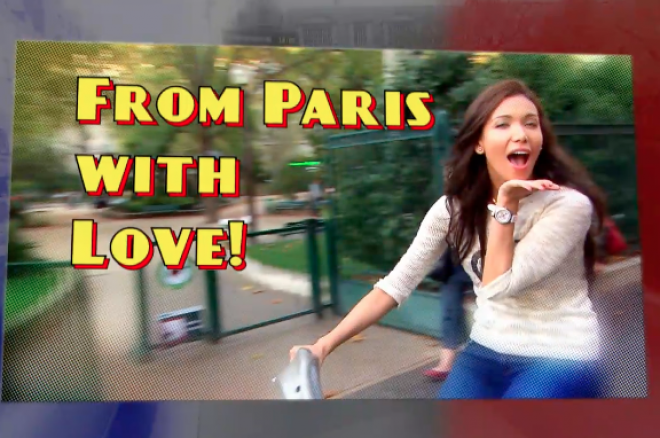 On Sunday, Season XII of the World Poker Tour continued on Fox Sports Network Sunday with the Part II of the Grand Prix de Paris, a €7,500 Main Event that attracted 187 entries to the Aviation Club de France in Paris back in October 2013. The field generated a prize pool of €1,839,496 that was to be distributed to the top 21 players.
In my recap of Part I — which you can read by clicking here — I took a look back at how the Aviation Club made Tony G a star (or was it the other way around?), highlighted the elimination of Kimmo Kurko in sixth place, and offered my take on the final table's wardrobe in my "famous" Fashion Report.
I watched the latest episode and thought I'd offer you my thoughts in my weekly WPT on FSN recap.
Here's how things stacked up when they reached the Grand Prix De Paris final table, which was without a French player for the second year in a row:
WPT Season XII Grand Prix de Paris Final Table
| Seat | Player | Chips |
| --- | --- | --- |
| 1 | Peter Apostolou | 791,000 (39BB) |
| 2 | --empty-- | N/A |
| 3 | Elliot Smith | 501,000 (25BB) |
| 4 | Christina Lindley | 684,000 (34BB) |
| 5 | Mohsin Charania | 255,000 (12BB) |
| 6 | Vasili Firsau | 3,356,000 (167BB) |
My Favorite: Over the years, PokerNews has gotten to know thousands of poker players on the felt, but there are only a handful we've gotten to know in "real life."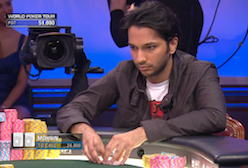 To rectify this, we've decided to catch up with various players and ask them about their favorite non-poker things. No questions are off limits, but the only rules is it can't be poker-centric.
Since he is at the WPT Grand Prix de Paris final table, first up is 2012 PokerStars and Monte-Carlo® Casino European Poker Tour Grand Final and 2013 World Poker Tour Grand Prix de Paris champ Mohsin Charania.
What are his favorite things?
Who is your favorite band/singer? That would be Guns n' Roses. — "I really got into it during college because my roommate had a guitar and played every song. I am going to see them this summer in Vegas," Charania explains.
What kind of car do you drive? — "I live in Chicago so there's no need for me to own a car," Charania says. "Cabs and Ubers are my life."
What is your favorite book? — "The Game by Neil Strauss," Charania admits. "That's how I picked up my girlfriend — I highly recommend it. Just kidding... or am I?"
Who is your favorite actor/actress? — "I love comedies so I am going to say Will Ferrell. I think Step Brothers is an amazing movie," Charania says. "His new show Spoils of Babylon is extremely hilarious as well."
What is your favorite drink of choice? — "I love Indian Chai. Often times I can't get it so I make do with Chai Tea Latte at Starbucks," says Charania. "It's become an unhealthy obsession to have one before poker tournaments."
What is your favorite place to blow of steam? — "Outside of the bedroom?" Charania laughs. "I like to play basketball and watch Chicago Bulls games. Sometimes the Bulls get me frustrated and I have to go back to the basketball court to blow off more steam."
Who is your favorite super hero? — "Aquaman," Charania says, "but only from the show Entourage starring Vinny Chase."
What's your favorite animal? — "It's not something I am proud of, but I am afraid of any living being that isn't a human," Charania admits. "Especially dogs over 10 lbs."
What is your favorite non-essential thing to take with you when you travel? — "It's very suspicious traveling around with a ziplock bag full of white powder, but I love making protein shakes when I'm on the road," Charania says.
What is your favorite card or board game other than poker? — "This is the easiest question," Charania quips. "I love CARDS AGAINST HUMANITY. Bees? It makes sense if you've played the game."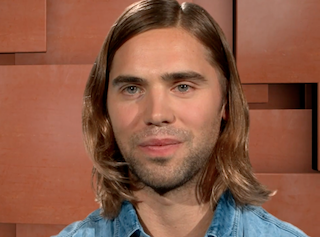 Get to Know Elliot Smith: Who is the good-looking guy at the final table with long, flowing blonde locks? That would be Canadian swim coach Elliot Smith, who was notching his fourth WPT cash. Some may remember Elliot, who had $1,046,428 in worldwide earnings up to that point, as the third-place finisher in the 2009 Aussie Millions Main Event, a performance that earned him $497,000.
"Elliot is funny. He looks like Thor, he's like a big guy," said Christina Lindley. "There was a couple times when he was squished between us that he was knocking stuff over, a little bit like a bull in a China store."
Bad Luck for Lindley: After Elliot Smith opened for 50,000 with the
, Lindley looked down at the
. She eyed up Smith on her right, but little did she know the real danger was sitting to her left. Lindley proceeded to move all in for 693,000, and then Vasili Firsau, who had more than half the chips in play, made the call.
"Wow," Lindley said, aware that she had run into a big hand. Indeed, after Smith folded Firsau tabled the
. The
flop left Lindley in need of running cards, and while the
turn made it appear they could chop if four of a kind hit the board, that wasn't a possibility as Charania had folded the
. The
was run out on the river for good measure, and the Lindley wished the table good luck before taking her leave in fifth place for €82,280.
The RFGs in Old Paris: Upon returning from the break, the WPT aired a segment showing the Royal Flush Girls out and about in Paris. The checked out the Eiffel Tower, made Macaroons, and rode bikes about town.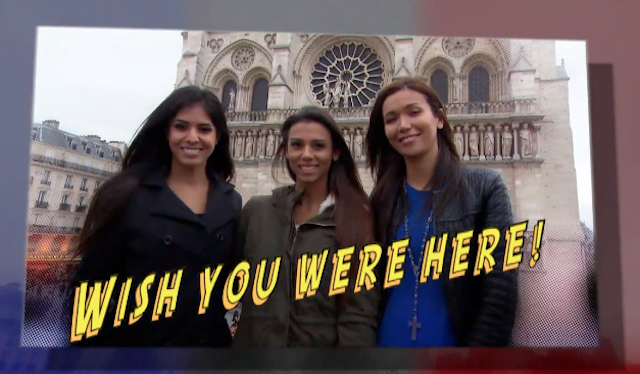 Swim Coach Drowns: After Firsau opened for 51,000, Smith looked down at the
in the big blind and moved all in for his last 350,000. Firsau snap-called with his
and Smith simply uttered, "That's too bad."
Indeed, it was as the
came down on the flop to give Firsau top set and leave Smith drawing dead. The
and
were run out on the turn and river respectively, and then Smith hit the rail in fourth place for €109,615.
"It feels pretty good to make a final table," Smith said in his post-elimination interview. "I mean, you can't be happy with the last hand where I ran into something big and was drawing dead on the flop, but you know that's poker."
The Vacation is Over: In the last hand of the broadcast, Firsau opened for 55,000 from the button holding the
. When action reached Peter Apostolou in the big blind, the Australian looked down at the
and promptly moved all in for 405,000. Firsau made the call, and it was off to the races.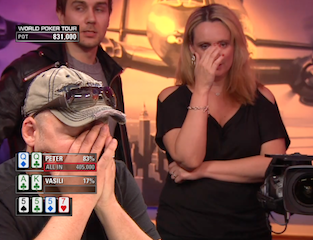 Interestingly, Apostolou and his wife were in vacation Paris when he won a €1,000 satellite into the event. Actually, they were going to go on a month-long holiday to the United States, but decided to swing through Paris first to visit his wife's parents. Needless to say, they were primed to return home with a lot more money than they left with.
Anyhow, Apostolou, who was being railed by his wife, stood to watch the action. The
flop was safe enough, and so was the
turn. At this point both Apostolou and his wife put their hands to their face in what was clearly a tense situation. The Australian was just on card away from a double and keeping his dreams alive, but his hope was crushed when the
spiked on the river.
Even so, Apostolou was a gracious loser, no doubt helped by the fact that he would be returning home with €148,050.
"It was a blast, it was like a dream come true," Apostolou said to close out the broadcast. "Obviously a little disappointing in the end, but you really have to take it all in stride. It's all been just an amazing adventure for me."
Tune in Next Week: The conclusion of the Grand Prix de Paris is set to air on Sunday, April 6 on FSN, so be sure to check your local listings. If by chance you miss it, check back next week for the latest recap of all the action here on PokerNews.
Who will be the next player to add his or her name to this prestigious list of champions?
Past Grand Prix de Paris Champions
| Season | Player | Earnings |
| --- | --- | --- |
| 1* | Christer Johansson | €500,000 |
| 2 | David Benyamine | €357,200 |
| 3 | Surinder Sunar | €679,860 |
| 4 | Roland de Wolfe | €479,680 |
| 5 | Christian Grundtvig | €712,5 |
| 9 | Theo Jorgensen | €633,902 |
| 10 | Matthew Waxman | €518,750 |
| 11 | Matt Salsberg | €400,000 |
| 12 | ??? | €340,000 |
*Called Euro Finals of Poker
*Pictures courtesy of World Poker Tour.
Get all the latest PokerNews updates on your social media outlets. Follow us on Twitter and find us both Facebook and Google+!