WPT on FSN Grand Prix de Paris Part I: Dress Code, Enter Tony G & a Pair of Lovebirds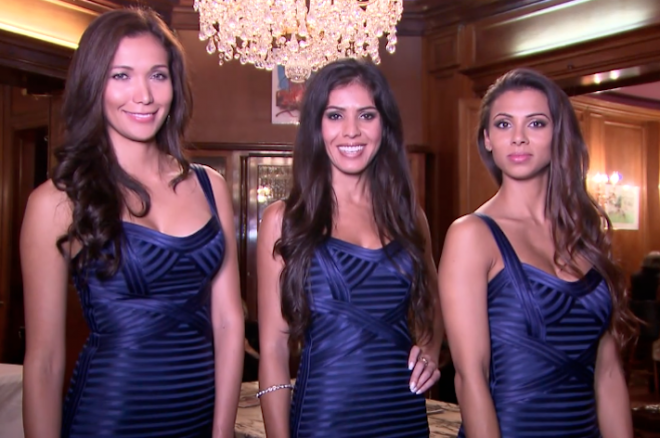 Season XII of the World Poker Tour continued on Fox Sports Network Sunday with the first of three episodes from the Grand Prix de Paris, a €7,500 Main Event that attracted 187 entries to the Aviation Club de France in Paris back in October 2013. The field generated a prize pool of €1,839,496 that was to be distributed to the top 21 players.
I watched the episode and thought I'd offer you my thoughts in my weekly WPT on FSN recap.
Dress Code: Below I write my infamous Fashion Report on the final tablists, but it's also worth noting that the Aviation Club enforces a dress code of its own. According to Anthony Zinno, whom I just covered extensively in my Borgata Poker Open recaps, he was forced to switch out his track pants for jeans.
"It's cool. I like it, I just didn't know," Zinno admitted. Kind of ironic since I gave him such a high grade a few weeks back for his Borgata Poker Open getup.
Getting Even: What do you do when you bust a poker tournament? Many players would go back to the hotel to sulk, while others might go explore the town. Dan Heimiller? Well, he heads to the blackjack tables to get even. After busting Day 1a, Heimiller returned to the tournament area to show off a white €5,000 chip and three pink €1,000 chips. He explained he went to the blackjack tables and promptly won back the buy-in he had just lost playing poker. This strategy is not recommended.
Enter the "G": You don't see Tony G on the poker circuit much these days — what with his foray into Lithuanian politics and all — but he always makes time to travel to the Grand Prix de Paris, which is where he shot to poker stardom after his boisterous antics against Surinder Sunar way back in Season 3.
"I just arrived on the fast train from London. I just love Paris, I love the club," Tony G said after late registering at the start of Day 2.
Here's a flashback to what made the "G" such a polarizing figure in the poker world:
Sexton Takes a Dig at the Devilfish: On Day 3, Mike Sexton visited the tournament area and spotted an old school player in David "Devilfish" Ulliott (who happens to be my favorite poker player).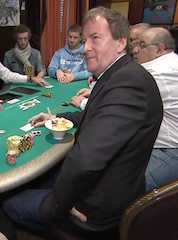 "The Devilfish. A very famous player. Used to be, we haven't seen him in awhile," Sexton joked within earshot of Ulliott. "He thinks he's still got game, we'll find out. He's still here, I'm shocked."
Unfortunately, the Devilfish wouldn't last much longer.
Defending Champ Down: On Day 4, the money bubble burst, and WPT Season XI Player of the Year and the defending Grand Prix de Paris champ Matt Salsberg was still in the field. He had actually finished as the Day 2 chip leader, and he no doubt had high hopes of becoming the first player to win the same WPT title twice. Unfortunately for him, his run came to an end in 13th place for €19,685.
"I'm two for two here at least with deep runs. It would have been nice to at least have at least had a shot at it, you know, and get to the final six," Salsberg said upon busting. "Not too many things were going my way."
Here's how things stacked up when they reached the Grand Prix De Paris final table, which was without a French player for the second year in a row:
WPT Season XII Grand Prix de Paris Final Table
| Seat | Player | Chips |
| --- | --- | --- |
| 1 | Peter Apostolou | 269,000 (16 BB) |
| 2 | Kimmo Kurko | 116,000 (7 BB) |
| 3 | Elliot Smith | 782,000 (48 BB) |
| 4 | Christina Lindley | 880,000 (55 BB) |
| 5 | Mohsin Charania | 647,000 (40 BB) |
| 6 | Vasili Firsau | 2,893,000 (180 BB) |
The Final Table Fashion Report: Sexton has always said it's good for the games when players dress up for the TV final table. So did the Grand Prix de Paris finalists take his advice? Here's my take on each of the players' wardrobes.
Mohsin Charania: I've always liked Mohsin Charania, and I think part of the reason is because he's from Chicago, which is in the same neck of the woods as me. You wouldn't guess it, though, as the man has some European style. At this final table, Mohsin wore a black jacket of European influence over a white T-shirt. Not too fancy, but not blasé either. Oh, and it was definitely better than the getup he wore the year before at the same final table, one that earned him a "C" rating. Grade: B
Christina Lindley: It's not often I get to judge a woman's outfit at a WPT final table, let alone one of a former model. I thought Lindley's long-sleeve blue shirt was a little conservative, but I liked that she accessorized with a silver bracelet and patched up after no doubt finding a sponsor. I was also a fan of her fingernails, which were nicely decorated. Grade: B
Kimmo Kurko: It looked as if the Finn's blue and white plaid shirt was straight out of the 2011 Martin Stazko collection. Funny thing is, I own some shirts very similar to it. That said, I wouldn't wear one of them to a final table. At least it was a button-up. Grade: C-
Vasili Firsau: A blue zip-up sweater wasn't very impressive, but for some reason it seemed indicative of a man from Belarus. Grade: C
Elliot Smith: I'm not crazy about the denim button-up, but he fancied it up with a black scarf and matching shades. Given his naturally good looks and long, flowing blonde hair, Smith pulls it off. Grade: B+
Peter Apostolou: A black T-shirt, beat-up cap, and sunglasses made the Australian look more like a player you'd find in the American south. If that's the best clothing he has to choose from, I hope he uses some of his winnings to upgrade his wardrobe. Grade: F
What Are the Odds: A short-stacked Kimmo Kurko opened for 42,000. Action folded to Vasili Firsau, who held a massive chip lead with more than half the chips in play, and he moved all in from the small blind. The big folded and Kurko called off for 365,000.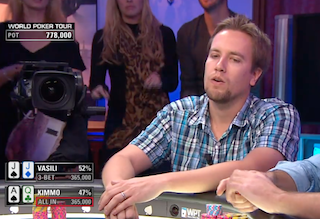 Kurko:

Firsau:
Kurko had doubled up twice at the final table up to that point, and according to the PokerNews Odds Calculator, he had a 42.87% chance of surviving the hand while Firsau would win 56.72% of the time. The
flop was no help to Kurko, and his chances dropped to 22.22%. The
turn knocked it down ever further to 13.64%, which mean he needed either an ace or queen on the river to stay alive.
Unfortunately for the 30-year-old Finn, the
blanked. Kurko, who began the final table as the extreme short stack, shook hands with his opponents and then took his leave from the tournament in sixth place for €65,790.
Love Birds: After Christina Lindley, who is one of the WPT's Season 12 Ones to Watch, got away with a well-executed bluff, the WPT aired a little segment featuring her and her boyfriend, David Randall. If that name sounds familiar it's because I wrote about him in my Borgata Poker Open recaps, where he ultimately finished in fifth place for $208,000.
Lindley admitted that she couldn't date someone who didn't play poker because of the life style, and that dating a poker player provides its own support system. Lindley was railing Randall at his final table, and he returned the favor in Paris. Impressive that a poker power couple made back-to-back WPT final tables.
End with a Double: In the last hand of the broadcast, Charania opened for 42,000 holding the
and a short-stacked Peter Apostolou, who went to Paris on holiday with his wife, moved all in from the button for 295,000 total with the
. The blinds folded, and Charania made the call.
"Ahhh, you're good," Charania said upon discovering he had the inferior kicker. The
flop made things interesting as Charania picked up chop options. "Queen balls?" he asked.
The dealer did not oblige and instead put out the
. Charania was looking for a nine on the river to win, or either a king, queen, or seven to chop. Unfortunately for him, it didn't come as the
blanked. That meant the broadcast came to an end with five players still in contention.
Tune in Next Week: Part II of the Grand Prix de Paris is set to air on Sunday, March 30 on FSN, so be sure to check your local listings. If by chance you miss it, check back next week for the latest recap of all the action here on PokerNews.
Who will be the next player to add his or her name to this prestigious list of champions?
Past Grand Prix de Paris Champions
| Season | Player | Earnings |
| --- | --- | --- |
| 1* | Christer Johansson | €500,000 |
| 2 | David Benyamine | €357,200 |
| 3 | Surinder Sunar | €679,860 |
| 4 | Roland de Wolfe | €479,680 |
| 5 | Christian Grundtvig | €712,5 |
| 9 | Theo Jorgensen | €633,902 |
| 10 | Matthew Waxman | €518,750 |
| 11 | Matt Salsberg | €400,000 |
| 12 | ??? | €340,000 |
*Called Euro Finals of Poker
*Pictures courtesy of World Poker Tour.
Get all the latest PokerNews updates on your social media outlets. Follow us on Twitter and find us both Facebook and Google+!