WPT on FSN Borgata Poker Open Part III: King Cong, Founder Love, & Selbst Second Best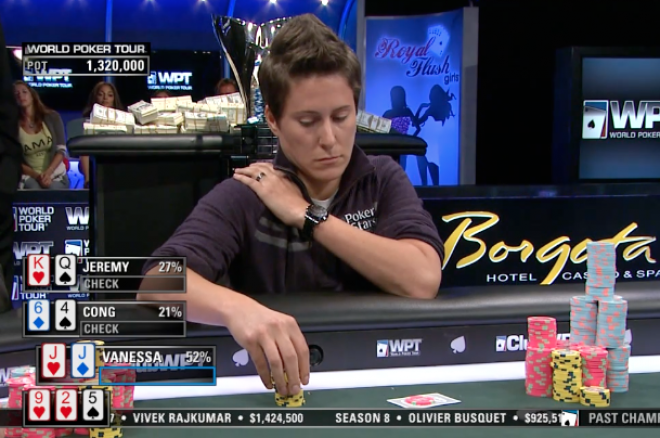 Season XII of the World Poker Tour continued on Fox Sports Network Sunday night with the conclusion of the Borgata Poker Open, a $3,500 Main Event that attracted 1,189 entries back in September 2013. The $3,805,989 prize pool was distributed to the top 110 players, with $825,099 reserved for the eventual winner.
In my recap of Part I, I offered my final table fashion report (it was one of the best yet), highlighted the fall of Eric Fields in sixth place, and asked – where's Mickey Doft?
In Part II, I enjoyed a mud massage with the Royal Flush Girls, examined Tony Dunst's Raw Deal, and delved into Vanessa Selbst's play.
Last night, I watched the latest episode and thought I'd offer you my thoughts in my weekly WPT on FSN recap.
Here's how things stacked at the top of the broadcast:
WPT Season XII Borgata Poker Open Final Table
| Seat | Player | Chips |
| --- | --- | --- |
| 1 | -empty- | N/A |
| 2 | Anthony Zinno | 9,345,000 (46BB) |
| 3 | Vanessa Selbst | 8,220,000 (41BB) |
| 4 | -empty- | N/A |
| 5 | Jeremy Kottler | 10,590,000 (52BB) |
| 6 | Cong Pham | 7,500,000 (37BB) |
A Big Thanks to the Founder: Near the top of the broadcast, Lynn Gilmartin welcomed Steve Lipscomb to the booth. For those unfamiliar with Lipscomb, he founded the WPT more than a decade ago!
"It is an honor to be on your perch. You know it's been four years since I've been here on the World Poker Tour," Lipscomb said. "It's exciting to see the madness continue … This was the dream, to make this the NBA of poker."
With the growth and prestige of the WPT, I'd say Mr. Lipscomb has lived to see that dream come true even though he is no longer actively involved with the tour. He believed people would watch, and he wasn't wrong.
You can watch the entire interview here:
Kottler Cut Down: Action folded to Vanessa Selbst in the small blind and she moved all in holding the
to apply maximum pressure to Jeremy Kottler in the big blind. Kottler looked down at the
and called off for 2.895 million.
It was a race situation for the 33-year-old Kottler, who happened to be the oldest player at the final table. Unfortunately for him, the flop came down
to give Selbst the lead with a pair of aces. The
turn improved her to trips, which meant Kottler needed a five and a five only to stay alive. That didn't happen though as the
blanked on the river. The two shook hands and then Kottler took his leave in fourth place for $251,968.
"That's just the way it goes sometimes," Kottler summed up in his post-elimination interview.
The Wedding of the Century: Anyone who has met Vanessa Selbst knows that she is madly in love with her wife Miranda. The two were married last year not long before the Borgata Poker Open. Selbst talked a bit about it on the broadcast, but for a fuller look at the ceremony, I recommend you check out the PokerStars Blog.
King Cong Falls Off the Empire State Building: Cong Pham once held an overwhelming chip lead at the final table, but he was sitting on the short stack when he looked down at the
and three-bet to 1.3 million over the top of a 500,000 from Anthony Zinno, who held the dominant
. Zinno pushed back with a four-bet, Pham moved all in, and Zinno snap-called.
The
flop made Zinno a huge 98% favorite, which left Pham in needed of running cards. The
turn took away any chance of that happening, and after the
was put out on the river for good measure, the man from Vietnam exited in third place for $301,225.
"Ace-queen is a big hand three-handed, so I just go for it and it didn't work out," Pham lamented after the hand.
One to Watch: In the latest edition of Ones to Watch, the WPT took a look at Loni Harwood, who broke out at the 2013 World Series of Poker.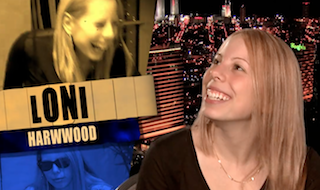 "Loni, talk about a breakout star," said fellow Ones to Watch member Aaron Massey. "She came out of almost nowhere and set the world on fire this summer. I've got a lot of love for that little girl."
Harwood then talked about her mother, who she claimed was her biggest supporter. She explained that her mother had fallen ill before the WSOP, and she promised to win her a bracelet. She obviously did that, and in an especially heart-warming moment, the WPT aired video of Harwood presenting her mom the bracelet.
The Ones to Watch is a great segment to introduce the poker world to some young up-and-coming players, and it's refreshing to see them focus on what makes these characters special.
"I am a big dreamer," Harwood said. "One of my dreams has already come true."
The Raw Deal: Tony Dunst stated that Vanessa Selbst is one of his least favorite players to see sitting across the table. Why is that? Have a look:
Zinno Claims Victory: It was the first time two lawyers had battled heads up for a WPT title, and while Anthony Zinno admitted Vanessa Selbst was a better no-limit hold'em player, he was confident as he had specialized in heads-up play. The two jostled for a bit, during which time Zinno pulled out to a healthy chip lead.
In what would be the final hand, Zinno opened for 1.2 million and then called when Selbst moved all in for 7.775 million.
Selbst:

Zinno: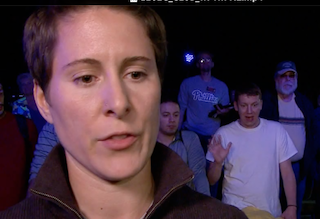 It was the right call, but Selbst was drawing to two live cards. The
flop gave Selbst a gutshot straight draw, but the
turn was no help. It was down to the river, and both players were on their feet and clearly nervous. The dealer burned one last time and put out the
. Selbst missed, shook hands with Zinno, and then promptly got photo bombed by someone giving a wave to the camera in her post-elimination interview.
"Every player at this table was a great poker player. I'm tremendously proud," Zinno told Mike Sexton in his winner interview. "I've put so much effort into improving my game in the past two years or so. Here I am. I still don't believe it, my heart is pounding out of my chest… this is probably the best day of my life."
Tune in Next Week: On Sunday, March 23, FSN will air Part I of the Grand Prix de Paris, so be sure to check your local listings. If by chance you miss it, check back next week for the latest recap of all the action here on PokerNews.
Past Borgata Poker Open Champions
| Season | Player | Entrants | Earnings |
| --- | --- | --- | --- |
| 2 | Noli Francisco | 235 | $470,000 |
| 3 | Daniel Negreanu | 302 | $1,117,400 |
| 4 | Al Ardebili | 515 | $1,498,650 |
| 5 | Mark Newhouse | 545 | $1,519,020 |
| 6 | Roy Winston | 560 | $1,575,280 |
| 7 | Vivek Rajkumar | 516 | $1,424,500 |
| 8 | Olivier Busquet | 1,018 | $925,514 |
| 9 | Dwyte Pilgrim | 1,042 | $733,802 |
| 10 | Bobby Oboodi | 1,131 | $922,441 |
| 11 | Ben Hamnett | 1,181 | $818,847 |
| 12 | Anthony Zinno | 1,189 | $825,099 |
*Pictures courtesy of World Poker Tour.
Get all the latest PokerNews updates on your social media outlets. Follow us on Twitter and find us both Facebook and Google+!