WPT on FSN Legends of Poker Part III: Laak Rants, Ones to Watch & Eliminations Galore
On Sunday, the World Poker Tour Season XII broadcast on Fox Sports Network continued with the conclusion of Legends of Poker, a $3,500 Main Event that attracted 716 entries at the The Bicycle Casino in Bell Gardens, California, back in September 2013.
Two weeks ago, I talked about the debut of Lynn Gilmartin and my final table fashion report in my recap of Part I. Then, in last week's recap of Part II, I spoke with Gilmartin on what it was like watching herself on TV and highlighted the elimination of John Gordon in sixth place.
In this week's episode, action resumed with five players still in contention for the $613,355 first-place prize. Below are my thoughts on the episode.
Here's how things stacked up at the top of the broadcast:
WPT Season XII Legends of Poker Final Table

| Seat | Player | Chips |
| --- | --- | --- |
| 1 | --empty-- | N/A |
| 2 | Jordan Cristos | 5,100,000 (34BB) |
| 3 | Alex Masek | 2,315,000 (15BB) |
| 4 | Phil Laak | 3,900,000 926BB) |
| 5 | Ryan Goindoo | 7,930,000 (52BB) |
| 6 | Dan Heimiller | 2,215,000 (14BB) |
Phil-osophy: Near the top of the broadcast, Phil Laak sat in front of the camera and talked a little about poker. Like the man himself, his answer was a little all over the place.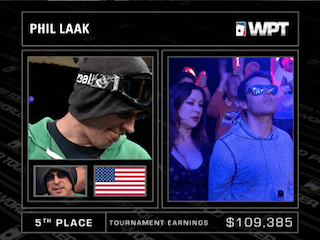 "The things that I love about poker are very simple. One, the characters you meet are, varied and wide would be an understatement," Laak said. "Two, it satisfies a lot of man's primal need for returning to something, which is a direct feeling of autonomy, some power and control over what's going on. Something that's complex enough to hold out attention. We're all pushing the web of consciousness ... now it's a state of a thousand millions things."
Believe me when I say that was just the start of his ranting tangent. I've said it before and I'll say it again, Laak toes the line of madman and genius perfectly.
Laak Bombed: Unfortunately for viewers at home, they wouldn't be treated to anymore of Laak's antics as he was eliminated in the next hand. It happened when Jordan Cristos opened for 350,000 with the
and then called when Laak shoved for 3.7 million holding
. The board ran out
and Laak no doubt regretted his wildly aggressive shove.
One to Watch: The first Ones to Watch segment of the new season aired on Sunday. It was nice to see some up-and-coming players get their turn in the poker spotlight. Check it out:
Masek Massacred: Alex Masek is one of the most talented players I've had the opportunity to meet on the World Series of Poker Circuit. He's so talented that he is actually tied for the most Circuit rings in history with seven.
Masek, who did an in-depth interview with PokerNews last year, is originally from St. Louis, Missouri, but now a resident of San Diego, California. "In 2008 I moved to San Diego for law school, and after graduating, I moved to Los Angeles late last year," Masek told PokerNews in the interview. "Though I liked both St. Louis and San Diego, neither city has great year-round poker tournament action. I knew that if I wanted to really concentrate on tournament poker I'd have to live in a city like L.A., where there seems to be a good series going on basically every week."
Since moving out west, Masek has had a ton of success, especially at the Bicycle Casino. This was evidenced by his final table appearance in the Legends of Poker. Unfortunately for him, his run came to an end after he moved all in for 1.9 million from the small blind with the
and Ryan Goindoo defended from the big with the
. The
flop actually gave Masek the lead, but Goindoo took it back after the dealer burned and turned the
. The
completed the board on the river, and 28-year-old Masek was sent to the rail in fourth place for $156,790.
"It was a great experience. I feel I gained a lot of confidence playing in this field," Masek said in his post-elimination interview. "I definitely felt it was a great tournament to play in. Hopefully I'll be playing a lot more this season."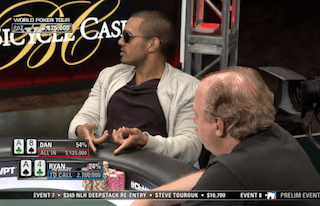 Pride Cometh Before the Fall: After eliminating Masek, Goindoo was confident and had a swagger to him. Personally, I found it off putting, especially when he was facing an all-in shove from Dan Heimiller and said, "I don't know how much chips I have."
He then looked at the tournament director and pointed at his chips as if to say, "Can you count these for me." The man isn't helpless, and him asking this was pure nonsense. At least he wise up and said, "Actually never mind, I'll figure it out."
He then made a bad call to double Heimiller. Goindoo's swagger quickly vanished, and unbeknownst to him, he was circling the drain. That's because in the very next hand Heimiller opened for 525,000 with the
and Goindoo shoved with the
. Heimiller snap-called, promptly caught an ace on the flop, and just like that Goindoo went from feeling on top of the world to out in third for $233,360.
The Raw Deal: Tony Dunst took to his popular segment to talk about sound strategy and mental fortitude. He then examined the dichotomy between Cristos and Heimiller, the latter having played poker for fifteen more years than the former has been alive!
Dunst then examined a hand between the two in which Heimiller check-raised bluffed with the
on the turn with a board reading
, a move Dunst didn't like for three reasons:

1.) High probability Cristos has a strong hand (he did with the );
2.) Cristos won't fold if there's a chance his opponent is on a draw;
3.) Cristos will shove all in if he's on a draw.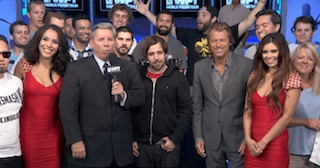 Indeed, Heimiller ended up folding and giving Cristos a sizable chip lead. A short time later, Cristos seized victory and his rail, deemed "Cristos Nation," rushed the stage.
"I didn't wait long enough for good cards. I got a little impatient and attempted quite a few bluffs that didn't work," a crestfallen Heimiller explained after falling in second place.
"It feels awesome, it's just the best feeling ever," Cristos told Mike Sexton before hoisting up the WPT Champions Club.
Tune in Next Week: On Sunday, March 2, FSN will air Part I of the Borgata Poker Open, so be sure to check your local listings. If by chance you miss it, check back next week for the latest recap of all the action here on PokerNews.
Past Legend of Poker Champions
| Season | Player | Earnings |
| --- | --- | --- |
| 1 | Chris Karagulleyan | $258,000 |
| 2 | Mel Judah | $579,375 |
| 3 | Doyle Brunson | $1,198,290 |
| 4 | Alex Kahaner | $1,125,900 |
| 5 | Joe Pelton | $1,577,170 |
| 6 | Dan Harrington | $1,635365 |
| 7 | John Phan | $1,116,428 |
| 8 | Prahlad Friedman | $1,034,500 |
| 9 | Andy Frankenberger | $750,000 |
| 10 | Will "The Thrill" Failla | $758,085 |
| 11 | Josh Hale | $500,000 |
| 12 | Jordan Cristos | $613,355 |
*Pictures courtesy of World Poker Tour.
Get all the latest PokerNews updates on your social media outlets. Follow us on Twitter and find us on both Facebook and Google+!