A Historical Look at the Mid-States Poker Tour Canterbury Park Stop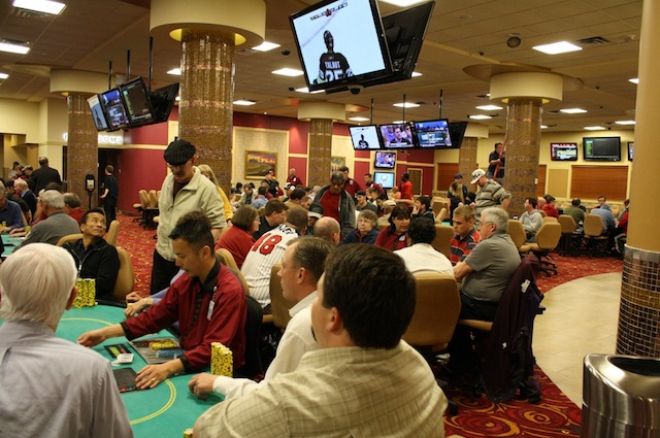 Season 5 of the Mid-States Poker Tour (MSPT) will continue this weekend at Canterbury Park in Shakopee, MN, the venue where it all began. The tournament, which is historically the largest on the MSPT schedule, is expected to draw players from across the Midwest, and you'll be able to follow the action in the PokerNews Live Reporting section.
Canterbury Park has been a part of the MSPT dating all the way back to Season 1. In fact, the property played host to the first-ever MSPT event back in December 2009. Back then, it was called the Minnesota State Poker Tour, as each stop was limited to that state, but it eventually morphed into the Mid-States Poker Tour after expanding outside the state's borders. Obviously, a lot has changed in the past four years.
PokerNews decided to take a look back at the history shared between the MSPT and Canterbury Park.
John Dragich Wins the First-Ever MSPT Main Event
The first-ever MSPT event took place from Dec. 9-14, 2009, and that inaugural event attracted 130 players. One of them was MSPT founder Bryan Mileski, who, at the time, allowed himself to play the event. Mileski navigated his way to the final table, but ultimately busted in seventh after losing back-to-back coinflips.
In the end, it was 20-year-old John Dragich from St. Cloud, MN that walked away with the $34,765 first-place prize and a diamond bracelet. Interestingly, Dragich clinched the title in just one hand of heads-up play against another 20-year-old player, Chase Wood.
Here's a look at the first-ever MSPT Canterbury Park final table:
| Place | Player | Prize |
| --- | --- | --- |
| 1st | John Dragich | $34,765 |
| 2nd | Chase Wood | $19,866 |
| 3rd | Todd Melander | $12,416 |
| 4th | Chris Dolan | $9,312 |
| 5th | Jeff Mowery | $7,574 |
| 6th | Tim Votava | $5,587 |
| 7th | Bryan Mileski | $4,966 |
| 8th | Kevin Reichel | $4,346 |
| 9th | Toan Pham | $3,725 |
| 10th | Rob WazWaz | $3,104 |
MSPT Returns to Canterbury for Seventh Stop; Senti Wins
The MSPT was still in its infancy, but it got a good PR boost when, one month after finishing seventh in the 2010 World Series of Poker Main Event, November Niner Jason Senti won the second MSPT Canterbury Park on December 13 for $38,540. Senti outlasted Drew Johnson in a two-hour heads-up battle.
As the MSPT wrote:
"The storyline is pretty extraordinary. Senti has become, by nature, the face of Minnesota poker over the last few months. He has a charismatic, likeable personality to go along with a lethal poker game, and he rarely turns down a media request.
"On Day 1 of the two-day, $100,000 guaranteed MSPT Main Event, Senti showed up near the beginning of Level 2. With 136 players already registered — a blizzard nearly wiped out two days of qualifying that would likely have bumped the field up over 200 — Senti was mistakenly turned away from the registration table.
"'They said I was too late,' Senti laughed. 'But they wound up letting me in anyways.'
Senti went on to talk about his win on his blog at BlueFirePoker.com:
"Winning a tournament is always a good feeling, and this was especially true as it was the first tournament I have played in the Midwest since making the November Nine last summer. I am glad I was able to make a good showing. It wasn't that long ago that I was screwing around in $2/$4 [limit hold'em] and trying to satellite into the $1,100 tourneys at Canterbury Park. Its amazing to think how much everything has changed for me with regards to poker in the last four years."
Here's a look at the second-ever MSPT Canterbury Park final table: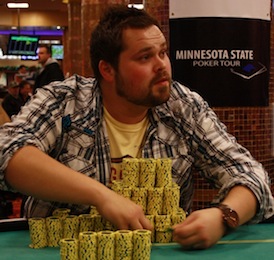 | Place | Player | Prize |
| --- | --- | --- |
| 1st | Jason Senti | $38,540 |
| 2nd | Drew Johnson | $19,003 |
| 3rd | Dave Jeno | $11,960 |
| 4th | Chinh Quatch | $9,302 |
| 5th | Bred Feldman | $7,973 |
| 6th | Todd Melander | $5,980 |
| 7th | Leo Fussy | $5,183 |
| 8th | Brian Ward | $4,518 |
| 9th | Bill Criego | $3,721 |
| 10th | Mario Hudson | $3,056 |
RFID Final Table Debuts During the MSPT's Third Visit to Canterbury Park
The MSPT visited Canterbury Park for the third time from Dec. 7-12, 2011, when 230 players took to the felt and created a $230,000 prize pool. Interestingly, the tournament marked the first time the MSPT used their famous RFID final table, which attracted over 2,000 viewers on the initial broadcast.
Eventually, two MSPT regulars — Kou Vang and Everett Carlton — made it to heads-up play. Vang, who has been tearing it up in Season 5 thus far, held a 2-1 chip lead and only needed one hand to seal the deal. It happened when Carlton raised with
and Vang three-bet holding
. Carlton proceeded to move all in, Vang snap-called, and an ace on the flop put an end to the tournament. Vang took home $64,645 for his win.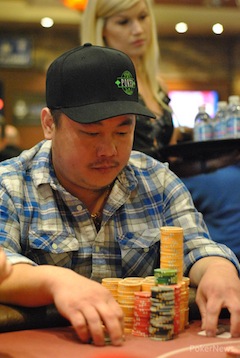 The MSPT caught up with Vang after he won that event to get his thoughts on the RFID final table. Here's a part of that interview:
MSPT: This was the first time a U.S. tour has used the RFID technology, it was broadcast on a 15-minute delay. So you knew at some point players may see or hear about certain hands. Did that affect your game at all or how you played?
Vang: Yeah, I definitely considered that. During the first 15 minutes of final table play, I wanted to get a couple of steals in there right away because I knew they were going to catch on down the road. I think I opened the pot a couple of times with
and stole another with
or something like that. I knew I had to do that in the first 15 minutes and at the same time try to set up an image where I was going to maybe play some big pots later on.
MSPT: It looked like you were able to set up the image you were hoping for, then you were able to pick up a couple hands down the stretch which helped you get paid off.
Vang: Yeah, for sure. The amount of luck it takes to win a tournament is tremendous, but at the same time you have to be aggressive and pick up some hands as well. I was fortunate to win a big pot when we were eleven or twelve handed, right before the final table. So I wanted to apply some pressure once we got there. I was able to do that against some stacks that were only 10-15% of my stack.
MSPT: We received a ton of comments from viewers about how well they thought you were playing? One gentlemen even asked how you knew what everyone had all the time.
Vang: Well, that's one thing when you do this for a living is you just try to get better every day. You have your good and bad days, sometimes you just get in the zone.
Here's a look at the third-ever MSPT Canterbury Park final table:
| Place | Player | Prize |
| --- | --- | --- |
| 1st | Kou Vang | $64,645 |
| 2nd | Everett Carlton | $31,876 |
| 3rd | Ben Andersen | $20,062 |
| 4th | William Vincent | $15,603 |
| 5th | Ryan Hartmann | $13,374 |
| 6th | Curt Heller | $10,031 |
| 7th | Jeremy Calverley | $8,693 |
| 8th | Nathan Richmond | $7,579 |
| 9th | Dan Dykhouse | $6,241 |
| 10 | Doug Winn | $5,127 |
MSPT's Fourth Stop to Canterbury Park Sets Both Tour and State Records
From Dec. 1-9, 2012, the MSPT was back at Canterbury Park for the fourth time. The tournament attracted 376 players and created a $357,800, which was the largest in the MSPT's three-year history. Likewise, it was the largest field ever in the state of Minnesota for a major event with a buy-in of at least $1,000.
What's more, James Gibson of Stonewall, Manitoba became the first Canadian to win a MSPT Event, not to mention the hefty $96,205 first-place prize. Interestingly, Gibson was the first Canadian to ever win a Heartland Poker Tour event, which came back n 2007 for $77,720.
"I've been telling my wife for two years that when I hit the big one I would buy her a new car. Finally, I gave in and figured it may not happen so we went out and got her a new car. Then this! Now I can pay it off," Gibson said after the win. "I wish we could get the MSPT in Winnipeg. The guys up there would love this tournament. This turnout was fantastic! I drive a long ways to play MSPT events because I love them, it took me about eight hours to drive here from Manitoba."
Here's a look at the fourth-ever MSPT Canterbury Park final table, which was the last of Season 3: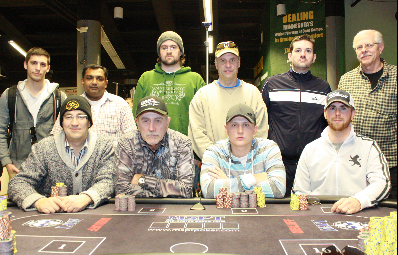 | Place | Player | Prize |
| --- | --- | --- |
| 1st | James Gibson | $96,205 |
| 2nd | Michael Lingenfelter | $52,639 |
| 3rd | Matt Williams | $34,850 |
| 4th | Thomas Ryan | $23,597 |
| 5th | Edward Janezich | $18,151 |
| 6th | Monty Schmidt | $14,521 |
| 7th | Bharathan Pulluvallil | $12,706 |
| 8th | Paul Schroeder | $10,891 |
| 9th | John Marlowe | $9,076 |
| 10th | Chris Schrom | $7,261 |
Adam Younis Wins $95,328 at Fifth Canterbury Park Spot
From April 20-28, 2013, the MSPT was back at Canterbury Park for a spring stop. The warm weather inspired 373 players to turn out, which created a prize pool of $372,400 and was the second-largest of the MSPT at the time. Eventually, Adam Younis of Ames, IA walked away with the title, $95,328 first-place prize, and the RF Moeller diamond championship bracelet.
According to the MSPT: "The star of the show was Younis who quietly dominated play from start to finish. He ended Day 1 second overall with 201,700 in chips. Younis then arrived at the final table with the chip lead, carrying 1,555,000 to the five seat where he continued to pick away at his opponents. Eventually, Younis would battle Brian Soja of New Brighton for the title, and Younis held over 6,000,000 of the 7,400,000 in play."
"I called my shot on the ride here." Younis said after the big win. "I really felt good about this and felt like I was going to win. I haven't been in a casino for a long time."
Here's a look at the fifth-ever MSPT Canterbury Park final table: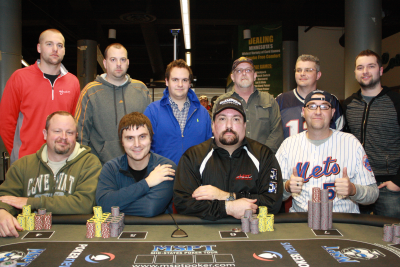 | Place | Player | Prize |
| --- | --- | --- |
| 1st | Adam Younis | $95,328 |
| 2nd | Brian Soja | $52,161 |
| 3rd | Brian Zekus | $34,530 |
| 4th | Brad Feldman | $23,382 |
| 5th | Rich Edinger | $17,986 |
| 6th | George Veazey | $14,389 |
| 7th | Patrick Serda | $12,590 |
| 8th | Arlie Brandvold | $10,792 |
| 9th | Cory Cove | $8,993 |
| 10th | Bill Parker | $7,195 |
Alkhatib Takes Down MSPT's Last Stop at Canterbury Park
The MSPT closed out its fourth season at Canterbury Park from Nov. 30-Dec. 8, 2013. The tournament attracted 366 entries and created a prize pool of $366,000, of which $93,734 went to the eventual winner, Nas Alkhatib.
Interestingly, four of the final 10 players had reached a MSPT final table before, including Brett Kuznia and Patrick Steele, both of who were competing for MSPT Player of the Year Honors. Here's how the MSPT described the intense race:
"The other two players to achieve multiple MSPT final tables needed no introduction. Brett Kuznia, an office manager from Stephen, MN, was in the midst of his record-setting, sixth consecutive MSPT cash and seventh overall. This was his fourth final table during that span and fifth overall. Kuznia had his sights set on tracking down the current MSPT Player of the Year leader Pat Steele of Chelsea, MI, who also made the final 10.
"Kuznia and Steele were clearly having the two best seasons on tour. Both were so impressive in 2013 that it was a shame for either to not be named Player of the Year.
"Steele earned his fourth MSPT final table this season and fifth cash; he had already taken third once and fourth twice.
"Despite the amazing success for both Kuznia and Steele, they were both still chasing their first MSPT bracelet.
"When Steele was eliminated in 10th place by Hopkins' Shane Nelson (
beat
all in preflop), it was official that the cash and bracelet would be staying home as all nine remaining players were from Minnesota. That also meant that Kuznia had to reach third place or higher to surpass Steele in points to win Player of the Year. Kuznia was second in chips at the time, but lost a substantial portion of his stack in a big pot against chip leader Alkhatib. Kuznia would bust in seventh place, meaning Steele would receive the 2013 MSPT Player of the Year title.
Here's a look at the sixth-ever MSPT Canterbury Park final table, which was the last of Season 3: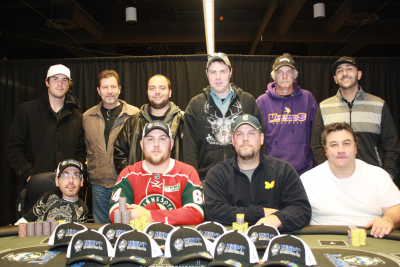 | Place | Player | Prize |
| --- | --- | --- |
| 1st | Nas Alkhatib | $93,734 |
| 2nd | Shane Nelson | $51,289 |
| 3rd | Brent Kallman | $33,951 |
| 4th | Allen Chapman | $22,991 |
| 5th | Gerrit Wierbos | $17,686 |
| 6th | Craig McClellan | $14,149 |
| 7th | Brett Kuznia | $12,380 |
| 8th | Gennady Shimelfarb | $10,611 |
| 9th | Marvin Beaulieu | $8,843 |
| 10th | Patrick Steele | $7,074 |
For more on the MSPT's upcoming stop at Canterbury Park, visit MSPTpoker.com. Also, don't forget PokerNews will be live reporting the event, which you an follow in our Live Reporting section.
Get all the latest PokerNews updates on your social media outlets. Follow us on Twitter and find us on both Facebook and Google+!