German Poker Pro: "France's Poker Tables are Easy and Full of Fish"
Philippe Baret

Giovanni Angioni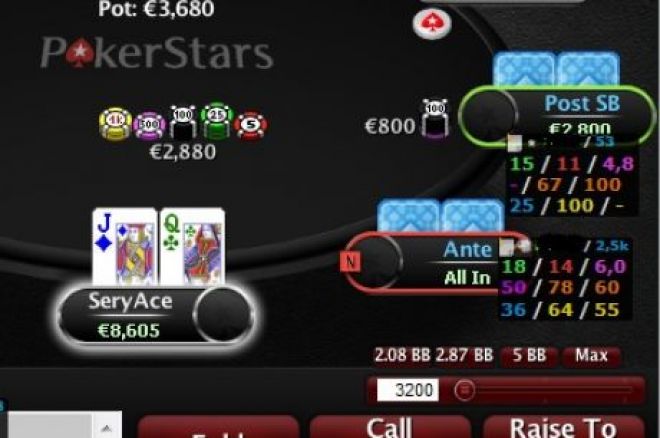 France's regulated online poker market offers a good opportunity to score some good results and win easy money, according to online player Christoph, who plays under the moniker "SeryAce." The Germany-based player tells PokerNews that France's segregated market "does not allow players to progress with their game as fast as it happens on other sites."
After putting together some good results, such as a ninth-place finish in the 2010 MiniFTOPS Main Event worth $10,000, 24-year old Frankfurt-based student "SeryAce" started the year on a very good run at PokerStars with a fifth-place finish in the SCOOP-04-H €100 NL Hold'em 1R1A worth $12,866, and a fifth-place result in the SCOOP-15-L: €15 NL Hold'em [Full KO] event for $2,244.
Part of Germany's "Froschkönig" (King of Frogs) team, "SeryAce" met with PokerNews France's Philippe Baret to discuss his adventures on France's online poker tables. Apparently, ring-fenced poker markets can be quite an opportunity for experienced players looking for easy and profitable games.
As everyone seems to want to leave France's closed legalized market, I wonder: What brings a German player like you to play on dot-fr poker rooms?
I am playing there as the games are really easy and there are a lot of fish. In general the level of regular players is pretty low, and the fact that France runs a regulated and ring-fenced market does not allow players to progress with their game as fast as it happens on other sites as PokerStars.eu or FullTiltPoker.com
What's an easy game for you?
Let's say that if we take a field of 100 players, I consider a game to be easy when 30% to 40% of the players are weaker than you. This allows you to get a good edge on players who limp a lot, play too many hands or are just bad players.
Some often complain that bad players are what make the game impossible to be properly played.
Are you talking about calling stations here? It is true that having this kind of players at the table means that you need to often adjust your game – but I would consider this to make the game anything but impossible.
It's just different, and in fact I think it is very easy to play against them. It's about making large value bets and just playing against them to get the most out of their style.
Is it correct to assume that you have two different way of playing, one for dot-com and one for dot-fr games? Or, where do you draw the line between adaptation and a totally different game?
This is an interesting question. I would say that there is no real difference for me, as I play on any table on any site more or less in the same way.
I change my game when I know that someone is very good, mostly because I already have a history with that player and I can read his game better than compared to someone I don't know. I think the key is to focus on the player, not on the site.
From a Frenchman to a German: What motivates you? Money or eliminating French players?
The second one, of course! Money motivates me as well, but it's mostly about setting new goals every month or every year.
How do you set your goals then?
As a member of Team Froschkönig alongside "mastamanson" (a Berlin-based player active on dot-fr sites), I tend to set common goals with him. This year we want to reach a final table during the France Poker Series or at one of the Winamax live events. I know this sounds like a modest goal, but at the moment it motivates us.
Our goals are more like milestones than ultimate ones. And poker is a game where it is difficult to achieve many short-term objectives.
Hence, is a success on the live poker scene a greater motivation than one in online poker?
Oh yes, it is definitely like that. I started playing online in 2008 and it has always been a success and a real pleasure, but the motivation to play live is just bigger. A final table online is always nice, but it has nothing special at the same time.
Did you have problems with motivation before joining your team?
Yes, I did. I lost all interest in poker for several weeks back in 2012. I experienced a downswing and it was really hard to bear with that at the time. I think my mind was not as strong as it is today.
Get all the latest PokerNews updates on your social media outlets. Follow us on Twitter and find us on both Facebook and Google+!