Rapid Reaction from EPT Sanremo: Coren-Mitchell and Schemion Highlight Italian Riviera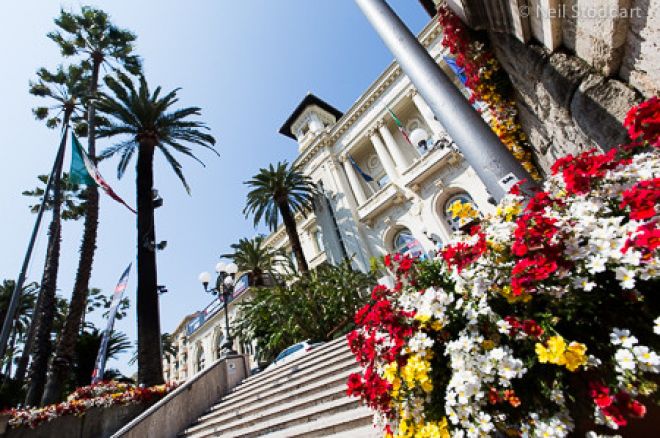 The latest stop on Season 10 of the European Poker Tour was completed on Sunday with the Sanremo festival coming to a close. Action along the Italian Riviera was great, and some of the results — specifically one by a notable lady — was felt all over the globe.
Coren-Mitchell Breaks the Curse and Wins a Second Title
After nearly 100 events, 10 seasons, and countless near misses, the first two-time champion was crowned on the famous EPT on Sunday. Team PokerStars Pro Vicky Coren-Mitchell captured her second EPT title by winning the Sanremo Main Event to the tune of €476,100 — a feat mirroring her victory back in EPT Season 3 when she won the London Main Event for £500,000.
No one could really put their finger on why exactly it's taken so long for someone to win a second EPT title. Many ideas have been tossed around — larger fields, tougher competition, past champions moving on from the game, etc. — but the accomplishment has eluded many competitors for almost an entirety of 10 full seasons. In fact, it took up until the second-to-last event of Season 10 for Coren-Mitchell to make history.
Coren-Mitchell began the final table as the short stack, and not many gave her a chance to win. Simply put, it's extremely hard to overcome a final table of tough players when you start with the shortest stack in the field. Nevertheless, Coren-Mitchell stuck to her game and fought hard. After grinding and grinding, the next thing she knew, she was three-handed with a real chance and everyone from PokerStars and EPT staff, to media, to fans railing near and far were salivating at the chance that Coren-Mitchell had.
In the end, the cards fell her way and Coren-Mitchell's top play was rewarded with victory, but what does it all really mean, and just how important is her win?
To keep it short... very.
Not only did Coren-Mitchell become the first two-time winner on the EPT, but she's a very well-known female poker player with ties to mainstream channels. Her win should do wonders for the female side of the game and also help to bridge the stiff gap that sits between the poker community and everything else in the world.
Furthermore, Coren-Mitchell did a big service to every other past EPT champion because she has removed the monkey off all of their backs. Back in January, Mike "Timex" McDonald was heads up for the PokerStars Caribbean Adventure Main Event title, but fell short to Dominik Panka. At least year's EPT Grand Final, Jake Cody and Jason Mercier both had the chance to become the first two-time champion, but fell short. There's also been numerous other close calls. The more events that passed and the deeper into the history the EPT ran, the more pressure there was on past winners to become the first to win twice. Every other large tournament series seemed to achieve the feat in short spans of time, but the EPT couldn't quite get there. Now, there won't be so much made of a past champion going for his or her second title, and that will undoubtedly make things a bit easier for them to play freely.
Schemion Remains On Fire
Then, there's the beast that is Ole Schemion. Just when you thought his heater had cooled off a bit, he goes and wins the EPT Sanremo €10,300 High Roller for €265,000. For the kid who has just recently turned 21, he now has over $4.7 million in live tournament earnings. That's something that only a small handful of professionals who have been playing for 21 years or more can say.
Schemion's record in Europe is absolutely amazing, and this win all but wraps up the Season 10 EPT Player of the Year title for the young man. Unless Thomas Muhlocker, Vanessa Selbst or Alex Bilokur can do a few big things in Monaco over the next two weeks, Schemion will be crowned the winner of this prestigious award.
With this recent victory, Schemion now has just over $900,000 in earnings in 2014. If he's able to pocket another $99,095 this year, he'll pass $1 million in earnings for the third year in a row. The record for most years with at least $1 million in live tournament earnings in a row belongs to Erick Lindgren. Lindgren pulled off this feat beginning in 2004 and it lasted until 2008, making for five straight years with over $1 million won each year. Mercier nearly tied the record, but came up short in 2012 when going for number five.
Our best guess is that Schemion is a large favorite to hit $1 million this year. If he keeps playing the high volume of events each year that he has been playing, we don't see him slowing down anytime soon. While it's still early, as Schemion doesn't even have three years with a million-plus under his belt, we're going to throw it out there and say that Lindgren's record is in jeopardy.
On Season 10 of the EPT, Schemion has 11 cashes for $886,678. He has six six-figure scores, eight final tables, and one victory.
Schemion has never been of age to play at the World Series of Poker, but this summer he will be. The young, fearless German should be on everyone's radar heading into the summer. Whether he plays five events or 50, he's going to make noise, you can count on that.
Numbers Don't Impress
For all that was good and exciting coming out of Sanremo, the one dark spot that stuck out like a sore thumb was the numbers in the Main Event. With just 556 entries, participation was down over 30 percent from Season 9 — 241 entries. This is the fourth season in a row that the EPT Sanremo Main Event has declined. Now, word on the street is that a drop off was expected, but that still doesn't mean that it should sit well with people.
While it might be initial reaction to think this is a blemish on PokerStars and the EPT, it's much more indicative of the way the industry is set up right now. To put it bluntly, there are just too many big tournaments clashing with each other around the world. Last week, the World Poker Tour Seminole Hard Rock Showdown was wrapping up and that led right into the WPT World Championship at Borgata, meaning less American players made the jump overseas. This could easily affect the EPT Grand Final numbers this week, as well.
At the end of the day, those in charge of large tournament series need to ask themselves: What's the best move for poker as a whole? Sure, competition amongst tournaments is good, but too many events spreading the player pool too thin, isn't good. They don't need to come out and announce an open partnership with each other, but quietly working around each other would be much better for the game.
Get all the latest PokerNews updates on your social media outlets. Follow us on Twitter and find us on both Facebook and Google+!