My First WSOP: Barry Greenstein's Humbling Main Event "Cash"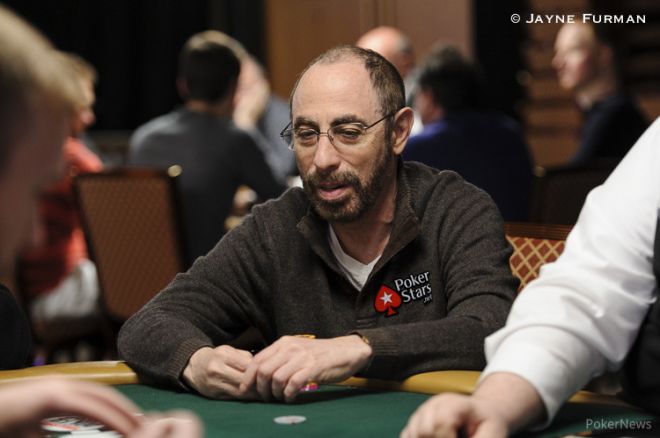 PokerNews introduced the My First series on the European Poker Tour earlier this year, interviewing Joe "Stapes" Stapleton, Jason Mercier and Eugene Katchalov about their debuts on the EPT. The articles were so well-received, we decided to carry the series into the 2014 World Series of Poker.
For the second edition of the series we spent a few minutes with three-time bracelet winner Barry Greenstein, who showed up to Sin City back in 1992 simply looking to grind Las Vegas' lucrative cash games. After running up a bankroll, Greenstein decided to take a shot at the WSOP Main Event, risking the $10,000 he had collected in cash games to play against the best tournament players in the world. As fans of his seminal contribution to poker literature Ace on the River already know, Greenstein was a gambler in his younger days, routinely taking shots at the biggest games in town while remaining secure in the knowledge that he was always a favorite to be the most skilled player at the table.
After taking his seat at Binion's Horseshoe, however, Greenstein soon realized that he was up against players who knew the game just as well as he did, finding himself at a table with men who would all go on to become poker icons. He rose to the occasion though, as he has so many times since then, making a deep run against a stacked field and coming quite close to winning the Main Event in his first crack at a no-limit hold'em tournament.
PokerNews: Barry, with the 10th anniversary of the World Series of Poker's move to the Rio upon us, tell our readers about your first experience at the WSOP.
Barry Greenstein: My first World Series was kind of exciting, but it was very different than it is now. I went there for the cash games, not for the tournament, and I can't remember… I assume I beat the cash games — I was a pretty good cash game player — and I remember they were playing a lot of pot-limit hold'em. I was a no-limit Hold'em player in those days, Pot-Limit was new to me, but the games didn't really make much of a difference.
Although it might not sound like a lot of money, by the end of the tournaments before the Main Event I had a little over $10,000 ... it wasn't all the money in the world, but that's just how much money I had on me. So I entered the Main Event, and I start out a tough table, I remember it was like, all known players: Dewey Tomko, T.J. Cloutier, Johnny Chan, Carl McKelvey, Bobby Hoff.
PokerNews: All at your table?
They're all at my table. Now, they actually knew me from cash games, and knew I was a good player — but nobody else, because I didn't play tournaments --nobody else knew me… that was my first tournament.
PokerNews: So the first tournament you ever played was the WSOP Main Event.
Yeah, right... I may have played a small tournament at the Commerce or somewhere, but it was my first World Series tournament. In those days I also played lowball. I might've played a lowball tournament before that, but I'm not positive. But anyway, they knew me, and I remember someone on the rail saying, 'look at all those guys — and then 'that' guy,' you know, like I was the odd man out.
And Bobby Hoff, who respected me enough, said 'yeah, but he's the best player.' And I did well. I was chip leader at that table at the end of the first day, and I went on and did pretty well. I made a mistake on a hand where I laid down two queens I remember. And the guy later told me… he became a friend of mine, he told me he had two nines. And I eventually got to where, I think I came in 22nd place. I cashed for $8,100 — in those days they paid less than the buy-in.
PokerNews: Which seems a bit out of the ordinary considering today's min-cash payout structure.
It was pretty annoying, especially because another thing that happened during that tournament is they used to have side bets on it. And the guy, after the first day, the guy's name was Terry Rogers, he was I think a Scottish bookie. He made me 50-1; he didn't know who I was. And all the cash game players who knew me bet on me because the odds were so good. And he came up to me and said 'I just wanted to meet you. All the big cash game players bet on you to win this, and if you win, I'm gonna go broke.'
So that was kind of fun. And I went on and got knocked out with ace-queen of spades against two kings, and it was annoying because the guy was a real aggressive player who had been opening for like four times the big blind, and this particular hand he opened for only three times the big blind, which, maybe I should've read that as he didn't want to lose me. I end up shipping it, and he had two kings. So I was really annoyed, and steaming badly at that point. I got my $8,100 and I walked across the street where I was staying at the Golden Nugget, and immediately lost it at blackjack in twenty minutes.
PokerNews: That sounds like something I would do actually.
OK, so I was totally broke… well, broke for the World Series, broke in Vegas. And really upset, because I thought I had a shot. And I thought it was really... you know, in retrospect it's so true, it was probably my best chance to win the Main Event, because very few people knew who I was.
PokerNews: The field for that Main Event was just over 200 players as well, with that figure rising every year to make the feat that much more difficult.
It was a 200-player field, and so it really was an advantage to be an unknown and be a good player.
PokerNews: At that point in your career did you consider the Main Event to be a goal or an objective that you were chasing?
No, no… I didn't even think about tournaments. Cash games were what I played for. No, it was just the biggest tournament, and I never travelled or played tournaments. It wasn't like… I wouldn't have known it was that big a deal, frankly, to win it. But just out of being a competitive person, once you play, and especially if you only play one tournament a year, and it's the biggest tournament and you have a shot to win it, it's just annoying not to do better than I did. You know, anything other than first would have been disappointing.
So, I flew back home, and I played at what was called the Cameo Club, it was a No-Limit club in Palo Alto, and apparently, there's no internet in those days, but somehow they were all railing me. Like calling, in those days you'd call in to, there's like a media desk, and they'd give reports on how people are doing. So I didn't know, but the club where I played, they were all following me, and I was the… you know, probably the best player at that club. Or, whatever, one of the best… I did well. And so when I walked in the club there's a banner, 'Congratulations Barry' and all this kind of stuff, and everyone's patting me on the back and shaking my hand, and all I'm thinking was I went to Las Vegas and I went broke. And all these people are congratulating me, and I've gotta smile.
Remember, you might think… like nowadays it would be an accomplishment to come in 22nd in the World Series, but in those days all it was to me was I lost money in the tournament. I lost $2,000 in the tournament and I went broke twenty minutes afterwards. So I wasn't in a very good mood about the whole thing, and now I've got to smile, people are saying 'Hey, we were following you, you did a great job,' and that's the best anyone's ever done from this area,' and all that kind of stuff.
PokerNews: What do you consider your most memorable World Series moment since that first foray into Las Vegas tournament poker?
Well, I'm sure my first bracelet ($5,000 No-Limit Deuce to Seven Draw in 2004), and again, I wasn't a tournament player even at that point, but I was on a TV show, the [Poker] Superstars [Invitational], and Mori Eskandani said 'play more tournaments so we can say something.' I said 'I'll try to play something, and I'll try to win something.'
I won the [2004 World Poker Open in Tunica], and like I said, I never traveled to a tournament before outside of Vegas and California, where I went for cash games. So now I travel to a tournament, I won one in Mississippi, and then I went to the World Series and told Mori 'I'll play more events, try to win one,' and basically the first time I tried to win a bracelet, and I won it. And the nice thing is, I cross-booked the event with Doyle, so I gave the money away to charity, but I won the money on the side from Doyle. So that was kind of nice.
PokerNews: It's been over twenty years now since your first WSOP, and obviously there's been so many changes in poker, the explosive growth, expanded fields, just the game's overwhelming popularity within the mainstream. Did you foresee that happening at any point? Was that something - when you came to the 1992 World Series - did you envision everything we see around us today?
Well, why would I? You know, we were all degenerates, playing poker and it was our convention, that's what the World Series was.
PokerNews: And have you returned to the WSOP ever since?
Yeah, I've been here every year since then.
PokerNews: So you were hooked by the WSOP bug just like everyone else is today?
No, not at all. I went there because that's where the cash games were. For instance, the year [Chris] Moneymaker won the World Series I won three times what he did in the cash games. So I wasn't here… because you've got to remember: Back then — until after Moneymaker, basically — the cash games were much bigger than the tournaments. Some of them are now too, and I'm not playing them, but the tournaments weren't that big of a deal money-wise. You win a bracelet, sometimes you win $30,000, but I could play a cash game where I'd have a shot to win $100,000. So it wasn't anything like the allure of the World Series, it's just that was the place where everyone went at that time of year, so I had to go there too.
PokerNews: Now that we're here in 2014, its more than two decades later, obviously you've become a fixture on the WSOP scene, and the poker world as a whole. What are your goals for this year, what would you consider to be a successful series?
For tournaments, if I don't win a bracelet, it's not a successful series. And for cash games, if I don't win a certain amount of money, than it's not a successful series.
PokerNews: And are you still grinding those cash games as hard as you used to?
Not as hard, because I used to play the tournaments … I almost have a better chance now to win a bracelet than I did a few years ago, because I would play the tournaments and then at two in the morning go home and play a cash game, and then play until maybe six in the morning. Sometimes get a few hours of sleep, sometimes not, play a tournament … and normally, the only sleep I got was when I got knocked out of a tournament and I couldn't get into the cash games. Then I'd take a nap. I'd be forced to sleep, but I was in better shape 8-10 ago than I was, and I could do it.
Now as I'm getting closer to 60, I assume I'll win a few bracelets in my 60s, just because I can't put myself on that tough schedule like I did before. I don't have the stam… I have the stamina, but I just don't play as well, frankly. So I have to now, make sure I'm more rested than I was ten years ago. I still play better than most of the tournament players, so I expect I will win some bracelets in my sixties.
Check out a video segment of Greenstein's interview with Jonathan Zaun:
You can view all of our great interviews in the video section. And be sure to follow us on Twitter and find us on Facebook and Google+!