Maurice "The Hawk" Hawkins Soars to Millionaire Maker Final Table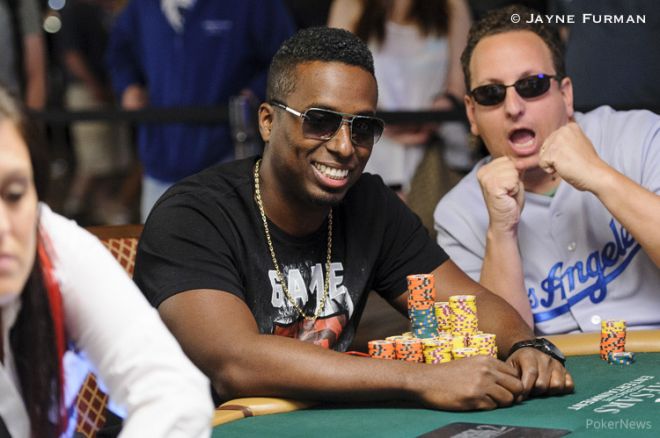 Any table featuring the brash and boisterous Maurice "Mo" Hawkins is sure to be a fun-filled affair, and whenever nine players have a shot to turn $1,500 into more than $1.3 million, the eyes of the poker world will be focused squarely on the spectacle to come.
All of which is to say today's final table of Event #8: $1,500 Millionaire Maker No-Limit Hold'em has become must-see TV (or in this case, live stream). The longtime circuit grinder from West Palm, Florida stamped his ticket to one of the more coveted final tables on the World Series of Poker schedule, weaving his way through an enormous field of 7,977 runners to give himself a shot at a life-changing seven-figure score.
With four WSOP Circuit rings to his credit already — including a $183,498 haul for winning the Palm Beach Kennel Club Main Event in his home state earlier this year — Hawkins is no stranger to success on the felt, but even he admits that a win here today would be more special than all of the rest.
Hawkins has enjoyed tremendous success in 2014, and in fact, today's final table will represent his second shot to win a million dollars in as many months. In late April, the man known as Mo to his friends played his way to the final three tables of the WPT World Championship in Atlantic City, and while his run ended with a disappointing 25th place finish there, Hawkins is hoping to finish things off with a win here today.
For one of the most affable and genuine players in poker away from the table, Hawkins is known for getting under his opponents' skin when the cards are in the air, and he has become a polarizing figure capable of earning enmity or affection every time he opens his mouth. His fellow pros have taken notice of Hawkins' deep run, with the following tweet issued by Alex Rocha demonstrating the dichotomy between those who love Mo, and those who don't:
OVERHEARD : "If Maurice Hawkins wins the Millionaire Maker, I'm not going to play another event."

— alex rocha (@THE_ALEX_ROCHA)
The comment above was obviously made in jest, and Rocha himself has never even met Hawkins, but when pros overhear other players mentioning a desire to quit the game if one of their peers enjoys success, the ill will can be alarming to say the least. Hawkins knows better than most that only greatness brings the haters out of the woodwork, and he had something to say to anybody out there who doubts his status as a star in this game.
"I really don't understand why they hate so much, because I really wish everybody could do well, and I think it's just their own insecurities, that's the reason they have so much animosity towards a person they've never even met."
We caught up with Hawkins as he prepared for the most important game of poker he has yet sat down for, wondering what was going through his mind as the prospect of a million dollar payday awaited.
PokerNews: Mo, you're finally here on the WSOP final table stage for the Millionaire Maker, so how do you feel?
Maurice Hawkins: I feel wonderful. Like a winner... I feel good. I couldn't sleep last night. For the first time I actually had jitters, which is strange, but I think its because I really wanted to get to a WSOP final table. It's more like a résumé builder, and I just feel really good about finally accomplishing that. This is my first time here, so basically, now I just have to win. Because when I get to final tables I win, therefore I just got to keep doing what I do.
You're entering the final seventh out of nine in terms of chips, but you've found yourself in this spot before, coming in sixth out of nine at the Palm Beach Kennel Club Circuit Main Event you recently won. How does the chip disadvantage affect you're play?
It doesn't mean much to me — chips don't mean anything. I just let them make mistakes and try to capitalize, and hopefully at the end of it I get heads up and then I crush. Because once I'm heads up, it's mine.
PokerNews: To what do you attribute your short-stack prowess, as you've been able to battle back from severe deficits in many of your biggest wins on the circuit?
Just being smart.
PokerNews: That's the kind of comment that seems to generate the hate from people who don't know if you're joking or jabbing, so back to those doubters we talked about earlier. Why do you think fellow pros seem to have such a diverse range of opinions on you as a player and as a person?
I'm not sure, but I think back to an exchange with a player I had in New Orleans, I asked, "Why does he hate so much, what is it with his animosity?" And he looked at me and said, "Oh it's because you're a goon." See that's his problem though — he was pontificating like he was coming from a different level instead of just admiring and respecting everybody's game. I was one of his biggest fans, and instead he chose to go the opposite route and dislike me because he doesn't understand me. So that's what I say to them: Just don't hate what you don't understand.
And for those who want to quit poker when I win this, it's time to quit. What I would ask them is, why don't they look at what I did last year, and why don't they look at what I did the year before? And then why don't they look at what I did at the Seminole Hard Rock, and the year before that, and the year before that? If you hate money, then I guess you hate me, because I do nothing but make money.
PokerNews: What would winning your first WSOP bracelet mean for you? You have four Circuit rings to your credit already, but obviously one for the wrist would be something special.
It'd mean my family will have a little bit more money.
PokerNews: Speaking of family, is there anything you'd like to say to them before you take your seat?
Oh my wife Aprelle will be here when I win this thing, trust that.
PokerNews: Any last words for the poker community and the fans out there watching the live stream?
I'm highly favored... watch me.
For more with Hawkins, check out his interview with Amber Fukuda:
Get all the latest PokerNews updates on your social media outlets. Follow us on Twitter and find us on both Facebook and Google+!