Advanced Poker Training: Revolutionizing the Way To Improve Your Game
Advanced Poker Training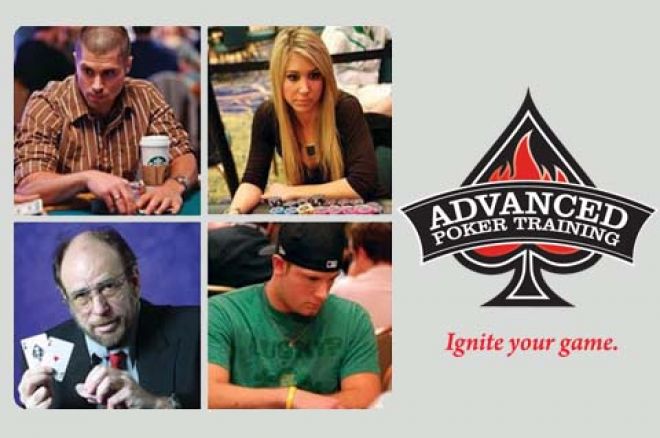 It wasn't long ago that the only way to hone your poker game against the best was to put everything on the table, and inevitably leave a lot there, too. These days, revolutionary software from AdvancedPokerTraining.com is helping both up-and-comers as well as experienced poker veterans lower their potential for going bust.
Advanced Poker Training's web-based software matches you up against more than 100 computerized opponents, with 10 levels of play (the highest level sporting a menacing name, "KGB's Dungeon"). These opponents exploit your weaknesses and learn how to beat you over time, just like potentially expensive human opponents. But here's the game-changing part; you can also select one of 20 friendly "adviser" bots, each with his or her own playing style, to watch over your shoulder and offer real-time advice. Every hand you play is saved to your own personal online database, so you can replay or share them later. The game also automatically flags hands you could have played better. You also get personal performance statistics, calculated both overall, and by hand and position. The software also gives you personalized reports on your performance in each session, and weekly training reports.
The software is also versatile. If playing
properly is your weakness, you can ask the software to deal you only
. Or you can be dealt in the big blind over and over, if that's where you need practice. Plus, you can play up to 500 hands an hour because the opponents act immediately.
Advanced Poker Training's newest, and possibly most revolutionary, feature is the Beat the Pro Challenge. It's almost like getting hours of lessons from multi-million dollar winning pros included with your membership. These challenges pit you head-to-head against the pros, playing exactly the same 20 hands in a variety of categories and situations. After you play the 20 hands, you can watch a replay of the pro playing the same hands, explaining his or her logic the entire way. Just as a sample, you can challenge two-time WSOP bracelet winner Scott "BigRiskky" Clements playing a short stack or a big stack on the bubble of a multi-table tournament. Or you can challenge poker legend Mike Caro under the gun or from the button. There are also challenges from up-and-coming superstar Lauren Kling and other outstanding coaches. For fun, you also get to see how you ranked against all other players who have taken the challenges.
Also revolutionary about Advanced Poker Training is the cost. An all-access pass to all of the features on the site is less than $20 a month, significantly less than most poker training sites that are mostly limited to videos. Considering the cost and rich feature set, it's almost sinful how fast you can go from beginner to dominating your opponents using AdvancedPokerTraining.com.
Get all the latest PokerNews updates on your social media outlets. Follow us on Twitter and like us on Facebook now!