New Lawsuit Against a "Thief" Reveals Churchill Downs' Plans to Build Online Casino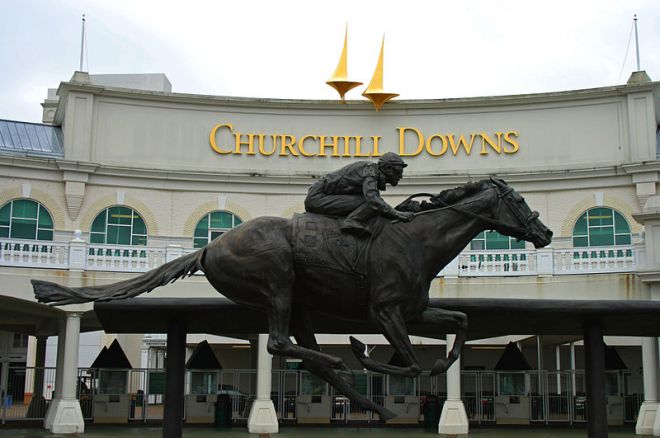 A new lawsuit against a "fraud" and "thief" has revealed Churchill Downs' plans to build an online casino. According to The Courier-Journal's Gregory A. Hall, Churchill Downs Inc., the Louisville-base horse racing and casino company that owns BLUFF Media, has been "quietly building the platform for the gambling network at its headquarters on North Hurstbourne Parkway."
Those details and more were revealed in a lawsuit Churchill Downs filed against Nicholas Ribis of NLR Entertainment, to whom it gave $2.5 million to in order to purchase Atlantic City's Showboat Casino from Caesars Entertainment, a property now slated for closure on August 31. In the event Ribis has a deal to purchase the Showboat, Churchill Downs was to provide an additional $7.5 million in funding. All of this was done in the hopes that Churchill Downs would then operate the property's online gambling system.
Now, Churchill Downs is seeking to reclaim the $2.5 million it gave to Ribis, who it claims misled officials and was unable to live up to his end of the deal. In turn, Ribis has filed suit claiming he was unable to close the deal because Churchill Downs withheld the additional $7.5 million he needed to do so. Ribis also claims Churchill Downs President and COO Bill Carstanjen slandered him by saying he "was a 'fraud' and a 'thief' and that he was untrustworthy."
According to the lawsuit filed in federal court, Churchill Downs is building a gambling network in Louisville — which wasn't previously made public — and hoped to enter the online gambling market in New Jersey. In doing so, the company would host most of its operating systems in Louisville while keeping "the minimal amount of infrastructure in New Jersey to comply with state law."
In an April conference call with investors, Chief Financial Officer Bill Mudd revealed that Churchill Downs had spent $1.1 million on its online platform in the first three months of this year. Court documents indicate that, all told, the company has spent $10 million on its system and has hired 30 people, including 20 engineers, to bring it to life.
While the details of Churchill Downs gambling system were previously undisclosed, its intentions to enter the iGaming mix were not.
"We'll continue to make the investments at about the current rate, at least through the rest of this year, building the technology platform, which I think we've got some real advantages in, and we've got a long-term view on this," Chairman and Chief Executive Officer Bob Evans said in the aforementioned conference call. "We can't make states legalize Internet gaming any faster than they would otherwise. But as that occurs, we want to be a player, we'll make the appropriate investments to do that."
*Lead photo courtesy of Wikimedia Commons.
Get all the latest PokerNews updates on your social media outlets. Follow us on Twitter and find us on both Facebook and Google+!
Executive Editor US, PokerNews Podcast co-host & 2013 WSOP Bracelet Winner.