Inside Gaming: Macau Revenue Down, a Spanish Study, and Showboat Casino Hotel to Close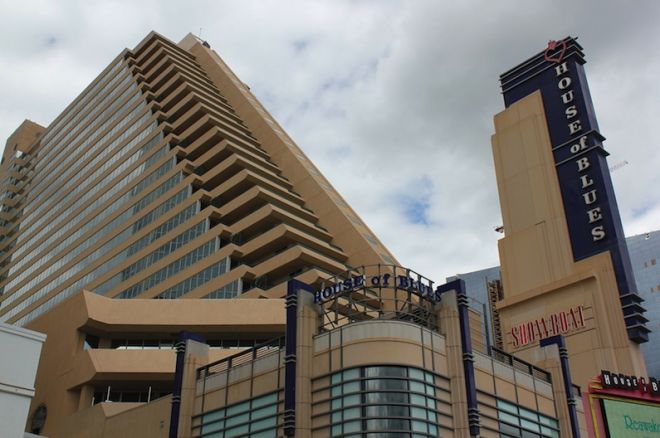 In this edition of Inside Gaming, Macau experiences a decline in gaming revenue for the first time in five years, Spain studies online gambling habits of its citizens, and another Atlantic City casino announces it will close.
First Decline in Five Years for Macau Gaming Revenue
After five years of uninterrupted growth, casino revenue decreased during the month of June as reported last week by the government's Gaming Inspection and Coordination Bureau.
In its report of Monthly Gross Revenue from Games of Fortune for Macau, the Bureau noted a 3.7% decrease year-over-year from June 2013 to June 2014. The decrease marks the first time since 2010 when the Bureau first began reporting revenue totals that a decrease has been noted.
Macau casinos saw 27.2 billion patacas' worth of revenue last month (about $3.4 billion USD), down from the 28.3 billion patacas from June 2013.
According to the Macau News, one has to go back to June 2009 to find the last instance of a decline in gaming revenue for the Special Administrative Region when it fell 17% from the previous June.
By way of explanation, Secretary for Economy and Finance Francis Tam Pak Tuen told the Macau News that the start of the World Cup likely affected gaming revenue since the matches have been taking patrons out of the casinos as they stay at home to watch. "The matches begin at midnight, 4 a.m. and 6 a.m.," noted Tam, "and these are the busiest times in casinos."
Among the other factors also being considered by analysts as causes for the decline include the recent much publicized campaign by China's President Xi Jinping against corruption in government, one consequence of which has been a general slowdown of the growth of China's economy, which has therefore translated into fewer visitors to Macau's casinos.
There have additionally been newly-enforced restrictions on the use of bank cards in China order to prevent money laundering and other fraudulent activity, another move which some believe has affected the amount of money with which Chinese nationals have been able to gamble in Macau's casinos.
Many — including goverment officials, industry observers, and many investors — are currently in a wait-and-see mode regarding the decline, not ready as yet to consider it to be prefiguring a trend, though the July report will be looked to anxiously nonetheless.
Read more about the June report and some of the speculation surrounding it at Reuters.
Spaniards Gambling On Non-Regulated Sites
A recent study on the "Social Perception on Gambling in Spain in 2014" conducted by the CODERE Foundation and the Institute of Policy and Governance of the Charles III University in Madrid reports that just over 43% of individuals surveyed gamble on non-regulated online sites.
The Directorate General for the Regulation of Gambling (DGOJ) regulates gambling sites within the country, yet nearly half of the approximately 1.15 million who gamble online in Spain do so on non-regulated sites.
The study also found just over 27% of those interviewed were unaware where exactly the sites on which they gambled were located, with nearly 44% incorrectly believing they played on DGOJ-regulated sites when they did not.
Spain first legalized online gambing in 2011, thereby creating a ring-fenced regulated market allowing Spanish citizens to play legally on dot-es, DGOJ-regulated sites. France similarly regulates online gambling and faces a similar issue regarding play on illegal sites, as a recent study showed about 47% of those gambling online in France are doing so on unregulated sites.
Read more about the report and its implications here at PokerNews.
The Showboat to Shut Its Doors
Continuing a familiar theme along the famed Atlantic City boardwalk, Caesars Entertainment recently announced plans to close the Showboat Casino Hotel at the end of August.
The Showboat has been the worst performing of four Caesars-owned casinos in Atlantic City, a factor alluded to by CEO Gary Loveman when commenting on the decision to the Associated Press.
"While we regret the impact that this decision will have on our Showboat associates, we believe this is a necessary step to help stabilize our business in Atlantic City and support the viability of our remaining operations in the vicinity," explained Loveman, who went on to note the general decline occurring in the New Jersey gambling capital and its associated challenges.
"Since 2006, revenue in Atlantic City has declined by more than $3 billion and competition in the city has increased," said Loveman. "The dynamic in Atlantic City has led us to the difficult but necessary decision to close Showboat."
In addition to the Showboat, other Atlantic City properties owned by Caesars include Harrah's Resort Atlantic City, Caesars Atlantic City, and Bally's Atlantic City.
The Mardi Gras-themed casino first opened in 1987, and for the last decade featured a popular House of Blues concert hall. The Showboat did gross more than $2 million in profit during the first quarter of 2014, but that marked a steep dip from the $8.5 million it had earned during the first quarter of 2013. Over 2,100 employees will lose jobs with the closing.
The news comes on the heels of the news that the Revel Casino may be in danger of closing even sooner than will the Showboat following an appearance last month in bankruptcy court.
Read more about Showboat's sad end from the AP.
Photo of Showboat Casino Hotel via Wikimedia Commons.
Get all the latest PokerNews updates on your social media outlets. Follow us on Twitter and find us on both Facebook and Google+!