Inside Gaming: Fifth Atlantic City Casino to Close; NJ Invites Sports Betting, PokerStars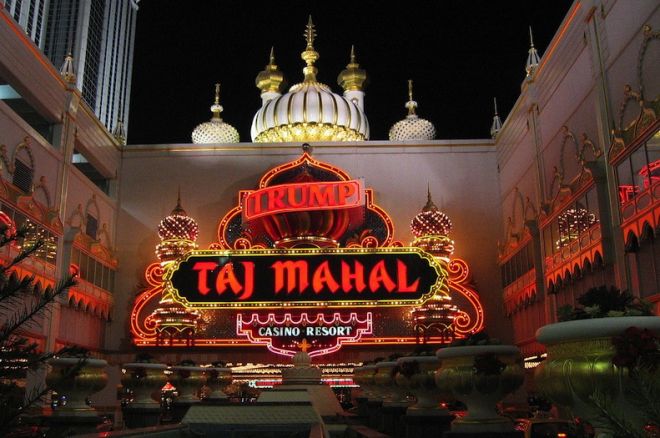 In this edition of Inside Gaming the focus is squarely upon New Jersey. We look at Atlantic City's ongoing woes where a fifth casino has announced plans to close, news of sports betting being allowed in the casinos that remain, and what appears to be the imminent return of PokerStars to the United States via the Garden State.
Fifth Atlantic City Casino Closure Announced
It has been an exceedingly rocky 2014 for embattled Atlantic City, with news from the famed Boardwalk this week once again punctuated by headlines of yet another casino closing — potentially the fifth this year to close out of the 12 that were open less than nine months ago.
The year began with the shutting down of the Atlantic Club Casino shortly after a failed deal with PokerStars to purchase the small, struggling property located at the southern end of the Boardwalk. Caesars Entertainment Corporation subsequently purchased the Atlantic Club buildings for $15 million while Tropicana Entertainment Inc. bought the slots and table games for another $8.4 million, and with no plans to keep the casino in operation it closed on January 13.
Then on August 31 the Caesars-owned Showboat Casino Hotel shut its doors. The following day the Revel Atlantic City located next to the Showboat at the northern end of the Boardwalk also began a two-day closing after having filed for bankruptcy and failing to find a buyer. An auction for the Revel is planned for later this month, with the Revel's attorneys having reported that a Florida developer has offered $90 million for the property.
Moving to the center of the Boardwalk, it was announced in July the Trump Plaza Hotel and Casino would be closing this month, ending a 30-year run. After nearly being purchased by a California company a year ago for $20 million — a sale nixed when the Plaza's mortgage holder believed the price to be too low — the decision was made this summer to shut down the casino with the closing date scheduled for September 16.
And this week Trump Entertainment Resorts announced plans to close its other Atlantic City casino, the Trump Taj Mahal. According to a statement from the company, unless there is marked change of fortune for the property, "the Trump Taj Mahal is expected to close on or shortly after November 13, 2014."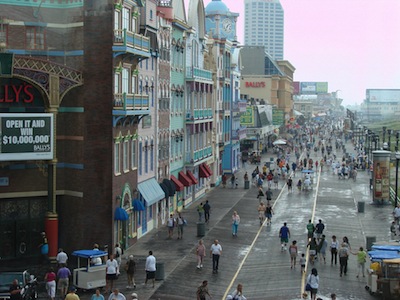 The latter two closings have brought added attention to Atlantic City's plight thanks to their namesake Donald Trump who does not currently run the casinos but does own a 10% stake in Trump Entertainment Resorts. This week the real estate mogul and television personality filed a lawsuit to have his name removed from both the Plaza and Taj Mahal, the lawsuit stating in part that "the license entities have allowed the casino properties to fall into an utter state of disrepair and have otherwise failed to operate and manage the casino properties in accordance with the high standards of quality and luxury required by the license agreement."
According to a January 2014 report by the University of Nevada-Las Vegas Center for Gaming Research, "Atlantic City casino revenue has fallen by more than 45% since 2006" which when coupled with other indicators suggested that "Unlike Nevada, which in 2010 reversed its recessionary decline, Atlantic City shows no sign of reversing its current losing streak."
"It's a disaster," said New Jersey state senator Jim Whelan (D-Atlantic) when commenting on the Trump Plaza's announced closing to the Press of Atlantic City. "This is going to impact all sectors of the economy, from big stores to real estate values and on and on."
All told, more than 8,000 casino employees have already lost their jobs following the closings of the Atlantic Club, the Showboat, and the Revel, with nearly 4,000 more currently employed by the two Trump casinos also soon facing job loss. In other words, more than a third of those employed by Atlantic City casinos at the start of 2014 will have lost their jobs by year's end.
Read more about the Taj Mahal announcement at The Washington Post.
New Jersey To Allow Sports Betting?
Meanwhile this week New Jersey moved closer to the possibility of allowing sports betting, a move no doubt coming in response to the ongoing hardships being suffered up and down the Boardwalk.
On Monday the state's acting Attorney General John Hoffman sent out a directive informing the state's casinos and horse-racing tracks that they would not be held civilly or criminally liable by New Jersey law enforcement agencies should they choose to offer sports betting.
The directive aims to exploit a loophole in current federal law banning sports betting in all states other than those already offering such in 1992 when the law was passed. In 2011 New Jersey residents voted in favor of allowing sports betting in the state, with the bill being signed into law a year later. However the NCAA, NBA, NFL, NHL, and Major League Baseball all promptly filed a lawsuit against New Jersey to prevent the state from allowing sports betting. U.S. District Court Judge Michael Shipp then issued an injunction in early 2013 against the state allowing sports betting.
The potential loophole concerns both the way federal law bans states from establishing regulatory schemes for sports betting, thus permitting states to allow sports betting without issuing licenses for it, and the District Court's injunction not including a prohibition against the state repealing the current ban on sports wagering. Regarding the latter, New Jersey Governor Chris Christie has filed a motion asking for clarification regarding the injuction. Meanwhile the acting Attorney General's directive confirms to the state's casinos and racetracks that they may allow sports betting as long as it does not involve collegiate sporting events taking place within New Jersey or any of the state's college teams.
One New Jersey racetrack — Monmouth Park — initially suggested it might allow sports betting as early as this Sunday, then said it would be waiting 45 days before doing so. Meanwhile some observers remain skeptical about New Jersey's sports betting plans, including gambling law expert I. Nelson Rose of Whittier Law School.
"I can't see any state following Christie's lead on this," Rose told USA Today this week. "Basically, it is really quite bizarre for a governor to tell the regulated casinos and racetracks, 'Well, we won't enforce our anti-gambling laws and you should just go ahead and commit major federal felonies.' I can't imagine a federal prosecutor would agree with that interpretation."
For more on the implications of the Christie administration's announcement regarding sports betting, visit NJ.com.
PokerStars, the Return
The other New Jersey-related news of special interest to poker players concerns what now appears to be the likely return of PokerStars to the U.S. via its new owners, Amaya Gaming, who were already licensed to offer online gaming in the state at the time it acquired both PokerStars and Full Tilt Poker in a $4.9 billion deal in June.
Many reports over recent weeks have indicated PokerStars' entry into New Jersey to be due sometime in October. New Jersey State Sen. Ray Lesniak, a long-time proponent of online gambling initiatives in the state, is certainly optimistic. "I'm going to place the first bet," Lesniak told PokerNews this week. "I'm highly confident of this one. I tweeted that I'd mortgage my house on it."
Read more about the possibility of PokerStars coming back to the U.S. three-and-a-half years after Black Friday right here on PokerNews.
Photos via Wikimedia Commons.
Get all the latest PokerNews updates on your social media outlets. Follow us on Twitter and find us on both Facebook and Google+!