Korea Shuts Down All Facebook Games In Attempt To Regulate Social Gambling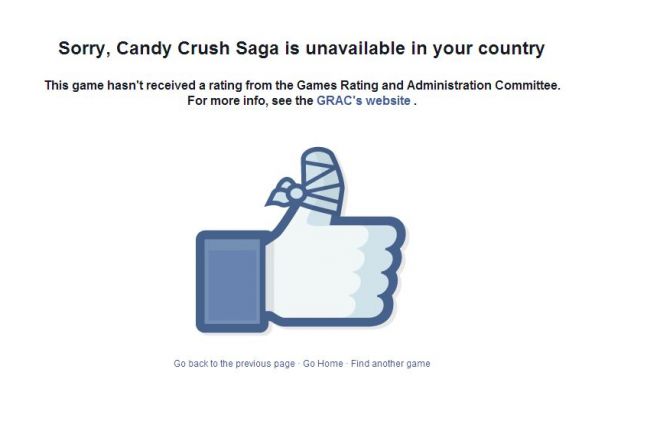 South Korea's attempt to regulate the so-called "social gambling" industry resulted in a massive blockage of all the games available on Facebook, Korea's webzine This Is Game reports.
The operation started on Aug. 26 with the ban on all financial transactions directed to Facebook games, and continued with the full block of all the games available on the popular social network implemented on Friday, Aug. 29.
Even if the move directly affects popular games such as Candy Crush, Dragon City, and Farmville 2, it appears to be part of Korea's plans to regulate the booming social gambling industry in line with the country's Game Industry Promotion Act (GIPA) adopted last December.
According to Korea's legislation, in order to legally offer their games to South Korean citizens, the games' developers are supposed to pay a state fee, and to submit an application in order to have their products reviewed and rated by the Game Rating and Administration Committee (GRAC).
Created to prevent the access of minors to games such as Zynga's Texas Hold'em Poker and to have something in place once also traditional poker rooms will decide to actively join the social gaming arena, the dispositions included in the GIPA de facto made the whole Facebook gaming platform illegal in Korea, since they do not make any distinction between the different games available on Facebook.
While at the presentation of the GIPA, the Korean government promised that all the applications would receive a rating within 15 days from their submissions, although it is still unclear when social games will again be available to South Korean players.
Getting Ready for the "Social Boom"
The GIPA is Korea's attempt to regulate what is generally expected to become one of the fastest-growing markets within the gaming industry.
Earlier this year, a similar attempt was made in Malta, as the Maltese Lotteries and Gambling Authority (LGA) invited the national Parliament to regulate all digital games with prizes by the end of 2014.
"Malta has always been an innovator in proposing new regulations and legislation," LGA Executive Director Joe Cuschieri said. "Hence as we did more than 10 years ago [with iGaming], this niche needs to be regulated as well."
Social gambling regulation, however, has proven very difficult to all the countries that have tried to approach it.
"Legislators are still facing legitimate difficulties figuring out how to regulate online gambling, and there is a lack of clarity concerning the differences between gambling and social gaming," Tel Aviv-based advocate Tal I. Ron said during the International Masters of Gaming Law (IMGL) spring conference in San Diego. "Indeed there is a very thin line between social casino games where players pay 'real money' for virtual casino chips that cannot be cashed out, and online gambling where players can bet, lose, and win real money."
Social casinos are considered to be one of the fastest-growing and most lucrative sides of the online gambling industry, with an overall number of players that is expected to grow over one billion by mid-2015.
According to a report from Transparency Market Research, the global social gaming market is expected to reach a value of $17.4 billion by 2019. Estimates show that the market could increase at a compound annual growth rate (CAGR) of 16.1 percent and that has already attracted the attention of gambling giants, as openly admitted by Amaya's CEO David Baazov earlier this year.
"We anticipate social gaming will be an important growth opportunity for the company," Baazov said after Amaya's acquisition of PokerStars and Full Tilt Poker. "With the continuing trend of online gaming regulation around the world, the company has in front of itself an enormous opportunity to leverage its brand recognition and customer loyalty to diversify into other gaming verticals such as casino, sports betting, and social gaming, and enter a combined global market of the size of approximately $25 billion."
Get all the latest PokerNews updates on your social media outlets. Follow us on Twitter and find us both Facebook and Google+!