PokerStars.fr Pulls Out of United Kingdom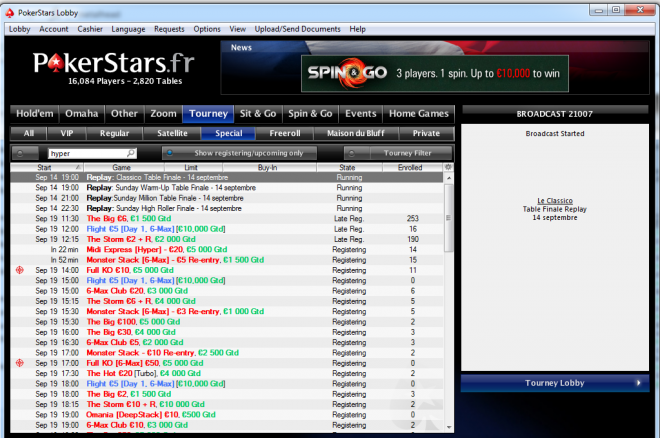 According to an email sent by PokerStars.fr to all of its customers in the United Kingdom, the poker room has officially decided to close its doors in the UK beginning Oct. 1.
This announcement is not completely unexpected, since all dot-fr operators would be subject to double taxation if they continue to offer services in the UK due to the expected to be enforced UK Gambling (Licensing and Advertising) Bill. The bill calls for all operators in the UK to be subjected to a 15 percent point of consumption tax. This would be on top of any taxes levied by French gaming regulator ARJEL.
Players who received the following notice are advised to immediately cash out funds.
From 00:01 BST on October 1, playing on the PokerStars.fr site , or any other licence except PokerStars UK, will no longer be possible within the UK. UK-based players using the .FR client will need to cashout their funds in the usual way - there is no risk for you to lose your funds, but any balance on the .FR client must be withdrawn to your registered bank account.
For those UK PokerStars.fr players who also have an account at PokerStars.co.uk, your play money balances, real money tickets, tournament money, VIP Status and FPPs will all be migrated to their accounts.
From the 1st of October, assets including play money balances, Real Money tickets, T-Money, VIP Status and FPPs will be migrated from your .FR account to your .UK account by contacting support@pokerstars.fr with your PokerStars UK User ID. Pending bonuses will be re-credited if possible, or paid out on a pro rata basis. Your PokerStars.fr VIP status will also be applied if it is an upgrade.
If you received this notice, it is also recommended by PokerStars to claim any earned VIP Stellar Rewards and Milestone Cash Credits prior to Oct. 1.
Make sure you claim any earned VIP Stellar Rewards and Milestone Cash Credits from the VIP Store in the PokerStars.fr client prior to 00:01 BST on October 1. Additionally we will provide credits to many players for partial progress toward their next Stellar Reward or Milestone Cash Credit. All credits will be made by October 3 and will be accompanied by an email to the credited player.
Furthermore, players in the UK playing on a PokerStars.com account will be migrated to PokerStars.co.uk. This process should be as simple as just downloading the new client.
If you have a PokerStars .COM account, you will also be required to move it to PokerStars UK. The process will be quick and straightforward, and you'll be automatically prompted to do so when you log-in after September 30. Players using PokerStars Mobile will need to download the new UK-specific apps from the App Store or PokerStars Mobile site.
New PokerStars.co.uk players will still be playing against the same player base as they did in the past while playing on PokerStars.com, but under a new domain.
The PokerStars UK site will continue to share all games and player pools with the PokerStars.com site. Due to UK regulations, the auto rebuy feature will not be available on the UK site for either cash games or tournaments. All other software features and game experiences will remain the same.
Are Winamax and TurboPoker next?
This author believes that all dot-fr sites offering services to the UK will quickly follow suit. While it is possible for French-licensed sites such as Winamax.fr and TurboPoker.fr to launch a UK standalone client, the liquidity in the UK is not expected to be high enough to make this economically viable for either operator to do so.
It also does not appear to be viable for any dot-fr poker site to continue to offer services for the same reason it appears PokerStars.fr pulled out: double taxation.
While this author believes your money is safe on both of these dot-fr sites, it is believed to be only a matter of time before similar email notices are sent to UK-based players enjoying games at these poker rooms.
Stay tuned to PokerNews for more news as it happens in the UK gaming marketplace.
Get all the latest PokerNews updates on your social media outlets. Follow us on Twitter and find us both Facebook and Google+!