2014 MSPT Golden Gates Day 1c: Kevin "Phwap" Boudreau Makes Return to Tournament Poker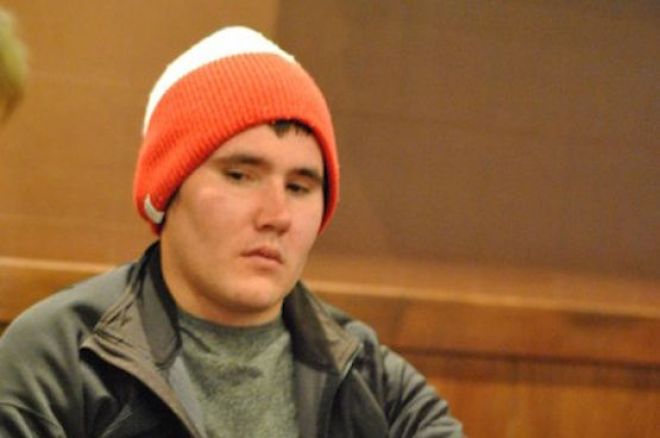 Day 1c of the Mid-States Poker Tour Golden Gates attracted 194 runners, which brought the total field up to an even 500 entrants. That's 47 more than the last time the tour rolled around last spring. After 15 levels of play, Mike Wright finished the 41 Day 1c survivors with 600,000, which eclipsed the 511,500 bagged by MSPT team pro Blake Bohn on Day 1a, giving Wright the overall lead heading into Sunday's Day 2.
The day was also special as it marked the return of Kevin "Phwap" Boudreau to tournament poker. Boudreau suffered a traumatic brain injury at the 2013 World Series of Poker, and doctors didn't know if he would make it. Boudreau's road to recovery continues, but the poker world was happy to see him back doing what he does best. You can read more about Boudreau's story here and here.
Top 10 Day 1c Chip Counts
| Rank | Player | Count |
| --- | --- | --- |
| 1 | Mike Wright | 600,000 |
| 2 | Shawn Sandt | 470,000 |
| 3 | Jon Wurden | 431,000 |
| 4 | Brad Lien | 312,500 |
| 5 | Geoff Vail | 291,500 |
| 6 | Adam Friedman | 271,000 |
| 7 | Eric Kiser | 243,000 |
| 8 | Max Chrisp | 224,500 |
| 9 | Chad Lousberg | 196,000 |
| 10 | Jerry Denicholas | 172,500 |
Wright's run to the top was greatly aided by a monster pot just before the end of Level 14 (1,200/2,400/400). After an
flop, Nader Wahdan continuation-bet 13,000 from middle position and was called by Wright on his left and the small blind. The
paired the board, and Wahdan bet 24,000 after it was checked to him. Wright shoved all in, the small blind folded, and Wahdan stood up, looking over his stack. About 140,000 remained, and he opted to call it off.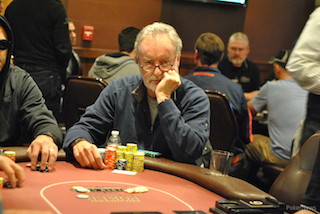 Wright:

Wahdan:
The turn was the worst card for Wahdan, as it gave him trips that were still behind. He couldn't fill up on the
river, and he silently walked out the door.
Shawn Sandt (470,000), Jon Wurden (431,000), Brad Lien (312,500), Geoff Vail (291,500), and bracelet winner Adam Friedman (271,000) are also near the top of the counts. Others to make it through the day included Phil Mader (170,000), Boudreau (147,000), Will Givens (130,000), Chris Tryba (125,500) and Kris Wagner (73,000).
As for Boudreau, he was mixing it up throughout the day at a table on the edge of the room, and his M.O. seemed to be river aggression, as he repeatedly put pressure on opponents after all the cards were out. In one of the bigger pots he dragged, a player was already all in on a board of
, and a player in middle position bet 2,000 into a small side pot. Boudreau called on the button, and a player who checked in early position made it 5,150. The bettor folded, but Boudreau called. Two checks followed the
turn, and a
hit the river. The first player bet 2,300, and Boudreau put him all in for 21,000 more. The player tanked it for about three minutes before folding what he said was a set of eights. Boudreau showed
for a straight and took down the pot.
Givens, who snagged his first bracelet this summer, was the beneficiary of a different kind of river aggression, when he was all-in and beaten but a player forced the winning hand to fold. It happened during Level 15 (1,500/3,000/500), the last of the night, Vail opened for a raise in early position and was called by Sandt on the button. In the blinds, Givens woke up with an all-in shove for about 35,000, and both players called. Vail bet 40,000 on the
flop, and Sandt called. Both players checked the
turn, and Vail checked the
river. Sandt bet 50,000, and Vail quickly mucked.
"You're welcome," Vail said, showing
.
Sandt turned over
for a pair of sevens, causing Givens to celebrate wildly as he revealed
.
"Whooooo!" he said pointing at Sandt. "My man! I knew he did that!"
The positive situation was clearly a welcome change for Givens after he had already busted a few bullets earlier in the day.
Of course not everyone was so lucky. Among those that didn't make it through the day included former MSPT Golden Gates runner-up Jonathan McCray, Allen "Chainsaw" Kessler, John Holley, Lou Mortellaro, Josh Reichard, Ken Payne, Tyler Corbett, Jason Seefeld, and Adam Lamphere.
Day 2 commences at 11 a.m. Sunday, and the plan is to play down to a winner. PokerNews will be live reporting all the way as we look to discover who will take home the $120,765 first-place prize.
Get all the latest PokerNews updates on your social media outlets. Follow us on Twitter and find us on both Facebook and Google+!