France's Florence Allera Talks About the Importance of Consistency and Ladies Events
Julien Tissot

Giovanni Angioni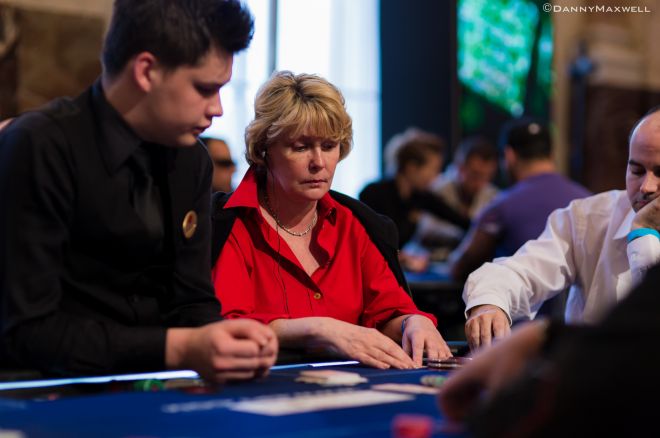 For the talented Florence Allera, it did not take long to find her way to the top of her country's poker scene and create a name for herself at the tables.
With two cashes at the 2013 PokerStars Caribbean Adventure for a total of $19,340, one at the 2013 World Series of Poker for $4,857 and countless of good results at the 2014 European Poker Tour side events in Deauville, Monte Carlo, Barcelona, London and Prague, Allera impressed many with her ability to focus and play for the win while enjoying the game
In Deauville to receive the title of France's 2014 Female Player of the Year at the 2014 France Poker Awards on Tuesday, Feb. 3, Allera sat down with PokerNews France's Julien Tissot to discuss her passion for the game and explain her decision not to play the EPT Main Event in Prague.
After a successful 2013 and a great 2014, on Tuesday you will be awarded the title of France's best female poker player. How do you feel about that?
If you consider that I started to play on the circuit in 2013, that I am not sponsored and that I am not a 'professional' poker player, I have to admit that I'm a little stunned. I feel honored and proud, but also somehow slightly embarrassed and intimidated.
It is fair to say that I had a very good year in 2013 and - without false modesty - I think my results came because of luck, because of the risks I took, and because I have played a considerable amount of events. To see that I have managed to keep my momentum also in 2014 is something that makes me really happy.
How do you explain your consistency?
In my case, this is the result of evolution and regularity. I started to play poker in 2010, and I made a big break in 2011. I remember it was a very challenging year at a personal level and I had very little time for pleasure and recreation.
At the end of 2012, I won a €1,000 tournament at the Aviation Club de France (ACF) and I decided to invest part of that money to go to the Bahamas and play at the PokerStars Caribbean Adventure. Then, I decided to use my winnings at the PCA to play at the next tournament - suddenly, the machine was on.
What really makes me happy is to know that I still have a great room for improvement. I intend to continue to play and to enjoy the game, but I am fully aware of my limits. I have already identified some, and I work to correct them. There's definitely quite some job to do, but my strengths are intuition and patience.
Looking back at 2014, what is your best poker memory?
Without hesitation, I can tell you it's from Prague - and that's a real poker story.
First, I was not planning to go there. But then I made a final table at a tournament in Brussels and I won a bit of money. A group of grinders encouraged me to join them in Prague and, truth to be told, they didn't have to ask me for too long before I decided to accept. Basically, I went there for sightseeing and having a good time with friends - I didn't even really know which tournament I would play.
Long story short, I didn't have my tournament mindset and I was not excited about the idea of playing a €5,300 Main Event in the European Poker Tour. I thought a bit about what to do, and my intuition suggested me to play a satellite for the High-Roller event.
I arrived near the registration desk at the very the last second. The buy in was €5,300, the tournament had 50 players and it paid tickets to the top four players and a €42,500 cash prize to the fifth. That sounded interesting to me! Once at the table, everything went smooth as a dream - especially as I finished in fifth place and took the cash for myself.
You used to be a regular at the ACF. How did you feel after the closure of the circle?
Initially, that was a real shock. I do not understand why the circle has been closed. Or better, I understood why it has been closed, but I still can't understand why it has not reopened yet.
I cannot help but think about the 213 employees who used to work there. To me, that's not an abstract number. They are people I know, one by one.
Yet, I am still confident that the club will open again. I want to believe so. I often discuss that with other ACF regulars and we are all convinced that the club will reopen.
During EPT Deauville, a number of men registered to play in the Ladies Event which caused considerable controversy. What's your opinion on that?
To be honest, I do not have a strong opinion on this. I am ready to listen to what others have to say. I have never really thought about it, even if I have to say that the idea of a man surrounded by women ready to fight makes me smile.
The policy adopted by the World Series of Poker, where men can play at the ladies events for a higher buy-in could be an answer, but I think everything goes down to this fundamental question: can a man win a Ladies Event? Spontaneously, I would say that the answer is simply 'no.'
What does your agenda look like? Where will we see you after EPT Deauville?
As there aren't many chances to play poker tournaments in Paris, like all Parisians I will have to travel. I think I will be at the EPT in Malta in March, and then at the one in Monaco in late April. I may also play a World Poker Tour National event in Brussels in February and the Deep Stack Open in spring. Then, if all goes well, I will be in Vegas for the WSOP during the summer.
This is my ideal program. But then, everything will depend on my results at the table.
Get all the latest PokerNews updates on your social media outlets. Follow us on Twitter and find us on both Facebook and Google+!