Team PokerStars Pro Eugene Katchalov: "Propaganda Is What Makes People Angry"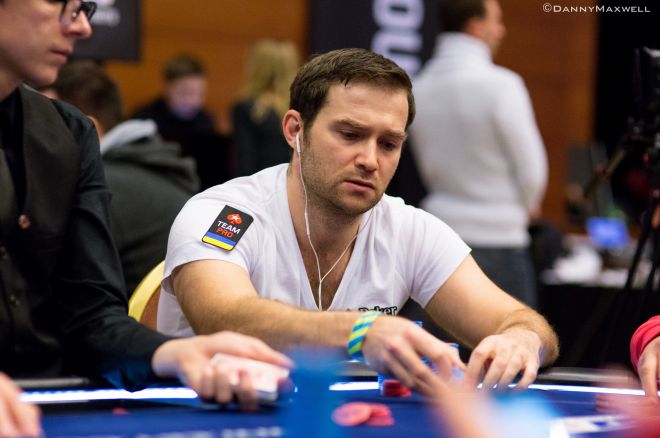 Financial trader and analyst turned poker player over decade ago, Team PokerStars Pro Eugene Katchalov is undoubtedly one of the most prominent figures in today's poker industry.
With an impressive poker career that includes countless cashes and a World Series of Poker (WSOP) bracelet in 2011, over time Katchalov also became a regular at some of the most competitive high roller events in the world, where he had the chance to prove his skills at events like the $100,000 Super High Roller at the 2011 PokerStars Caribbean Adventure, where he walked away with the $1.5 million top prize.
Yet, despite his remarkable successes in poker and his active life in the business world, Katchalov is also an individual who has lived through a one of the most complicated moments in the modern European history. A moment that many fear may be about to repeat very soon.
"What is happening right now between Russia and Ukraine is essentially a political war, and this saddens me a lot," Katchalov told PokerNews.
"The two countries used to be like cousins, if not brothers to each other. But now, the propaganda both on the Russian and the Ukrainian side is so severe that is causing some very heated emotions and is making people angry at each other."
Although he has spent the largest part of his life in the United States, where he relocated with his family when he was 10 years old, Katchalov is still a Kiev-born Ukrainian citizen and Ukraine's biggest live poker tournament winner according to the HendonMob.
Born in Ukraine while the country was still part of the Soviet Union, Katchalov clearly understands the importance that politics plays in people's everyday lives and the way it can make it better, or worse.
"I am very interested in politics and I follow what happens in Ukraine and worldwide. I have my opinion, but I always try to stay politically neutral - yet, what is happening in Ukraine is extremely sad and I hope Ukraine and Russia will find a peaceful way to solve the conflict," Katchalov continued.
In his opinion, however, the poker world managed to stay out of the political controversy between the two countries that began with Russia's annexation of the former Ukrainian's region of Crimea. "Fortunately, I have to say that I haven't seen any change in the poker world after that. A lot of Russian and Ukrainians players still play together, and nothing has changed there."
According to Katchalov, this may be due to the fact that politics is something that players tend to carefully stay away from, especially when they sit at the table for a poker game. "We don't really talk about politics that much, and I wouldn't really want to get into a discussion about that cause I think that would be a touchy subject. Personally, I try to avoid it."
"Super High Rollers get you to think at the highest level"
In Deauville to play in theEPT High Roller, Katchalov shared his opinion about the value of high rollers in response to what Marcin Horecki said on Thursday.
"I strongly disagree with that statement about the value in these events, especially as here in Deauville I have seen a lot of recreational players at the tables. I did not expect that."
"Sure, sometimes you can get a bad table draw and you end up surrounded by pros, but that can always happen," Katchalov continued. "In my opinion, that kind of concern about the tournaments' value relates more to events as the super high rollers, as those are definitely more pro-heavy."
Nevertheless, even the level of pro-heavy tournaments can justify the participation of a player - as long as he has the skills and the bankroll to sit without too many worries.
"People other don't understand that there's a big difference between the pros themselves and in the way they are able to adjust their style to their opponents. If all the pros played the same, then those events would be just about flipping coins. But that's not the case."
In Katchalov's opinion, super high roller events are great and fun to play also for a number of other different reasons, including - obviously - the level of the players in the game. "Once you sit there, you are basically competing against the best players in the world, and you get to think at the highest of levels. This is certainly fun and stimulating - if you can afford it."
"When you sit down and play for a $100,000 or for a $50,000 you get a lot of pressure on you, as that's a lot of money. I would say that one should only play if he is sure to be comfortable with that. To play well at a super high roller event, one needs to be able to make correct bluff at the correct time and not to be afraid to lose his money."
What the business world has to learn from poker
Thanks to his strong background in finance, his experience in the business world and his successes in poker, Katchalov has developed a good level of confidence about his strongest skills. And now he is ready to help others to learn from his story and understand their potential.
"I am going to be in Kiev during the next week to speak at a business breakfast in front of what I assume will be a large crowd of businessmen, entrepreneurs and people working on startups," Katchalov continued. "I will be talking about who I am, I will tell them my story and I will try to show them how it can connect to the business world, especially by how I use my skills to invest in projects outside poker."
Based on his own experience, Katchalov believes that the poker world and the business one could be much more interconnected that some may imagine, especially as both carry a significant number of similarities.
"Take trading and poker, for example. They are both two psychological games in many ways. The only problem in trading is that you don't know who your opponent is, that you are kind of just trading against the rest of the world. Essentially, trading is about psychology of crowds while in poker you are trading against the psychology of your opponent, against someone who you see in front of you."
And there's more to it, as also risk management is something that good players and successful businessmen need to be good at. "To play poker tournaments for a living is very similar to being an entrepreneur or a venture capitalist," Katchalov explained.
"As an entrepreneur or as an early investor, you essentially invest in companies that have a lot of hope but that are also often destined to fail. I read somewhere that about 97 percent of startups fail, especially in the IT industry. Yet, those who succeed, do wonderful."
"If you put it into perspective, it actually kind of similar to what happens in poker. The 97 percent of the time you enter a main event, you are not going to win first place, so you are going to go away upset. But the 3 percent that you do hit the placement you wanted, you are going to leave happy and with a lot of money."
Get all the latest PokerNews updates on your social media outlets. Follow us on Twitter and find us on both Facebook and Google+!