Marcin Horecki on Poker in Poland: "Authorities Have Absolutely No Clue About Anything"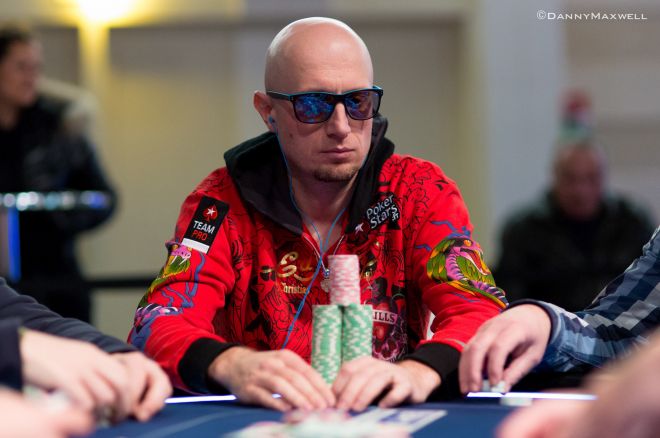 Second in Poland's all-time money list for tournament winnings according to the HendonMob, Marcin Horecki is a true veteran of the game and an inspiration to many.
Proud member of Team PokerStars Pro since 2008 and around the circuit for over a decade, Horecki is one of those players who still manages to find the motivation it takes to sit down at the table and test his skills against Europe's toughest fields.
In Deauville to play at the European Poker Tour, the former medal-winning Alpine skier and a Magic: The Gathering player sat down with PokerNews to discuss poker in Poland and share some useful advice on bankroll management.
PokerNews: Back in November, I sat down with Poland's Dominik Panka to discuss poker in Poland, and he mentioned how complicated is to play poker there. I know that you have often participated in meetings with officials and pushed for a regulation of the game. How are things going?
Horecki: When it comes to poker, the Polish authorities have absolutely no clue about anything. What they really care about is to get votes at the elections - and in a conservative country like Poland, a fight against gambling pays well.
Back in 2009, the government passed a law that almost canceled gambling and that hit hard on slot machines. It took them only three weeks to pass it, and in that time they did not consult any expert or any person from the industry. I let you imagine the quality of the text they came up with.
To date, they still stand behind this law because they simply do not want to admit that they did something wrong in the first place. They did not hit only poker though - they have also increased taxes on sports betting to a point where nobody from the outside decided to apply for a license. And they did even worse than that.
The law that the government adopted against slot machines turned out to be against the European laws so Poland - and me, as a taxpayer - is facing up to 10 billion Zloty in fines from the slots owners. That's a lot of money. And this is only a small part of the damages they have caused.
Why? What else did the government do wrong?
You have to put everything in perspective: poker is not that big in Poland, and poker players can't do much to be heard and change things. Yet, they have managed to hit football just as bad as poker. After the government increased taxes in 2009, all the foreign bookmakers had to cancel their sponsorships deals with Polish football clubs, and this caused some considerable losses.
Football legend Zbigniew Boniek, who today chairs the Polish Football Federation, has tried to change things for five years already - but with no success. So, imagine: if a legend like Boniek can't change anything to help Poland's national sport, what can poker players do?
The problem here is also that we, as people involved in the industry, know everything about the game, while those people have no clue about they legislate on. They are simply against, and this is just ridiculous.
You say that Polish politicians only care about votes. Yet, being Poland not the richest country in Europe, I feel they miss quite some tax revenues by not regulating the game. How do you explain that?
I think Polish politicians tend to reason in a very short term, and this is a big leak in how democracy works in non-developed countries like mine is, especially when the middle class is not big enough to really make a difference.
You know, for some things you really need the middle class to be there, as those are the people who can understand the economy and stay away from populism. Yet, again, I may as well be wrong in this because countries like France, Greece, and Hungary which, in theory, should be more educated and experienced than Poland, are falling for populists.
Let me tell you something: when I was young, I thought that all the adults were very smart. Today, as I am an adult myself, I have understood that that the whole humanity has some serious flaws.
Yet, there's something I don't understand. If Poland is so bad for the game, what keeps you there? After all, it's not uncommon for players to simply relocate to places where it's easier to play.
It is common, but I am not a typical poker player and most of all I am not a 22-year-old young one who has just finished high school. My family is in Poland, I have my own business there, I was born in Poland and I like a lot of things about my country. They would have to destroy much more than just poker to let me decided to move away from there.
I am also happy with what I have. I started to play in 2004, when I was 27 years old, and today I am almost 38. All my buddies call me 'grandfather,' even if I feel much younger than people in my age, especially than those who have a 9-to-5 job and have to wear a suit every day. And I am talking about something I know very well, as I spent seven years of my life working in the consulting industry.
2004 to 2015 makes over 10 years in the game. Where do you find the motivation to still sit down and play?
I do everything in my own way and I don't play as much as many other do. Usually, people who find poker and really get into it tend to play as much as possible during the first two or three years. As for myself, I was never like this.
Obviously, I have played a bit more in the beginning, but I have also always wanted keep a balance between my poker life and my personal life. Probably this means that I am not at the level of those who spend their lives playing, but I am fine with it. I also try to have fun and to learn as much as I can, because poker is developing all the time.
A few weeks ago, Faraz Jaka hit the news with a feature on the CNN where he discussed his life in the circuit. One of the parts that impressed me most is how he explain how success in poker can let you lose touch with reality. I wonder, how do you deal with that?
I guess it's easy for me since I am a financial advisor and I know how much you have to work to earn some money. I used to have a day job for seven years and I have advised people and companies on how to manage their money. So, well, if I did not know how to manage my money well - this would become a problem for many people.
If you want, you could say that one of the signs that I manage my money well is that I a not playing any high roller or any high stakes game. When you get to high roller events when at each table you have eight regulars and maybe one recreational player, you see that you have no value in playing unless you think you can beat the regulars and you have the right bankroll to afford the event.
Those tournaments do not make much sense to me. I prefer to play at stakes I am comfortable with and in games where I have an edge - I do not like to put my bankroll at risk. This is the very same advice I always give to those who ask me: you should always play the stakes you are comfortable at, you should never go too high.
I know you are a seriously competitive person. How does that work for you?
I have a very competitive nature and I love to win. Competition is in my heart. Trust me, I even want to always be the first to start at the traffic light. I love competition in all forms and wherever there are some points and something to win, I am up for that.
This is why I also think that Alex Dreyfus is doing a great job with the Global Poker Index (GPI), the HendonMob and his idea to sportify poker. I love what he's doing and I hope everything will develop well. Of course, I would love to be on the top of the GPI - but I am not Faraz Jaka who dumped his home to travel and play for 365 days a year. Unfortunately, I just do not play enough to get as many points as other players do.
Get all the latest PokerNews updates on your social media outlets. Follow us on Twitter and find us on both Facebook and Google+!