PokerStars is Sending Seven Players to Moscow to Dine with Ronaldo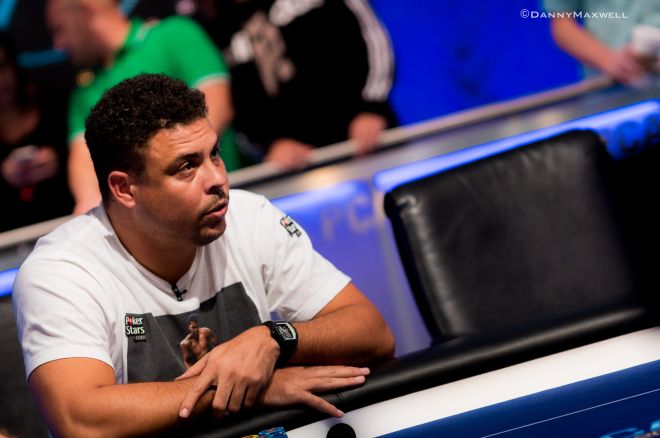 PokerStars is offering seven of its players a unique opportunity to win a short vacation to Moscow, Russia, and dine with PokerStars SportsStar Ronaldo and Team PokerStars Pro Ivan Demidov as part of a regional promotion.
Each Sunday from March 22 to May 3, PokerStars will be hosting a freeroll where the winner will be awarded a trip to Moscow from May 16-19 which includes travel to Moscow, three-nights hotel accommodation, meals, a football training session and poker tournament with Ronaldo, dinner with Ronaldo and Demidov, and an invitation to a VIP party.
Players that finish in the top 100 in this weekly event will be awarded anywhere from T$3 to T$150, which can be used to enter any real-money tournament at the online poker room.
Players can win a ticket to the weekly freeroll via daily freerolls at 12:00 ET (19:00 MSK) where 200 seats are awarded on top of the prize pool, or via a $0.55 daily tournament at 13:00 ET (20:00 MSK) where 100 seats are awarded on top of the prize pool.
Why Russia? Will players in Ukraine and Georgia participate?
The PokerStars Moscow Vacation with Ronaldo promotion is only available to residents in Armenia, Azerbaijan, Belarus, Georgia, Kazakhstan, Kyrgyzstan, Republic of Moldova, Russia, Tajikistan, Turkmenistan, Ukraine, and Uzbekistan.
Some of these countries included in the promotion are a curious selection. Ukraine has an ongoing conflict with Russia, leading to some players in the country likely to not want to visit the capital city of the "enemy." However, other poker players in Ukraine may be aligned with Russian interests and excited by this promotion.
Georgia, another country included in this promotion, also had a short war with Russia in 2008, with Russian military still occupying regions of Abkhazia and South Ossetia in violation of the ceasefire agreement.
The location is also a little curious, however, could also be a sign that PokerStars plans to stay in the Russian market. With rumors circulating that more online operators may continue to pull their services out of Russia, it is interesting to some that PokerStars has decided to hold this promotion in the country's capital.
Around this time last year, Russia blocked the ISPs of PokerStars and many other online gaming operators, leading to some operators, including Ladbrokes to remove its offerings from the country.
Earlier this year, Russia suggested it will take this one step further by banning VPNs and Tor services, which are used to access online gaming sites outside of the government's consent.
On the other hand, the location of this promotion could make sense even if PokerStars wasn't offering its games in Russia, since many people in the countries that this promotion is available to, may feel this is the perfect time to visit Moscow.
Many people are now considering to visit the usually expensive city, since it has become a bit more reasonably priced due to the currency devaluation that has taken place during the past few months.
Get all the latest PokerNews updates on your social media outlets. Follow us on Twitter and like us on Facebook now!