Manuel Bevand Discusses Twitch: "A Poker Tournament Can Be A Very Intense Experience"
Gregoire Huvelin

Giovanni Angioni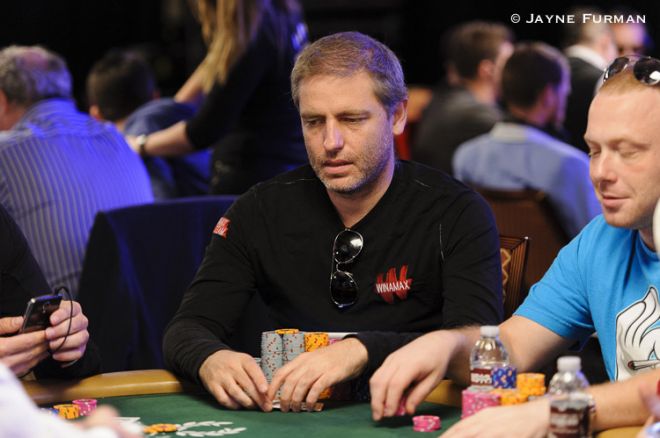 In November 2014, France's Manuel "manub_" Bevand announced his decision to leave Winamax Poker after spending six years as proud member of the team.
With a career that included 10 European Poker Tour (EPT) cashes, nine World Series of Poker (WSOP) cashes, and three World Poker Tour (WPT) cashes over the past nine years, Bevand put together live tournament winnings of $716,353, according to Hendon Mob.
A former Magic: the Gathering champion and video-game designer, Bevand revealed his resolution to take a break from poker right before the last EPT Prague.
"After six years on the team and nine years as a poker player, I have decided to bow out of poker," Bevand announced. "Right now, I want to head to something that offers me better opportunities and that I can control better. I will keep playing online poker, as that stays a great passion for me. It has been an incredible adventure."
Five months later, PokerNews.fr's Gregoire Huvelin reached out to Bevand to find out about his life away from the live poker scene, his commitment to stream his online games, and to discuss his participation to the upcoming TED (Technology, Entertainment, Design) event in Paris.
PokerNews: You left Team Winamax right at the end of 2014. Do you still have any sort of relationship with the other team members and with the poker room?
Bevand: Yes, I still have a very good connection with the members of Team Winamax and I meet with them quite often. Also, I have been working as a consultant for Winamax for some time now. I help them in different things, especially with issues related to innovation coming from the video-gaming world.
You spent six years with the team, and that is a remarkable amount of time. Is there anything you miss about it?
Probably what I miss the most is the pleasure of gathering all together at a tournament location right before the battle begins, of going to the restaurant with the other team members the night before the Day 1. I miss these moments of solidarity and fun taking place in a very competitive setting. Somehow, the guys at Winamax felt like a second family to me.
Stephane Matheu, the manager of the Team Winamax, is often said to be one of the key assets for the development of the team and its players. Did he have any particular role in your professional poker career?
Absolutely. Matheu played a very important role for me, as he is the one who taught me to think as a contender. Also, I think Matheu and I have a lot in common. We are both perfectionists, and I like to think we share the same sense of integrity and responsibility. During the past years, we worked a lot to develop better ways to work together and to make the whole team progress.
We have seen that you started to regularly stream your online poker tournaments on Twitch and on DailyMotion Games. What do you think of this new trend of streaming online poker sessions? Is it a good way to create a connection between the players and the community?
I have been following the explosion of video-game streaming very closely, and I have to say that I am fascinated by it. Even if, like many others, I did not anticipate the popularity it is getting today.
I discussed the idea of streaming my games with Winamax for a while because I felt like I wanted to try it. I think this is something new that can be really beneficial for poker as it creates an opportunity for recreational and occasional players to learn from the streamers and to have a real emotional connection with them.
A poker tournament, even an online one, can be a very intense experience for a spectator, especially if he gets access to the feelings and the thinking process of one who plays. I think this is all well demonstrated by the success of the "In the Head of a Pro" project we have with Winamax. The early numbers are very positive and the stream has found its audience, since hundreds of people are following me every night. On April 8, I had up to 1,200 people watching.
In two weeks, you will participate in a TED event for the first time. Can you tell us more about this new project?
I was invited to speak to the students of the Polytechnique in Paris as a guest at the TEDx Conference that is going to be held later in April. There, I will give a 15-minute speech on anticipation. I will talk about the relationship between man, the game, and the machine, but I can't share more about this right now. A video of the speech will be available after the talk.
What about your future plans, are there any new projects you would like to share with us?
I think I will probably still be around in the gaming world, but I don't know yet what my role is going to be, especially as there are too many great things happening right now, from virtual reality to streaming, from e-sports to the new boom of independent video games.
Right now, I am a consultant and I work on a number of different projects. Also, I am still active in the poker indutry, even if today my life does not revolve only around that. I'm retired from live poker, but it is possible that I will be tempted to play one or two tournaments a year. If I'd have to choose now, I would say that I could make an exception for events like the WSOP Main Event, EPT London, and EPT Prague, my favorite tournament ever.
Get all the latest PokerNews updates on your social media outlets. Follow us on Twitter and find us on both Facebook and Google+!