Bryan Micon Asks Internet For Support After Charges From Nevada Attorney General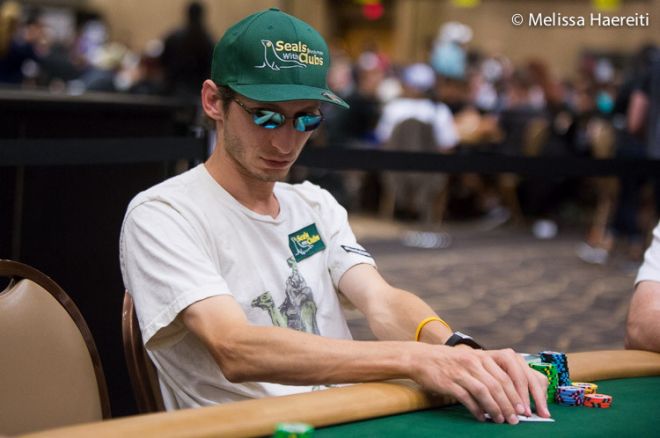 Two months after a police raid led to the closure of the popular bitcoin-only poker site SealsWithClubs.eu, Nevada state Attorney General Adam Laxalt announced the decision to prosecute the site's chairman Bryan Micon for running an illegal online poker room.
According to Las Vegas authorities, Seals With Clubs operated in clear conflict with the local legislation, as the court papers filed Monday state that the site conducted its operations "without first procuring and thereafter maintaining in effect the required licenses."
Should the accusations be confirmed, Micon would face a $50,000 fine and up to ten years in prison. Micon's legal representatives at the popular Vegas-based Chesnoff & Schonfeld law firm couldn't be reached for a comment at the time of publishing.
Speaking at a press conference on Tuesday, Laxalt explained that this is the first time that Nevada authorities deal with a similar case, as Seals with Clubs was the first online site to ever be closed for the unauthorized offer of poker games.
As VegasINC reports, during the press conference Lexalt said that the Attorney General's office intends to do everything in its power to contrast the illegal offer of gaming services in Nevada.
"Operating or otherwise conducting gaming in this state without a license is illegal, and the Attorney General's Office will aggressively pursue individuals and companies who aim to evade our laws for illicit profit," Laxalt explained. "During my time as A.G., illegal gaming operations will be pursued with every available and appropriate legal remedy."
Seals With Clubs' judicial troubles started on Feb. 11 after the home the site's founder was raided at gunpoint by the Las Vegas Police. "It has been a big violation of my personal freedom," Micon told PokerNews shortly after the raid. "Even if the State wanted to take action against me, even if they wanted to take all my electronics as they did, a raid like that one was completely unnecessary."
Not formally charged at the time, Micon was served a warrant from the Nevada Gambling Commission that raised enough concern to convince him to relocate to Antigua with his family. Speaking to PokerNews, Micon explained that the accusations against him included the violation of the Nevada Revised Statutes NRS 463.750(10b), and the operation of an interactive gaming site without all appropriate licenses as required by State law NRS 463.160(1a).
The closure of Seals With Clubs, however, did not last long. On March 1, Micon launched an updated version of the software on swcpoker.eu, a new site launched once his former partners at Seals With Clubs decided to terminate their participation to the original venture.
"I am not mad at them," Micon added shortly before the launch of the so-called 2.0 version of the software. "Everybody assesses risks differently and they are willing to do different things. Perhaps, I am the one who is willing to give up the most right now, and that's why I will continue to work on Seals With Clubs."
"There are only very few things in this world that motivate me, and these are Golden Tee, poker, my wife, my daughter, and Bitcoin," Micon went on to explain. "If you realize this, you can see why I don't even need to make a choice here."
Micon Asks the Internet for Support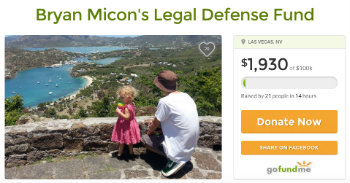 Although he decided to direct all the inquiries related to the court case to his legal representatives, Micon has also opened a crowdfunding campaign to ask for support the legal battle he intends to fight against the Nevada P.A.
"Most of you have seen recent events surrounding SealsWithClubs and my family. Today I was charged by the Nevada Attorney General with "one count of operating an unlicensed interactive gaming system," he wrote on a page launched on Apr. 28 on GoFundMe.com, a popular crowdfunding portal.
"I maintain that I have committed no wrongdoing and have retained the legal services of Chesnoff & Schonfeld, whom I believe are the best lawyers for my case. The price for representation will quickly deplete my funds, and I am asking for donations from anyone who feels like helping me," Micon continued.
"As a husband, father of a 2 year old girl, & outspoken Bitcoin advocate, I desire nothing more than to continue to be with my wife, raise my daughter, and continue to build layers on top of the Bitcoin protocol. The state of Nevada desires to take that away from me. Please help me fight."
After only one day, Micon has already managed to raise $1,930 out the $100,000 he requested - with donations coming from CalvinAyre reporter Lee Davy, and a number of anonymous donors.
Only 6 Days Left To Cash Out From Seals With Clubs
As a note published on SealsWithClubs.eu states, the players of the former bitcoin poker site have only five days left to retrieve their balances and cash out any sums left on their accounts.
"All activity on the sealswithclubs.eu domain will cease on May 5th, 2015. After this date it will not be possible to retrieve your balances, connect an email address to an account, or reset your password," the note writes. "Please request your cashouts immediately and pass along this notice to others if you know any former players."
The note explains also that once the cash-out system will be brought down, "there will no longer be any support for, or activity on, the sealswithclubs.eu domain."
Get all the latest PokerNews updates on your social media outlets. Follow us on Twitter and find us on both Facebook and Google+!