Davidi Kitai On a Mission To Win EPT Player of the Year and Top the GPI
Gregoire Huvelin

Giovanni Angioni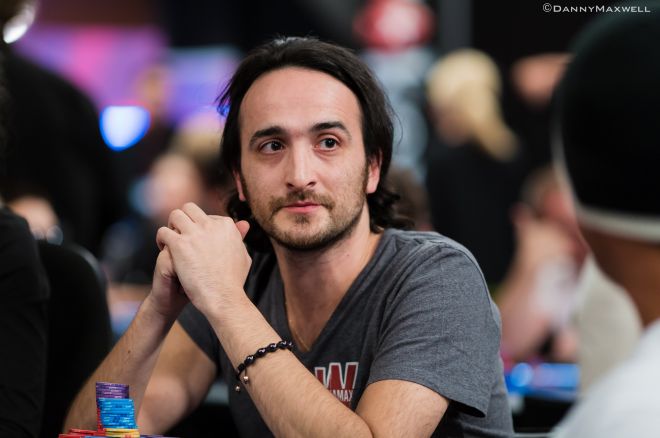 A proud member of Team Winamax for seven years, Belgium's Davidi Kitai is considered to be one of the best poker players in the world.
One of the very few live Triple Crown holders in the world thanks to his victories at the World Series of Poker (WSOP), the European Poker Tour (EPT) and the World Poker Tour (WPT), Kitai sits comfortably atop Belgium's all-time money list with live tournament winnings of $6,067,481, according to the HendonMob.
To put things into perspective, Kitai's live tournament earnings are nearly three times bigger than the sum of all the winnings put together by another one of Belgian's top performers, Pierre Neuville, who sits on the second of the country's all-time money list.
As he was getting ready to head to Monte Carlo for the EPT Grand Final, Kitai sat down with PokerNews France's Gregoire Huvelin to talk about his plans to win EPT Player of The Year and to take Ole Schemion's place on top of the Global Poker Index (GPI) rankings.
PokerNews: Only a few weeks ago, you won two events as part of the Winamax Series. What can you tell us about that?
Kitai: I am happy with my results at the Winamax Series, as there is nothing more enjoyable than a victory. I made three final tables and two wins, and these are statistics that I like. I am very satisfied to have won two titles during the Winamax Series, but on the other hand, I think it was also about time for me to get this done, especially if you consider that I have been playing in the series for years.
The first event I won was a four-max [multi-table tournament] with over 1,200 players, which I found to be a lot of fun since the format allows you to play in a very aggressive way. I quickly took the chip lead and I took the opportunity to continue my aggression throughout the tournament.
The second event was a shootout one. I always liked the sit-and-go format because there only the top spot is what really counts, and to win this event I had to win three six-player tables straight. I realize that it sounds simple when I say it like this, but it still means that, in order to make it, you have to go through a big field of players who all want to win.
Looking back at these two victories at Winamax, what do you say about your state of mind right before the EPT Grand Final begins?
I can tell you that I am highly motivated to play the final leg of this season of the EPT, and that my goal is to sit on the top spot of the EPT Player of the Year rankings for Season 11. I know that to keep the lead I am going to need to put together some good results in Monte Carlo. I have been consistent throughout the season, so there's no reason for me to stop that now.
The Salle des Etoiles (the room where the EPT will be played) is always an inspiring one. Let's say that once in Monte Carlo I will aim for the moon and, should I miss that, I will probably land on the stars.
Right now, you sit in the third spot on the GPI rankings after Ole Schemion and Scott Seiver. Will you have that in mind while playing in Monte Carlo?
Seiver took second place away from me only some weeks ago, and I think Schemion will fall from the top spot very soon. It's complicated for me to explain that, but I think he will lose a lot of points by the end of the month.
The problem, however, are not only Schemion and Seiver, but are also the players behind me, especially ones such as Pratyush Buddiga and Stephen Chidwick. [They are] getting very close very fast.
They are both very good and they play a significant volume of events with big buy-ins. You know, the top of the GPI rankings is a difficult goal to achieve and nothing is secure right now, although it's true that a good performance in Monte Carlo could help me to get a better spot there.
What about your schedule then, what events will you play?
I will not play the €100,000 and the €50,000 Super High Roller events. Besides those two, my plan is to play in the Main Event, the €25,500 High Roller, and in as many side events as possible.
From your answers, it sounds like you consider it to be important to do well in rankings like the GPI or the EPT Player of the Year. Can you tell us why?
Tournament poker is competition, it's a mental sport. I love competition, and I want to prove to myself that I can be the best, even if only for just one week.
As for the GPI, I believe it is is the most legitimate international ranking system we have in poker. The ranking is done well, it takes into account the regularity of a player, and big results make a difference. Also, since I started to set my goals in terms of results and standings rather than in financial terms, I became much more regular.
In May 2014, you won the Winamax Poker Open Sismix in Marrakech. Since the tournament will take place again soon, can you tell us if you plan to fly to Morocco and defend the title?
No, I won't actually go to Marrakech for this year's event because the tournament will run at the same time as the Heads-Up No-Limit Hold'em Championship at the WSOP, and that means that I will be in Vegas for that.
However, I have nothing but great memories of last year's festival. I won and I partied a lot. Overall, it was a great event.
Get all the latest PokerNews updates on your social media outlets. Follow us on Twitter and find us on both Facebook and Google+!