Nick Petrangelo's Hot 2015 Continues as He Captures WSOP Gold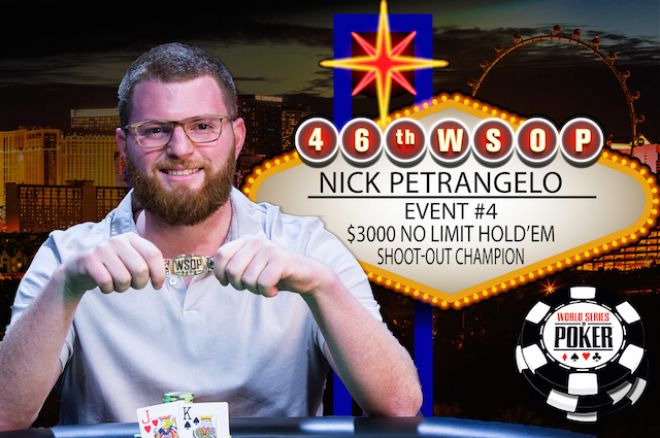 For most people, doing a job interview but not getting the job is a minor disappointment, a bump in the road of life that they'll get over sooner or later, depending on the quality of the gig. That may have been the case at first for Nick Petrangelo, but his failure to land a job after college has led to his becoming a World Series of Poker champion.
In his first WSOP final table, Petrangelo topped a tough field of 308 runners to take down Event #4: $3,000 No-Limit Hold'em Shootout. The professional continued his torrid 2015, adding $201,812 to a rapidly-growing windfall that's now exceeded $1 million since the turn of the calendar.
"I was feeling good coming in, especially about my live game," he said. "I'm really happy to get one out of the way early, it'll make the rest of the summer a lot easier for sure."
Before the start of the year, Petrangelo had put up solid results worth more than $400,000, but nothing even close to the scorching run he's currently enjoying. Asked if something specific fueled his breakthrough, if there was some reason the proverbial light bulb had come on that allowed him to begin rampaging through major poker tournaments, Petrangelo instead chose to credit a run of positive variance.
"In the past I had a lot of chances," he said. "I think maybe I'm making slightly better decisions later on, but it's hard to say. Obviously, there's so much variance in tournament poker. When you get deep in these things, each spot is so significant to your stack that it's hard to be results oriented."
In particular, Petrangelo said good fortune allowed him to cruise past Jason Les in heads-up play. Heads-up opponents don't come much tougher than Les, who had made his bacon in the poker world by crushing heads-up cash games online. Les appears to be transitioning a bit more to live tournament poker — it was also his first WSOP final table — but his heads-up skills are still considered to be formidable enough that he was chosen to represent the human race along with three other players in a match against a computer engineered to play heads-up NLHE.
"It seemed like he really didn't make any hands, and he was just really card dead," Petrangelo said in regards to Les.
Indeed, the battle was mostly one-sided as Petrangelo took pot after pot, with Les able to show down few winners. It looked briefly like Les might take the gold after he shoved over a button open with the
and found himself staring at the two kings of Petrangelo. An ace on the flop got Les a double, but the California native found little success after that as Petrangelo worked his way back to a lead and closed things out with the
against the
as neither improved.
Petrangelo said the shootout format was one he enjoyed. As players bust out, the game continues shorter and shorter-handed until one player conquers the table, rather than empty seats being filled as other tables break.
"The shootouts are always tough because you're playing short-handed and they bring out tough fields, so you're playing short-handed against really good players," he said. "You're playing a lot wider ranges so there's a lot more to think about, a lot more to consider. It's a cool format, I definitely like it."
Petrangelo had an eight-handed table on Day 1 and said he was fortunate enough to hold the chip lead five-handed, which he rolled into an easy win heads up. Day 2 was a bit tougher as Jake Balsiger scored two relatively quick knockouts at the four-handed table, leaving Petrangelo at about a 3-1 deficit. Nonetheless, Petrangelo prevailed after a long battle to book his final table spot.
A "good amount" of short-handed experience online coupled with his live tournament chops gave Petrangelo a well-rounded mix of skills that he used to claim his bracelet. He noted that the format requires patience early on at a full table and then a switching of gears once things start to get shorter. He followed that game plan and picked the right spots to navigate to victory.
But, he may have never found this success if anyone had bothered to call him back after a job interview. After graduating college at Skidmore (N.Y.), the Massachusetts native, who was a finance major and a collegiate athlete at the Division III school, moved to New York City with friends and began looking for work.
"I did interviews, and I didn't get any jobs, and poker was going well," Petrangelo said. "Slowly, I started realizing that I probably wasn't going to get a job."
So, he turned his attention fully to poker, and he hasn't stopped.
"It's still my favorite thing to do and study," he said. "I love the game as much as I ever have."
"I'm probably not going to be going to any interviews any time soon," he added with a smile.
If winners' interviews count and Petrangelo keeps playing like this, he may be doing them sooner than he thinks.
Want to stay atop all the latest in the poker world? If so, make sure to get PokerNews updates on your social media outlets. Follow us on Twitter and find us on both Facebook and Google+!