850 Sports News App Update Brings You Even More Sports News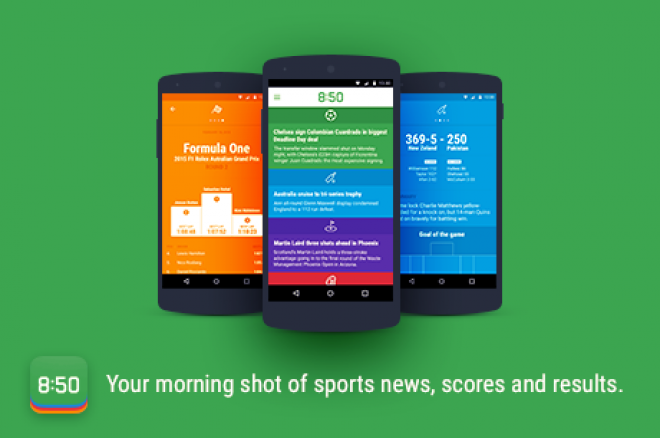 850 have taken their first step into the USA sports news market by adding, Baseball, Basketball and Cycling to their roster of sports covered. The latest update also includes the ability to comment and better personalization settings to make the app work better for you.
Backed by the iBus Media, the group that runs industry leader online portals like PokerNews, CasinoSmash, and FantasyWired, 850 is an innovative app available for iOS and Android that aims to offer a full overview of the most important news from all your favourite sports in short and easy-to-digest articles.
Developed and run by tech expert Jon Bishop and sports journalist Neil Goulding, the free app provides its users with no-frills sports news stories written by professional journalists and filled with everything you need to stay up-to-date in less than ten minutes a day.
"We've really pushed the boundaries of how a sports news app should look and function and based on the mountain of positive user feedback and press coverage the app has received, I think we have made a really good start. But the mission is not over, I'll keep challenging my highly talented team to keep pushing the fold of what it means to be the best news source in the world of sport," Bishop remarked when asked about the app's progress since the launch in March.
850 Goes '2.0': What's New
850 have taken the initial user feedback on board and have worked relentlessly to create a new version of the app that users will love with an improved design and some great features to ensure they get the news they want at the right time.
850 have made their intentions clear that they want to be a player in the USA sports news market by adding two major in-season sports: Baseball and Basketball. Cycling is also appealing to the American audience, but its inclusion shows 850 has global ambitions.
These three sports take the total amount of sports covered to 11 including football, cricket, golf, rugby league, rugby union, tennis and Formula 1. Rumour has it that Moto GP, America Football and Ice Hockey are to appear on the app soon as well.
Other improvements introduced with the latest update include the possibility to share content on social media and to add comments to the stories published, together with an all-new notification system that will allow users to be when there is an update from their favourite sports
You can install 850 on your iPhone from the Apple Store, or on your Android device in the Google Play Store.
Get all the latest PokerNews updates on your social media outlets. Follow us on Twitter and find us both Facebook and Google+!