Compromise Could Be Coming Soon in Battle for Online Poker in California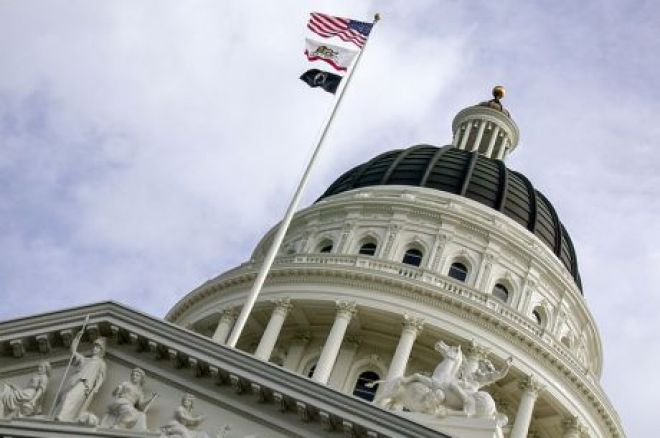 There might be room for compromise in the long-running stalemate between gaming interests in California regarding who should be allowed to participate in regulated online poker.
At Wednesday's informational hearing in the California Assembly Governmental Organization Committee, Pechanga Band of Luiseno Indians chairman Mark Macarro offered support for ways racetracks could make money from online poker without directly participating.
"We are realistic about the politics of this issue," Macarro said. "That is why Pechanga is prepared to support other opportunities for the racing industry to participate and benefit from online poker. We respect the sport of horse racing and recognize the importance of the jobs that rely on the industry. That's why Pechanga can support legislation that specifically shares revenue derived from online poker for the benefit of the racing industry."
While New Jersey shares revenue from Atlantic City with racetracks, the floundering horse racing industry in California receives no such supplements. Three tracks have been forced to close their doors in the state. Macarro added another way for tracks to profit.
"If that is not an acceptable form of participation, the racing industry also has the means to enter into private partnerships with licensed operators to participate as affiliates," Macarro said. "Racetracks can enter into arrangements whereby they refer their web visitors and players to poker websites for a fee."
Given the examples of a regulated market in New Jersey and Nevada, it is likely that only a handful of sites would be successful in California, meaning that revenue sharing and affiliate marketing could be the best route for tracks to profit from online poker. However, industry representative Keith Brackpool dismissed the idea when committee chairman Adam Gray asked what he thought of Macarro's proposal.
"I appreciate the offer made by chairman Macarro, but we don't believe at this stage that a level playing field would be the other part of the gaming community having a license and determining what morsel of that we would receive," said Brackpool, west coast chairman for the Stronach Group, the largest thoroughbred racing company in North America. "We want a level playing field where we have the right to apply and receive a license on the same basis."
Pechanga is part of a coalition of 10 tribes that asserts allowing racetracks to gain online poker licenses would be an expansion of gambling that violated tribal exclusivity.
"Only card rooms and tribal casinos are allowed to offer live poker," Macarro said. "Racetracks have zero history regulating and managing live poker. We support eligibility of entities licensed to offer live poker in casinos. Each segment should stay in its own lane."
The racing industry contends that the Internet is its own area for regulated gaming in the state, one that is currently occupied only by wagers on horses.
"Nobody is in the Internet poker lane at the moment," Brackpool responded. "Poker is in one lane, horse racing with its Internet ability is in another lane, and we're talking about how we can converge in the middle."
Horse racing brought out its biggest human celebrity of the moment to provide testimony in Bob Baffert, trainer of Triple Crown winner American Pharoah.
"Horse racing has been around forever, and to keep it at that level we need a shot in the arm," Baffert said. "This would be a terrific shot in the arm to keep these horses here in California."
Out of the four online poker bills that have been introduced in California this session, Assemblyman Reggie Jones-Sawyer's would allow participation from racetracks, Assemblyman Mike Gatto's would limit participation to casinos and card rooms, and the shell bills from Gray and Sen. Isadore Hall have yet to take a stance.
Although nothing was solved at Wednesday's hearing, it was the first public indication that there are efforts being made on reaching a compromise to end the stalemate.
The rest of the 4 hour and 18 minute hearing, which can be viewed in full here, seemed like it could have been a reenactment of the informational hearing held in the same committee in April of last year. There were 23 scheduled witnesses broken up into six panels providing background on Internet gaming, how it is being regulated in other jurisdictions, what would be needed to implement and regulate it in California (more funding), suitability standards, horse racing's eligibility and the consumer perspective.
The panel on suitability standards predictably boiled down to tribes and card clubs restating their familiar arguments as to the other main issue dividing stakeholders — whether legislation should contain a bad actor clause aimed at preventing PokerStars, the world's most popular poker site, from getting a license.
Jeff Grubbe from the Agua Caliente Band of Cahuilla Indians said that PokerStars flaunted the law by taking bets after the Unlawful Internet Gambling Enforcement Act (UIGEA) took effect at the end of 2006. Eric Hollreiser from Amaya Gaming, which acquired PokerStars last year, pointed out that UIGEA did not create any new laws to make online gambling illegal, instead being a tool to enforce existing state and federal laws in which online poker was not prohibited. There was much talk of tainted assets and the advantage PokerStars holds in its four-year-old customer list from before the site ceased operations in the U.S. following April 2011 indictments.
PokerStars and its California partners — the Morongo Band of Mission Indians, San Manuel Band of Mission Indians, Commerce Casino, The Bicycle Casino, and Hawaiian Gardens Casino — ask only that the question of PokerStars suitability be left up to regulators to decide rather than being predetermined in legislation.
The interesting part regarding the bad actor issue came in questions and statements from committee members.
Gray, whose shell bill has yet to take a stance on the bad actor question, showed his hand by pushing California Gaming Control Board Commissioner Richard Schuetz to confirm that regulators already have adequate tools to ensure companies entering the online poker marketplace would be of a high standard. He then threatened that if the legislature needs to determine suitability for an online applicant, then perhaps it needs to look at suitability standards for gaming in the state all together.
"This isn't about creating competitive advantages," Gray said. "If our suitability standards in current law are inadequate, which means people are running gaming establishments not of the highest character, we need to strengthen those laws. If somebody owns a card club and engages in criminal activity, may or may not be convicted and then sells to another owner, do we not license that card club?"
Assemblyman Jim Cooper showed to be in favor of a bad actor clause in a contentious exchange with Hollreiser. He called out PokerStars on hiding behind its $731 million civil settlement with the Department of Justice — $184 million of which went to make whole the players of competitor Full Tilt Poker, which PokerStars acquired in the settlement — when saying the company had not been charged with any criminal activity.
"To pay out $700 million doesn't pass the smell test and it doesn't sit well with me," Cooper said.
Hollreiser answered that Amaya — which is most licensed online poker operator in the world with licenses in the UK, France, Italy, Spain, Germany, Denmark, Belgium, Astonia, Bulgaria, Malta, and the Isle of Man — would be happy to go through the state's lengthy regulatory process.
On the day that the Sheldon Adelson-sponsored bill to ban Internet gambling federally was reintroduced in the U.S. Senate by Sen. Lindsey Graham (R-S.C.), a companion bill to the one already introduced by Rep. Jason Chaffetz (R-Utah) in the House, Robert Uithoven from the Adelson-funded Coalition to Stop Internet Gambling repeated the Las Vegas Sands CEO's well-known rhetoric against online gaming.
However, when Uithoven cited old FBI letters about concerns of the potential for money laundering and other criminal activities in online gaming, John Pappas from the Poker Players Alliance was there to point out that these concerns were for unregulated online gaming.
"Isn't sunlight the best disinfectant?" asked Assemblyman Frank Bigelow. "We know people will still play poker online. Aren't we best having regulated business with a watchful eye rather than doing nothing?"
In the first panel providing background on Internet gaming, Chris Krafcik from GamblingCompliance said his company projects $217 million in total revenue from the first full year of online poker in California and $366 million in the fourth year. He noted that, even at maturity, that would be less than 5 percent of overall gaming revenue in the state considering the tribes have gaming revenue of $7 billion annually. At the proposed tax rate of 6.7 percent, online poker would generate between $14 million and $28 million in additional tax revenue each year.
Krafcik added that GamblingCompliance expects one state between California, Pennsylvania, and New York to legalize and regulate Internet gambling or online poker by the end of 2017.
Whether that state will be California, which has introduced online poker legislation in each of the past seven years, depends on if the interested parties can reach a compromise on participation. Perhaps this hearing was a first step.
"We here at the California legislature have been talking about Internet poker longer than it took to win World War II," Gray said in his conclusion. "But we'll continue with the discussion and we don't want to move forward without something with strong provisions to protect our constituents."
Want to stay atop all the latest from the 2015 WSOP? If so, make sure to get PokerNews updates on your social media outlets. Follow us on Twitter and find us on both Facebook and Google+!