Peeking On the Future of Poker: What's Going On At Kickstarter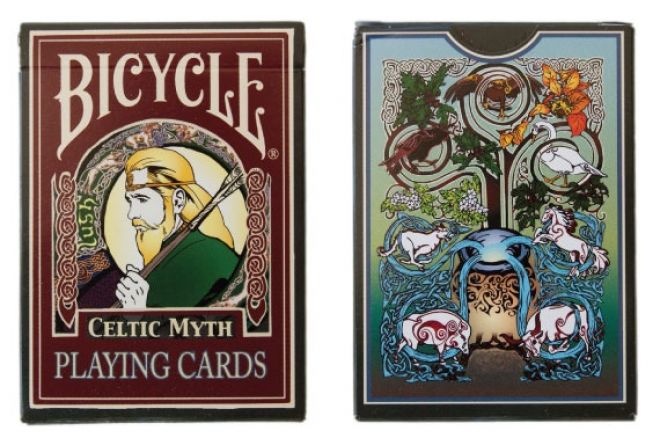 Thanks to crowdfunding platforms such as Kickstarter, budding entrepreneurs have an outlet to seek funding for many types of projects, including those related to poker.
In the past few years we have seen Kickstarter help fund ideas that might not otherwise come to reality, including three-time World Series of Poker (WSOP) bracelet winner Dutch Boyd's Poker Tilt book project, Bobby Crosby's collection book of +EV Poker Comics, and hundreds of other projects involving card decks, films, games, and poker accessories.
Currently, there are a handful of small and medium sized poker-related projects on Kickstarter. Read on to take a closer look at the projects that are about to close.
Omnia Playing Cards
Omnia Playing Cards is currently the most active poker-related project on the platform, thus far generating $39,253 from 673 different backers and crushing the original goal of $10,000.
The project consists of three unique decks of cards featuring "ancient symbology" designed by Thirdway Industries designer Giovanni Meroni and printed by Expert Playing Cards Co. with Master Finish.
Pledges available for this project range for $12 for a choice between two types of decks — the Omnia Oscura and Omnia Illumina — to $118 for a brick of twelve decks, which comes with a free box thanks to a Stretch Reward. There were some higher-end pledges previously available, though they are now sold out.
Additionally, there are pledges allowing you to get your hands on a third limited edition Omnia Suprema deck, along with add-ons for an Omnia Pecunia and an Omnia Suprema Uncut sheet.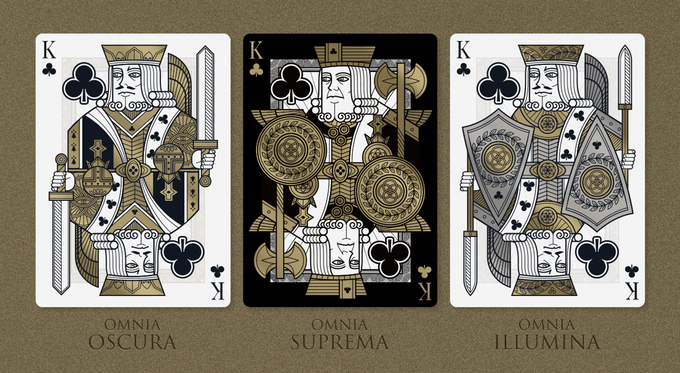 Meroni also had success with his previous poker project, Delirium Playing Cards, where Kickstarter helped him raise $11,686 from 346 backers. His company also sells other cards he designed include The Good Deck and The Evil Deck.
Based on the success of this project we'd be surprised if the poker world has heard the last from Meroni. Keep an eye out for projects this creative artist may introduce in the future, especially if you are into custom designed decks. They're a great thing collect or to show off at your next home poker game.
The Omnia Playing Card project closes on Thursday, July 2. Check out the Omnia Playing Cards project page if you are interested in more information.
Celtic Myth Playing Cards & Strategic Card Game
The Celtic Myth Playing Cards & Strategic Card Game (USPCC) project is also shaping up to be successful, with already $9,096 of the $10,500 goal being pledge.
With the project ending on June 26, there isn't much time to hit that goal, however, it is still within reach.
This is the third of three projects designed by the Cultúrlán Team, a group of artists composed by James Acken, Jay Henry, and Todd Silverstein. According to the project's description, the cards will be printed by the United States Playing Card Company (USPCC).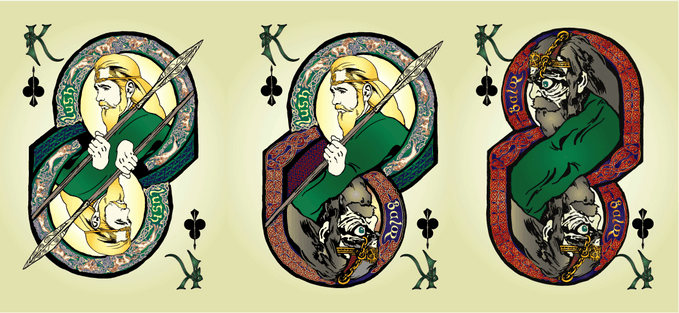 While these cards can be used for poker, perhaps the main selling point for people interested in pledging is Ard Rí (High King), the new card game for two to five players that can be played with rules being included in every pledge.
Pledges begin at $10 which promise to include one free deck. There are also pledging amounts and add-ons which promise all three decks designed to date, uncut sheets, and Challenge Coins.
So far one generous donor pledged $5,000 to become a Benefactor, which includes receiving recognition in the official rules of ARD RÍ, four bricks of each deck, and an uncut sheet of each deck. The project is still seeking backers at all pledge levels, including one more Benefactor, so it's definitely worth checking out if you like new games and specialty card decks.
Head to the Celtic Myth Playing Cards & Strategic Card Game Kickstarter page for more information about this project.
Poker Night
Poker Night is a smaller film project created by Northwestern University student and filmmaker Jack Forbes. The project only set a $1,000 goal, which was shattered when seven people pledged a combined $2,555.
The theme of the film is about a young woman disrupting her mother's home poker game. The project asked for backing to help cover equipment rentals, production design costs, insurance, transportation, crew costs, post-production expenses, and distribution costs.
Pledges started at $10 (to get one's name in the credits) and went as high as $500, which include a personalized thank you note, a DVD of the film, being credited in the film as an executive co-producer, and being invited to the show's premiere.
Learn more about Poker Night on their project page.
Smoking Aces - Hybrid Poker
Smoking Aces - Hybrid Poker is a project developed by Pawnjoker Games that offers a new poker variant utilizing a special deck of cards. The project has raised $697 out of its $4,000 goal since being launched on June 12.
While the campaign doesn't close until July 10, it isn't looking great for this project to meet its target with only 17 percent being met near the halfway point. Pledges are also reasonably priced ranging from $1 to $50, however it does take a minimum contribution of $8 to receive the deck of cards needed for the game.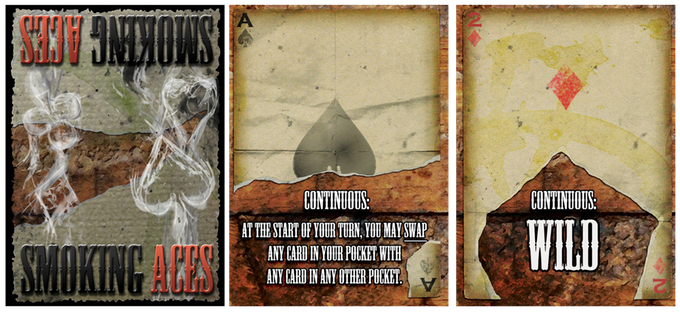 Head to the Smoking Aces - Hybrid Poker pledge page for more details about this campaign.
Get all the latest PokerNews updates on your social media outlets. Follow us on Twitter and find us on both Facebook and Google+!