The Online Railbird Report: Russia's Timofey Kuznetsov Steps Out as "Trueteller"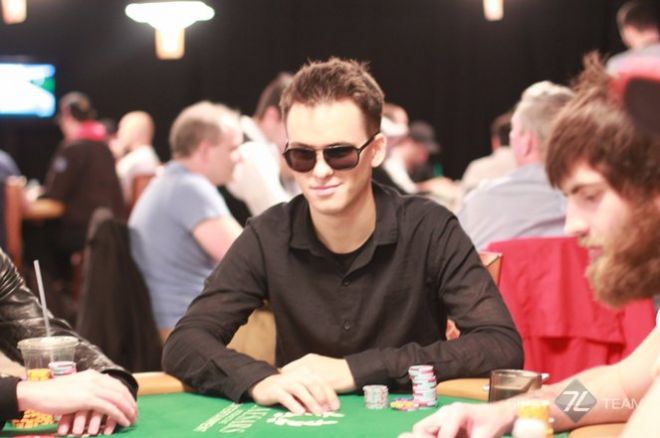 With the 2015 World Series of Poker in full swing, it was a relatively quiet week on the virtual felt on both PokerStars and Full Tilt. That said, there were still plenty of developments involving online players, most of which came out of the $50,000 Poker Players' Championship.
That is the event that a Russian poker pro revealed himself to be the man behind the "Trueteller" moniker. Meanwhile, Ben "Sauce1234" Sulsky, currently the year's second-biggest winner, finished fourth in that same event for $353,928. Upon making the final table, Sulsky gave a rare interview to PokerNews, which you can read by clicking here.
As for the winners and losers, "XiaoXiao123" was the week's biggest winner after profiting $67,429 in 1,031 hands over 21 sessions on Full Tilt. He was followed closely by Rob "Vaga_Lion" Akery, who won $55,076 in 170 hands over four sessions on PokerStars.
Meanwhile, Ilari "Ilari FIN" Sahamies was once again the week's biggest loser. After dropping $215,020 last week, Sahamies lost another $154,199 this week, which happened in 902 hands across 21 sessions.
Phil "OMGClayAiken" Galfond, who won his second WSOP gold bracelet in Vegas last week, says "nosebleeds have gotten a lot worse." Read what he had to say by clicking here.
The Identity of "Trueteller" Revealed
Since the account debuted more than four years ago, the identity of "Trueteller" has been one of online poker's biggest mysteries. The only information leaked was that is was a young Russian "genius" who played cash games and was primed to take the high-stakes world by storm. "Trueteller" certainly did that online where he's been a regular at the nosebleeds.
Unfortunately "Trueteller" has opted out of long-term tracking, so how much he's up (or down) is unknown. What we now know is that "Trueteller" is none other than Timofey Kuznetsov, who is currently in Las Vegas at the 2015 WSOP. It was there, during the $50,000 Poker Players' Championship, that Kuznetsov revealed his identity to the players seated at the table.
It was far from a spectacle, but rather came through during the course of normal conversation. In fact, most players seem unfazed, though Phil "OMGClayAiken" Galfond seemed particularly interested.
Kuznetsov declined an interview with PokerNews, but confirmed to gipsyteam.ru that he was indeed online's famed "Trueteller."
Kelopuro Wins; "fish2013" Takes Down the Week's Biggest Pot
Sami "Lrzlsk" Kelopuro was busy playing the $50/$100 pot-limit Omaha games on PokerStars throughout the third week of June. According to HighStakesDB, his best day came on Thursday, June 18 when he took Ilari "Ilari FIN" Sahamies and "Ravenswood13" for approximately $70,000.
Aside from that there wasn't too much to brag about in the early part of the past week. As for the biggest pot, that came at the $100/$200 no-limit hold'em tables at PokerStars. Action was six-handed when "fish2013" ($20,842.50) opened for $600 from the hijack and "candela2005" ($12,395) called from the cutoff. When action reached Alex "Kanu7" Millar in the small blind, he three-bet to $2,600 and both his opponents called.
All three players proceeded to check the
flop, and then Millar checked the
turn. "fish2013" bet $3,198, "candela2005" folded, and Millar called before checking the
river. "fish2013" shoved all in for $15,044.50 and Millar called with the
for two pair. Unfortunately for him, "fish2013" held the
for a bigger two pair, good enough to win the $44,485 pot.
"Ravenswood13" Finishes as Wednesday's Biggest Winner
On Wednesday, June 24, "Ravenswood13" finished as the day's biggest winner after banking $129,000 playing $50/$100 and $100/$200 pot-limit Omaha. It was there he took on the likes of Sami "Lrslzk" Kelopuro and Ilari "Ilari FIN" Sahamies. The triumvirate played at two different tables, during which time Kelopuro lost $21,000 and Sahamies dropped more than $85,000.
In the biggest pot of the day, which took place at the $100/$200 stakes, "Ravenswood13" ($45,067.32) opened for $488 on the button and Kelopuro ($25,285.37) and Sahamies ($24,874.59) called from the small and big blinds respectively. The
flop saw Kelopuro check, Sahamies bet $799.99, and "Ravenswood13" raise to $2,518.91. Kelopuro folded, Sahamies called, and the
appeared on the turn.
Sahamies check-called a bet of $4,987.90 and then check-called one of $16,472.62 on the
river. "Ravenswood13" rolled over the
for aces full, and Sahamies simply mucked while watching the $49,422.86 pot pushed to his opponent.
How "XiaoXiao123" Got His Money
The week's biggest winner, "XiaoXiao123," won his money playing $25/$50 pot-limit Omaha on Full Tilt. He did so by winning a bunch of small five-figure pots, only three of witch broke $20K.
In his biggest pot, which took place on Tuesday, June 23, "XiaoXiao123" ($12,312.90) was playing heads-up against "Carlooo13" ($10,921.50) when the latter raised to $150 from the button and then called a three-bet to $450 from the former. The
flop saw "XiaoXiao123" call a bet of $600 and then fire out $1,300 after "Carlooo13" checked the
turn.
"Carlooo13" check-raised to $3,675, "XiaoXiao123" called, and the
completed the board on the river. "XiaoXiao123" shoved all in for $6,196.50 and "Carlooo13" called only to muck when his opponent rolled over the
for the nuts. Ship the $21,843 pot to "XiaoXiao123."
Biggest Winners/Losers from June 18-24
| Winners | Profit | | Losers | Loss |
| --- | --- | --- | --- | --- |
| "XiaoXiao123" | $67,429 | | Ilari "Ilari FIN" Sahamies | $154,199 |
| Rob "Vaga_Lion" Akery | $55,076 | | Alex "Kanu7" Millar | $54,472 |
| "Debline_Ucho" | $36,304 | | "ICEMAN2710" | $45,048 |
| "jama-dharma" | $34,134 | | "hhecklen" | $41,233 |
Year's Biggest Winners/Losers
| Winners | Profit | | Losers | Loss |
| --- | --- | --- | --- | --- |
| "bbvisbadforme" | $965,770 | | Viktor "Isildur1" Blom | $1,618,816 |
| Ben "Sauce1234" Sulsky | $743,015 | | Phil "Polarizing" Ivey | $1,227,809 |
| Viktor "Isildur1" Blom | $647,730 | | Phil "RaiseOnce" Ivey | $953,315 |
| Elior "Crazy Elior" Sion | $533,902 | | "Sanlker" | $925,239 |
| Ike Haxton | $479,211 | | "natalie724" | $508,015 |
| Isaac "luvtheWNBA" Haxton | $341,519 | | Daniel "w00ki3z." Cates | $506,371 |
Data, hands, and replayer obtained from HighStakesDB.com
*Lead photo courtesy of gipsyteam.ru.
Want to stay atop all the latest from the 2015 WSOP? If so, make sure to get PokerNews updates on your social media outlets. Follow us on Twitter and find us on both Facebook and Google+!