PokerStars Playhouse: Chris Moneymaker on the Main Event and Offering Free Fukuburger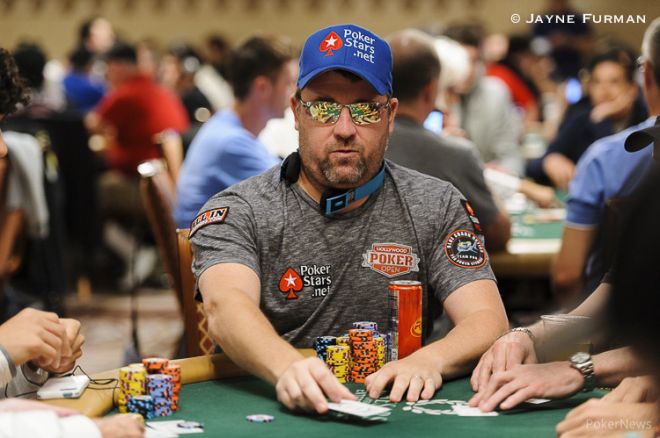 Remember when PokerStars used to have a major presence at the World Series of Poker? Whether it is was sending hundreds of qualifiers to the Main Event or throwing one of their legendary parties (Snoop Dogg performing at the Palm's in 2010 jumps to mind), PokerStars was there. Then Black Friday happened, and just like that PokerStars disappeared from the United States.
Now, for the first time in five years, PokerStars is back! This past weekend the online site set up a PokerStars Playhouse suite at the Palms (Fantasy Tower – 27th Floor Room 27-201), which is open to players. The suite offers a wide variety of activities including demonstrations of PokerStars software on the PokerStars.net client; live Twitching by players such as Jason Somerville, Jaime Staples, and Bertrand "ElkY" Grospellier; ongoing opportunities to play against PokerStars Team Pros in various games, with PokerStars merchandise on offer just for taking part; live Spin & Gos with PokerStars merchandise for participants; and free wifi, games and other nice surprises for players.
Outside the suite, Team PokerStars Pro and 2003 WSOP Main Event champion Chris Moneymaker has joined forces with Fukuburger's chef Colin Fukunaga to offer players a free burger during the WSOP Main Event Day 1b and 1c dinner breaks.
Starting at 6:30 p.m., PokerStars will be running shuttles from the main entrance/valet of the Rio Convention Center to Kuma Snow Cream at 3735 Spring Mountain Rd., which is just up the street from the Rio. It's there that players can get a free burger, provided they pick up a special token at the PokerStars Playhouse at the Palms.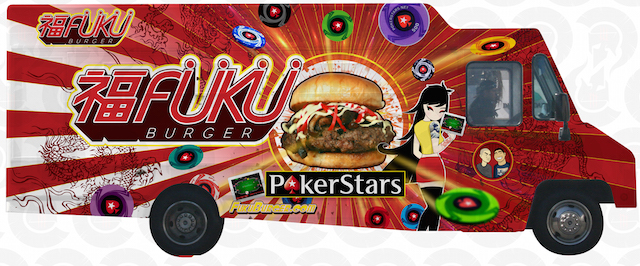 PokerNews recently caught up with Moneymaker on a break to talk about the ambitious endeavor, as well as some other fun tidbits such as preparing for the Main Event and attending Joe Hachem's 10th-anniversary celebration.
PokerNews: What inspired you to choose Day 1b as your starting flight?
Moneymaker: Originally I was going to play Day 1a, but then the Charity Series of Poker (CSOP) had their event yesterday. Matt Stout had said he'd lost all his Main Event champs, and asked if I could come out and play. I moved my day from 1a to 1b, that's the only reason.
It was a fun event. The only thing is I also agreed to go to Joe Hachem's 10-year anniversary dinner. PokerStars had me doing the Fukubuger all day, so I didn't get to the charity event until 30 minutes into the tournament. Basically I walked in, gave them $550, told them all good luck, and dusted off my chips. If I'd won it I was going to give the money to charity, but dusted off the chips and ran off to Joe's dinner.
Can you tell us a little more about that dinner? The pictures on Twitter made it look like a lot of fun.
It was out in Summerlin at a really great steakhouse. I didn't know how many people were going to be invited. I came dressed in a t-shirt and sweatpants; everybody else was all dressed up nice. It wasn't my intention, but literally I didn't have time to go home and change. I was 30 minutes late to that as well.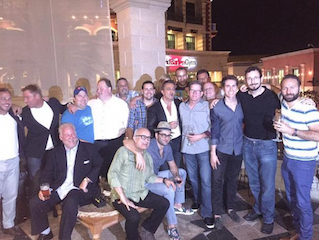 There were probably 150 people there, everybody from poker player to old PokerStars employees, his family, people from Australia, it was jus ta really great mix of people. We were there from 9 p.m. until after midnight. It was a good night after a really busy day for what was supposed to be my relaxing day.
Yeah, aren't players supposed to relax and take it easy the day before they play the Main Event?
My plan was to go out in nature and relax, just chill, but it didn't quite work out that way. Honestly I had bought my seat a week ago. I could have come into today, not played, and transferred until tomorrow, but I went to bed at midnight, woke up at 11 a.m. and felt good. I said, 'Let's do it, let's go.'
Let's talk a little about this thing you've got going on with Fukuburger. How'd that come about?
They came to me, and they obviously recognized I was fat. They knew I liked food. They asked me if I'd be interested in doing a burger, and I said of course, that sounds awesome. I went over there yesterday and spent about three hours at the restaurant. They gave me basically every burger on the menu, brought me back in the kitchen, and let me play around.
So what did you come up with?
We had to figure out what we wanted for my burger. I knew my base; I wanted a mushroom and Swiss type, which is generally my favorite burger. I started from there and began adding different flavors. After awhile we came up with something. We Periscoped the first one being made. It was a cool project.
On dinner break today and tomorrow we're going to be giving away free burgers. We're going to run shuttles over to do that, so come and get a Fuku Burger. I might even get in the truck and start cooking for some people.
For more on Moneymaker, head on over to the PokerStars Blog, who take a hard look at the former champ 12 years removed from his game-changing win.
Want to stay atop all the latest from the 2015 WSOP? If so, make sure to get PokerNews updates on your social media outlets. Follow us on Twitter and find us on both Facebook and Google+!