Lee Jones Reflects On a Successful PokerStars Pro Tour: "These People Just Love Poker"

Donnie Peters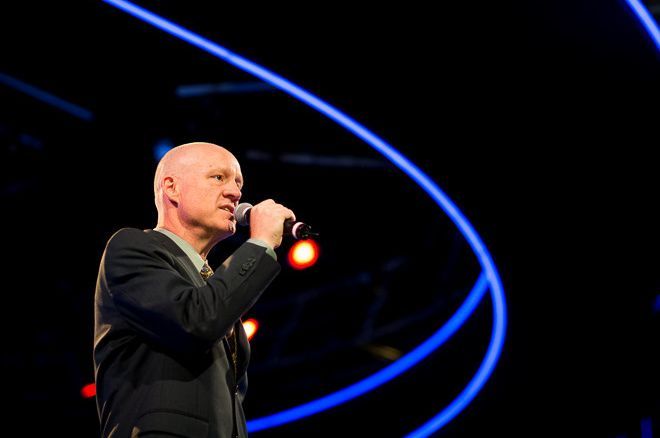 Lee Jones operates as the Director of Poker Communications at PokerStars. For the past month, he's been on the road all over California as one of the pillars of the PokerStars Pro Tour. Jones attended all 11 stops, helping to manage the tour's happenings with his "do whatever needs to be done" mentality and spread awareness for regulated iPoker in the state.
At the final stop of the tour, Jones was at Turlock Poker Room & Casino with Daniel Negreanu and Vanessa Selbst. It was there that PokerNews had the opportunity to sit down with him to discuss his thoughts, takeaways, and overall experience from the PokerStars Pro Tour.
"There's a lot of them," Jones said when asked what his biggest takeaway was from the tour, pausing for thought while he tried to narrow it all down to one main point. "I think, if anything, the biggest takeaway is a renewed love of the game and its community. We spend so much time seeing the high-stakes games and the big tournaments, and you hear about the grinders and all of this stuff. PokerNews has seen what I'm talking about as much as anybody after being out here with us this weekend, too. These people just love poker."
That they do. At each of the final four stops along the last leg of the tour that PokerNews attended, the outpour from the community of players was immense. When the RV rolled up to each stop, there would be a line out the venue's door of people waiting to meet the pros. Then once you got inside, bobbing and weaving through the crowd asking for photos and autographs, the true passion for the game could be felt.
Californians love their poker, and everyone that we spoke to agreed that online poker is something that they should be allowed to participate in. Many adamantly asked PokerStars officials, Negreanu, and Selbst if there was anything they could do further to help the cause, and this was extremely refreshing to see.
"These people love poker not because they think they're going to win or lose a million dollars, but just because they're having a great time playing the game," Jones said. "They love going down to the poker club, seeing their friends, drinking a beer, and seeing what the cards bring. In many ways, seeing Daniel and Vanessa and being on the road with them, seeing the people swarm around them, again, they were all just totally unabashed fanboys and it just felt really good to see that. The smiles, the energy, the happiness of everybody — that's the big takeaway I have. Plus, they all wanted to help. We forget sometimes that poker is supposed to be fun, and it's just been fun at every single one of the 11 stops."
Being honest, Jones did admit that he didn't know what to expect from the tour heading into it all.
"I didn't know what to expect when we first got out on the road," he said. "I didn't know if it would be successful or not, but the feedback has been amazing. Of course, you've seen it this past weekend, but at every single stop people are just lining up. They stand in line so they can sign up for Californians for Responsible iPoker, and then of course we all hope that they will follow through when we send them an email that asks, 'Hey, will you fire an email off to your assemblyman?' Overall, I've been really gratified with how people have responded."
As for the tour itself, the are currently no plans for more stops, but according to Jones that doesn't mean this all needs to end. In fact, it shouldn't. There is still very much a need to continue to promote awareness for regulated online poker.
"It's absolutely crucial," Jones said about continuing the push. "I don't know what steps we're going to take next. Those decisions are being made above my pay grade, but I am sure that we will be doing something. If you start something and you don't keep up the momentum, then it just dies. I know that there are some other things in the pipeline, or at least being considered in the pipeline so I can't really talk about them yet, but everybody on the PokerStars team and on the coalition all understand that you can't do this and then say, 'OK, that's cool now. Let's all go home and hope a bill passes.' You have to keep the pressure on, you have to keep hammering away at the legislators and keep the message in the community of 'Hey, we really need this. We really need you to contact the legislators and keep the pressure on them.'"
Jones is right.
If you want the push for regulated iPoker in California to stay in the forefront of discussion, you need to let your voice be heard. You can start by signing up on the Californians for Responsible iPoker website and further by spreading the message. Tell your friends and fellow poker players, or send a tweet or an email to legislators. It all adds up, and it's very important.
As someone who was at all 11 stops of the tour, interacting with all of the people, Jones stressed the importance of spreading the message.
"What's interesting is that in many cases the players don't understand what happened," he said. "It's like if you have a restaurant you like going to. You go to that restaurant, but you don't necessarily go there all the time. You go there every once in a while, regularly. Then one day you drive by and the restaurant is closed. You think, 'Oh, that restaurant closed.' Then you just kind of stop thinking about it because it's closed now. Same thing happened with online poker. This left the players with a feeling of 'What happened? Why can't we play?' A lot of people ask, 'Why is daily fantasy sports OK, but online poker isn't?' I would just tell them that I don't know and the question is way over my head. I certainly can't give you an answer for that. That's just the way it goes in the world of politics sometimes. I think the players feel this is obvious; certainly we should be able to [play online poker]."
It didn't take long for Jones and other members of the PokerStars team to realize the overwhelming want for regulated online poker to come to California, either. As Jones recalls, it hit him at the second stop.
"Two stops into the tour, we were at Lake Elsinore Casino," Jones said. "When I was introducing the pros to the crowd I said, 'How many of you all used to play on PokerStars?' Nearly all the hands went up. Then I asked, 'How many of you all would like to have PokerStars back in California?' All the hands went up again. So yeah, the players want this."
Now that the touring around has come to an end for the time being, Jones is able to sit back and reflect on the experience. Along the way, he said he met some really amazing people who were true poker enthusiasts. But for him, one particular story stood out amongst the rest.
"There was a guy at Diamond Jim's Casino down in Rosamond, and he was in a wheelchair," Jones said. "He said, 'I want to be able to play poker at home because it's hard for me to get out. I used to play and now I can't play online for real money. I'm not willing to play on some unregulated site where I don't know what I'm getting into, and I used to love playing on PokerStars. It's hard for me to get out of the house.' This player had made the effort to get out of the house and come down to Rosamond for our event there at Diamond Jim's, but this is a really big deal. The rest of us, we can just get up, get out of the house, and do what we want to. But for him, and others like him, it's a very big deal to get up and get out of the house. So to the degree that he can get entertainment in his home, that's way more important to him.
"There's a lot of people like this. It can be someone with a disability, it can be somebody who is older... it can be anybody. My parents live in a retirement community, for example, and you see the people there. If we want to go out to lunch rather than just eat at the dining hall in the retirement community, it's a big deal; it's a production. For many people who are older, it's either a production or it's completely out of the question to get up and go do something, like play cards all day. Again, same thing for someone with a disability, at any age. Or maybe you're a young mother and you've got 45 minutes of downtime before your daughter gets home from soccer practice. You're not trying to be the next superstar poker player, but you just want to play a nice, fun game of online poker where you have a few dollars at risk to add a little spice to it. Literally a few dollars — three or four dollars. It's not an unreasonable thing, and people want to feel like they're doing it in a safe, secure environment where if you win $10 in a sit-and-go you feel like you're going to get your $10."
Want to stay atop all the latest in the poker world? If so, make sure to get PokerNews updates on your social media outlets. Follow us on Twitter and find us on both Facebook and Google+!