Keeping Up with the Joneses: Jerry Jones Is a Regular Guy Who Wants Online Poker Back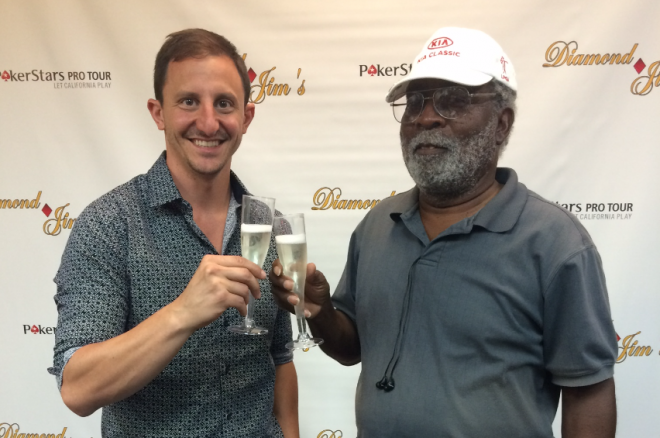 After the PokerStars Pro Tour kicked off its last leg at the Aviator Casino in Delano, California, on Thursday, Vanessa Selbst joined up in the RV with Daniel Negreanu and the PokerStars team to head to Friday's stop at Diamond Jim's Casino in Rosamond. You can read about the first stop by clicking here.
At the second stop, the electricity in the atmosphere was turned up a notch with both Negreanu and Selbst in the building for a meet-and-greet session followed by a $225 buy-in tournament. This tournament was extra special, as not only did the players get to match wits with two of the best and biggest stars in the game, but both Negreanu and Selbst had $1,000 bounties on their heads. That was added incentive for players like local poker enthusiastic Jerry Jones, who was making an appearance at his fourth or fifth stop of the tour.
"I do two things; I play golf and I play poker," Jones said, chuckling with a big smile on his face. "I've traveled all my life, so for me to go somewhere is nothing. When [PokerStars] sent the email out that they were going to be in Southern California for the PokerStars Pro Tour, I just made the decision that I would go around to a couple of the stops where they were headed."
While this final leg of the tour was the first attended by PokerNews, the PokerStars team informed us that they've seen Jones at a few of the stops along the way, and he's always brought tons of support to the cause, plus an honest love for the game.
"I went down to the San Diego area and went to a couple of the events down there — the one at Lake Elsinore Casino and another at Seven Mile Casino," Jones recalled. "I knew there were going to be here at Diamond Jim's, too, and I wanted to make the one on Thursday at the Aviator, but my schedule wouldn't let me."
Even despite missing the one on Thursday at the Aviator Casino, Jones is extremely happy with everything he's gotten out of attending these events. For him, as someone who claims to have met Negreanu a few times before, it's not just about coming out and getting a photo or an autograph. There's a bigger message here, and that's what he is here to support.
"Recently, I got an email and it had the schedule for this tour," he said. "It said the pros were going to be going around and that they were trying to promote getting online poker back. I agree with the message, so I wrote two emails to Dianne Feinstein (United States Senator from California). She eventually sent me one back that said as far as they were concerned there are two things preventing online poker from coming back. One was the amount of taxes and the other was people cheating online. Those were the two main things that they were against. But if I have the chance to say so, I'm going to ask again, and I'm going to continue to ask. That's a big reason why I'm here to support."
We asked Jones if he felt if he's ever been cheated online, and he quickly and adamantly said he hadn't.
"No, I've never felt I've been cheated online," he said. "It's the same as in a casino down here. Sometimes you get unlucky and lose, but that's not cheating."
Jones said he's been playing poker all his life, and he doesn't fit the normal demographic of an online poker player. He's been a regular card player for as long as he can remember, and now that he's in his sixties, he continues to love the game just as much as ever.
"I've been playing poker a hell of a lot longer than I've been playing golf!" Jones said when asked about which of his two loves he's been doing for longer. "I started playing poker when I was a kid, and it just grew on me from there. I guess the first time that I played hold'em was in 1988. I played at a Retired Enlisted Association club and they played Omaha hi-low."
For someone that's been playing for such a long time, Jones has certainly endured his fair share of poker, even bad beats. Those, he says, don't bother him too much.
"When people talk to me now and talk about how somebody runs them down on the river, they say it upsets them," he said. "When they ask me if it upsets me, I say 'Hell nah!' because the way they told it to me in the beginning was: you have two cards and there's a flop, and you bet, then there's a turn and you bet, and then there's a river and you bet or you throw your hand in. So to me, you've got two cards that play with any three cards on the board, so the river is no different than the flop. That's the way I look at it, and I just don't get too upset. If I catch you, I'm not going to feel bad."
As an everyman, a lot of Jones believes in and feels is similar to a large majority of the folks that come out to the PokerStars Pro Tour events. These players play poker because they love it, and playing online for them provided quick and easy access to the game they enjoy so much. Like so many others like him, Jones doesn't understand why online poker was taken away from him, but regular casinos weren't. To him, that doesn't make much sense.
"I played online poker for a long time until it was taken away," Jones said. "I was a member of PokerStars until they shut it down. I used to have my PokerStars icon on my computer and one day I clicked on it and it didn't open or something. That upset me. As far as I'm concerned, it should be my business if I want to play online poker. If I want to play, then I want to play. Why is it that I can walk out of my house and come down to the casino to play, or I can go to San Manuel or I can go to Vegas? I should be able to play online poker if I want to."
Jones mentioned he's been to Las Vegas a lot, taking regular trips to Sin City each year for his anniversary. It was there that Jones remembers having one of his best poker memories.
"We go to Las Vegas every year for our anniversary, and about 10 or 12 years ago I was in Binion's," Jones recalled. "This guy — kind of a tall, skinny guy — was betting and raising a lot, and I tried to bluff him. He had all these rings on, a cowboy hat, and then I found out later on it was Amarillo Slim! So I was trying to bluff one of the greatest players in the history of the game, and I had no idea!"
Unfortunately, Slim is no longer with us, but that story will forever stick with Jones and he's happy he got the chance to pay with a legend. Now with the PokerStars Pro Tour, Jones gets even more chances to play with players like Negreanu, who just so happened to end up at his table early on in the Diamond Jim's Casino event. We reminded Jones that Negreanu had a $1,000 bounty on his head, and he took it from there.
"Yeah, you're right," he confirmed about the bounty. "We're at the same table right now. I haven't had a chance to get after him yet, but I will. I'm here to play, not back down."
Finally, Jones concluded by telling us one of the big reasons he wants online poker back so much. For him — and again this goes for so many like him — big buy-in tournaments only take place in dreams. Online poker can help players chase those dreams, but that means it's going to have to return for players like Jones to be able to take advantage of everything it has to offer.
"I love playing poker," Jones said. "I've played poker all my life. Like I said, I play poker and golf all the time. This year I played at the World Series of Poker, the Colossus event with the $565 buy-in. I want to play in the big one, the Main Event, but my lady won't let me spend the money. I definitely would be in the big one if she let me, though. That's one of the reasons why having online poker back is good for people like me. There's a lot of us — you know, those people who can't play for whatever reason, but mainly because of the money. For us, if we play online maybe we could win into the event like Chris Moneymaker did several years ago. That's one of the things I miss most about playing on PokerStars, trying to win into the big one."
For more information on the PokerStars Pro Tour, visit the Californians for Responsible iPoker website.
Want to stay atop all the latest in the poker world? If so, make sure to get PokerNews updates on your social media outlets. Follow us on Twitter and find us on both Facebook and Google+!