Highlights from Phil Hellmuth's Reddit Ask Me Anything (AMA) Interview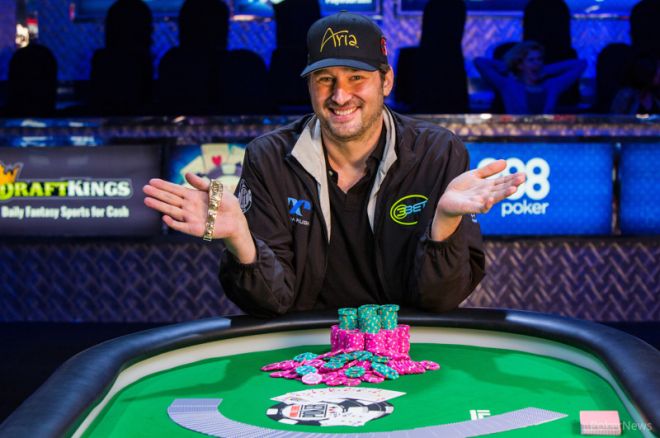 Over the weekend, 14-time World Series of Poker gold bracelet winner Phil Hellmuth appeared on Reddit's Ask Me Anything (AMA) celebrity channel. AMA interviews allow anyone to ask the subject a question, and Hellmuth's appearance followed in the footsteps of other poker pros such as Phil Galfond, Jason Mercier, and Antonio Esfandiari, just to name a few.
Hellmuth joined AMA to celebrate the debut of the world's only 24/7 Poker TV channel, Poker Central, which will launch on October 1.
"One interesting thing about me that most people don't know is that I was friends with Chris Farley, when we were growing up in Wisconsin.," Hellmuth said in his AMA introduction. "And, when I started out in poker, I did so badly that I had to go back to Wisconsin to do farm work to earn a new bankroll."
Here are some highlights from the "Poker Brat's" AMA:
Unfortunately, I DO lose control sometimes! But a lot less than the world thinks or understands.
Hellmuth on the Future of Online Poker in the United States
"Legalized online poker is coming; 100%! It is simply a question of when...Amazingly, one person has stopped legalized online poker: one person! Mr. Sheldon Adelson: and he spends $100 million every year funding politicians...However, David Baazov (poker big hope) is fighting hard, and effectively, for legalization. I'm hoping for full legalization in California, and then many of us, and the experts, believe it will spread across the USA."
Playing Against His Professors in College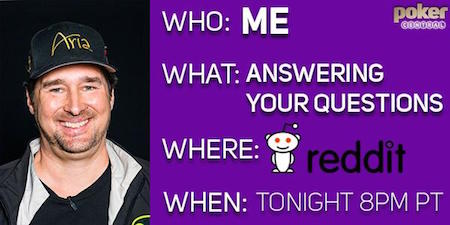 "Yes, I did play against two professors at the Univ of Wisconsin way back in 1984! In that game, we also had Psychiatrists, lawyers, and doctors. None of them were under the age of 40, and I was 20. Each was a professional w multiple degrees, I was an undergrad. But I'm pretty good at this thing we call 'Poker.'"
"I started in the smaller games at UW, at the Memorial Union, and as I crushed that game, then I found the bigger games, until I made it into the 'Docs game.' I once won $2,700 in one night in that game, in about 1985! Seemed like a fortune to me then!"
On His Legendary Fight Against Sam Grizzle
"Sam Grizzle!?! Sam has always been one of the funniest guys in the poker world: huge personality! One day he asked me to save him a seat in a game while he went to eat. After 90 minutes, I made the casino stop taking his $9 every 30 minutes, cause so much time had passed, AND then he shows up and the game is full, DOH! So he wants to fight me...I say, well you better do it this week while my back is out, and suddenly I'm in my first and only fist fight I've ever had in the poker world! We both land punches, but next day not a mark on either of us (BEST FIGHT EVER cause no one was hurt)."
Dealing with Bad Beats
"Obviously I whine too much because I'm the Poker Brat! But I try really hard to NOT let any bad luck I have at the tables affect me away from the tables. I have gotten better and better at this over the years, but I'm sure my wife will tell you i was bad at this in my twenties and thirties. I don't want that stuff to impact my relations w my friends and family in a negative way."
Relationship with UltimateBet
"I was proud to have had a big role in forcing an investigation at UB, which led to $25 million being returned to the players. People said I should have left the site, and that would have been easy to do as I was wanted by Full Tilt. But I saw another pro get haunted for years because the site he repped DID NOT pay the players back. Staying was the right move, and I was happy when the players were paid back. I was also happy when evidence emerged a few years later that made it clear that I wasn't aware of what was happening. The poker world stuck by, but the evidence was nice and completely shut up the haters."
On His "Poker Brat" Persona
"Unfortunately, I DO lose control sometimes! But a lot less than the world thinks or understands...If I lose it, then ESPN is there to play it over and over, but when I'm good they aren't using that footage as much."
Poker Runs in the Family
"I'm training my son Nick a little bit. i want him to learn Super Tight play, and then add a few wrinkles. I don't like it when he loses 20 big blinds w A-Q!"
click here
Playing Golf
"Let me say that Golf Digest just ordered a Q+A w me for an issue soon, and I played Pinehurst #2, Hazletine (3 times), and Stanford in the last 5 weeks!"
To view Hellmuth's full AMA, click here.
Want to stay atop all the latest in the poker world? If so, make sure to get PokerNews updates on your social media outlets. Follow us on Twitter and find us on both Facebook and Google+!