UFC Bantamweight Champ T.J. Dillashaw with Fitness Advice for Traveling Poker Players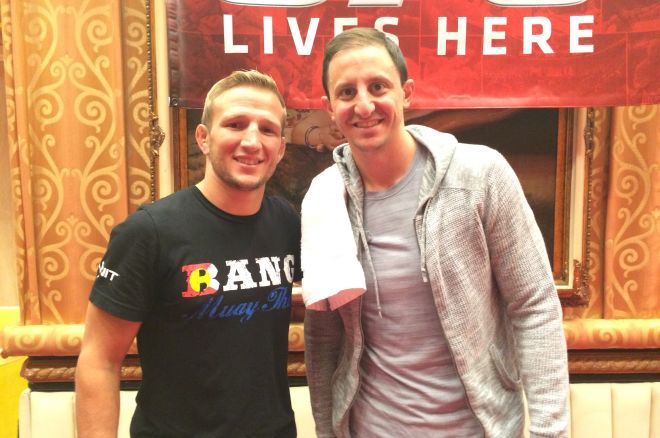 Jason Somerville certainly knows how to put on a show, and his ability to cater to his fans is heavily on display at this year's Run It Up! Reno festival. Not only are there a good handful of featured poker events on the schedule at Peppermill Resort Spa Casino, but there's plenty of other activities, both poker and non-poker related, planned for all of the warriors to get busy with.
Wednesday morning featured one of those non-poker activities in the form of a "UFC Morning Workout" hosted by current UFC Bantamweight Champion T.J. Dillashaw.
As part of the workout, Dillashaw led a group of about 30-40 participants through some basic mixed martial arts-style workouts that included a general stretching and warm-up routine, sparring techniques, and other fighting movements — all of which he said he regularly using in his own workouts as a pro fighter. The regimen started off on the easy side, but progressively picked up both in pace and difficultly.
By the end of the hour and a half that was spent with Dillashaw, those participating were throwing punching combinations on their own while Dillashaw worked his way around the room giving individual tips.
Dillashaw also let those in attendance pick his brain with anything and everything. Questions ranged from which side he's on for the upcoming UFC 194 fight between Jose Aldo and Conor McGregor (he said Aldo), to what got him into fighting, to just some basic fitness advice that traveling poker players can add into their daily routines while traveling the tournament circuit.
"Fitness in general is going to make you feel better throughout the day, whether that be in regular life or at the poker table," Dillashaw said. "You're going to be more focused and have more energy throughout a tournament and have more endurance. Mental endurance is hard to come by, and it's something you have to practice. Fitness can help out with that because you're learning how to push through certain circumstances and situations you might not normally find yourself in, and that can definitely help you with your poker game. When you get to the end of a poker tournament, it's all about endurance."
As for what traveling poker players can do to get their fitness in while on the road, Dillashaw said it will take effort, but it's all about creating your own routine and taking advantage of the stuff that's available.
"It's tough, especially with being able to eat right when you're traveling," he said. "It takes a lot of effort, but luckily enough most places you'll travel to nowadays will have a gym somewhere near. Usually hotels always have somewhere to workout, or like some of the things I just showed everyone today in the fitness seminar can be done on your own completely, no matter where you're at — you can do it outside, you can do it in your hotel room — you don't really need much room at all. And then maybe 20 or 30 minutes of hard work will allow you to get a sweat in. It just helps to create your own little routine when you travel and that will do a lot for you."
When it comes to poker, Dillashaw's interest in the game was stimulated much like so many others who got into poker during the boom years — he started playing in the virtual realm while in college.
"I started playing online in college when I was going to school and just kind of fell in love with it from there," he said. "I met Jason last year and he invited me up to the tournament. I think it was the second time I ever played a tournament. So I'm still kind of new to it, but it's fun and I kind of got hooked. I play a few a year now."
Dillashaw is currently training for an upcoming fight he has scheduled for Jan. 17, 2016, in Boston where he'll take on Dominick Cruz and look to defend his UFC bantamweight title.
As for right now, though, Dillashaw will be looking to score a few more poker results like the one he had Tuesday night when all of the endurance he preached about was put to the test. In a field of 112 entries, Dillashaw reached the final table of the $85 All-In-or-Fold No-Limit Hold'em at Run It Up! Reno. After several hours of play, Dillashaw scored an eighth-place finish worth $468.
Be sure to stay tuned to PokerNews for more coverage of Jason Somerville's 2015 Run It Up! Reno.
Want to stay atop all the latest in the poker world? If so, make sure to get PokerNews updates on your social media outlets. Follow us on Twitter and find us on both Facebook and Google+!