Jason Somerville Goes Beyond the Stream in Run it Up Reno Seminar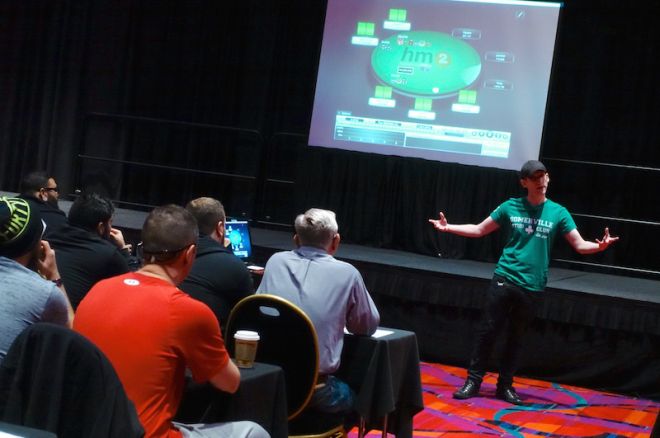 The level of energy during Jason Somerville's Twitch streams, or "Jake Arver's" if you're a real fan, is always at a high level. That's one of the main reasons for his quick rise to such fame that extends beyond the confines of the poker world.
Somerville has managed to translate a multi-million unique viewership to an actual live poker event, and during Run it Up Reno he's hosting a series of seminars to further educate his fans and followers on various poker skills.
"It was like Twitch chat without all the sass and emotes," Somerville excitedly said. "It was awesome. The last time I hosted a seminar at a Run It Up event there might've been 30 players and now we had over 100."
The seminar hosted on Wednesday afternoon was a great success. The continuous flow of words about calling, raising, folding, and things like the value of your tournament life were absorbed by an eager crowd that arguably paid more attention than any of them ever did during high school or college.
Somerville's engaging way of talking, or educating for that matter, translated extremely well as more and more hands were analyzed as the seminar went on.
During the seminar, hands were reviewed and discussed from a $109 one-rebuy, one-add-on tournament on PokerStars that Somerville won in 2009 for a little over $10,000. Opinions from the crowd were encouraged, and Somerville went in depth on the mathematical side of things, a lot more so than during his Twitch streams.
"I think the biggest takeaway for players from the seminar today is understanding the math," Somerville said. "This is funny because on the stream I never really talk about this, but I feel like when you come to a seminar it's my obligation to teach you a little bit more. On the stream, I'm entertaining you, I have a robotic bird. But when you come all the way to Reno, I feel like it's my responsibility to teach a bit more. I don't emphasize it nearly enough on the stream, but you really need to put work into getting better at the game by focusing on learning the math."
Somerville went on to explain that getting better at the math side is something players can do on their own by using websites like ProPokerTools to set ranges and calculate whether or not their play was mathematically correct.
Even though the focus was mostly on dry subject matter, with Somerville getting into the nitty gritty of the percentages on certain hands, there was also lots of laughter.
"So it folds to the small blind, and he limps," Somerville started out about a hand during which he held eight-three suited in the big blind.
Somerville ended up shoving over the limp of his opponent, and pocket aces snapped him off. The entire room burst out in laughter.
"2009 JCarver was very ambitious," Somerville joked. "I'm much more withered now."
After the laughing died down, Somerville got straight back into business.
"After situations like that. it's about reacting better to adversities than your opponents would in that situation," he said. "It's about moving on and making fewer mistakes than your opponents."
Even though hand histories from an online event were discussed, Somerville also touched upon the differences with a live setting. Math in poker is one thing, but it also helps to keep your eyes open at all times.
"Use your eyes in live games," Somerville said, as he told a story about asking Daniel Negreanu about advice on a hand he played in a live setting early in his career.
"I told Daniel how the hand went," he said. "'I raise, my opponent called. I bet the flop, he called. I bet the turn, he called. I bet the river, and my opponent moved all in. What do I do?'
"His first question was, 'What does he look like? Was he old? Was he young?'"
Somerville played up his astonishment with Negreanu's question, but he made a good point about always trying to accumulate as much information as possible.
Even though the turnout and engagement during the seminar was great, Somerville doesn't think it will change the way he broadcasts on Twitch.
"I started out making strategy videos, and I didn't start as an entertainer or standup comic," he said. "My background is PokerVT and doing training videos, so I feel very comfortable in that setting, especially live where you can ask, 'What do you think?' and listen to what other people think. That's not something you can do on a Twitch stream.
"When you're talking to a Twitch audience, you have people that don't know what a button is or what an ante is, so for me to then do hardcore poker strategy training is something that not a lot of people want to see.
"People want to be entertained, they want to have fun, and they want to hang out for eight hours a day. Could I do something like this on the stream? Absolutely, and I do a little bit of it sometimes, but in the end entertainment has to be number one on Twitch."
Be sure to stay tuned to PokerNews for more coverage of Jason Somerville's 2015 Run It Up Reno.
Want to stay atop all the latest in the poker world? If so, make sure to get PokerNews updates on your social media outlets. Follow us on Twitter and find us on both Facebook and Google+!