Five Thoughts: PS Pro Tour Wraps, Somerville Shines, Wisconsin Still Behind the Times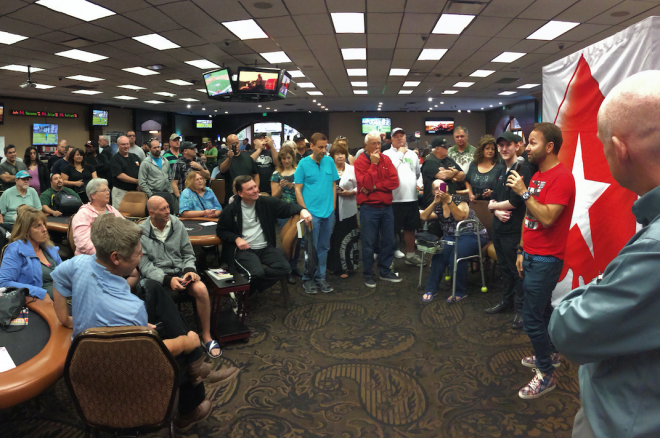 Everyone that is American who played online poker in the United States remembers the fateful day that would become known as Black Friday, when he or she woke up and logged on to the Internet like seemingly any other day. April 15, 2011, was different though, and I'll never forget the shock that hit me like a splash of cold water when I logged into PokerStars and saw the pop-up promptly tell me I was compelled to cash out everything I had.
As the poker world buzzed with the news that turned the industry upside-down, plenty of predictions were thrown around about how long players would be left in the cold. Everyone knew the ominous Department of Justice (DOJ) seal that had taken over the websites of PokerStars and other clients meant things had come to a screeching halt, but for how long?
Well, it's been more than four years since Black Friday, and while incremental progress has been made on a state-by-state basis, national regulation seems a pipe dream for the moment. The only way that will change is with more concerted efforts like the one put forth by PokerStars in California over the past month.
1. PokerStars Completes 11-Stop Pro Tour
The PokerStars Pro Tour finished up on Sunday, Aug. 9 at Turlock Poker Room, which is located in Turlock, CA, just a few hours east of San Francisco. The tour featured 11 stops at various lesser-known California poker rooms, places like Club One Casino in Fresno and Palomar Card Club in San Diego.
Each stop featured a "Meet & Greet the Pros" with at least one Team PokerStars Pro — Daniel Negreanu, Chris Moneymaker, Liv Boeree, Vanessa Selbst, and Jason Somerville rotated among the stops — and then a tournament or cash game. The affordable buy-ins of $350 or less were selected to appeal to a wide base of poker fans who got the chance to play with some of the stars of the game.
PokerStars, meanwhile, got the chances to rally supporters to the online poker cause. Participants were encouraged to sign up for Californians for Responsible iPoker, a coalition of groups including PokerStars' parent company, Amaya, that's fighting to get online poker regulated in the nation's most populous state.
"It's really important for poker players to make their voices heard among the decision makers in California and tell them 'Let California Play'," Negreanu said to PokerNews about the efforts.
Indeed, if online poker is to make a full, regulated return to the U.S., a cohesive, concerted effort like this is necessary to get lawmakers' attention and get the legislation process started. There can be no better choice for an ambassador than Negreanu, and more endeavors like this with the support and financial resources of Amaya would go a long way towards making it happen.
To read more about the PokerStars Pro Tour, check out the following articles:
2. Jason Somerville Keeps Running It Up
Speaking of growing the game, the aforementioned Somerville is undoubtedly one of the fastest-rising stars in the poker world, and his popular Twitch stream Run it UP! is the biggest reason for that. His revolutionary Twitch channel has more than 100,000 followers and nearly 7.5 million total views.
Since "JCarver" struck a deal for sponsorship with PokerStars, his profile has only continued to grow in the poker world. He recently announced his popular stream, in which he allows viewers to watch as he grinds various games and stakes online, will return on Aug. 16 after he signed a new two-year deal with Twitch.
Additionally, Somerville will team up with Peppermill Resort Hotel in Reno, NV, for a live poker series that will feature a $500 Main Event. His commitment to growing the game shined through once again when he announced his plans for the series, which will run Oct. 20-25.
"For me, RIU Reno is not just about playing poker, but also having a fun experience from the get go," Somerville told PokerNews. "I'm trying to invite a variety of interesting people that are going to come and make the event special regardless of how your poker goes, regardless whether or not your aces hold up during the tournament, you're still going to have a good time."
Plenty of Somerville's loyal fans and followers will surely show up and do just that. Few have done as much as Somerville to promote poker in recent years, and we can only hope more stars of the game follow his lead.
3. Wisconsin Judge Deals Poker a Blow
"Poker is 'as much a part of the American fabric as baseball and apple pie. But having said that, I can't ignore the law.'"
Those were the words of Dane County Circuit Judge Richard Niess as quoted by Isthmus, a weekly newspaper based in Madison, WI. The law he cited is a 50-year-old state supreme court case that apparently specified that poker is gambling.
The ruling is odd because Niess apparently agreed with the plaintiffs — well-known poker player Mark Kroon and Wisconsin Poker Players Alliance president Stan Verrett — that poker is a game of skill. Furthermore, that was established legally as far back as 1986, when seven-time bracelet winner Billy Baxter successfully sued the U.S. government for a tax refund.
According to another Isthmus article, Kroon has been warned by the Department of Justice before to stop hosting poker games at his local bar. On the surface, it may not seem like a big deal that the status quo remains for him.
However — anyone who knows ultra-casual poker players can attest to this — bar games are exactly the type that often draw curious newbies to the game. I've been invited to countless such games in my hometown, and the recreational players that populate these games are the lifeblood of the poker world.
As long as Niess and others like him remain unwilling to budge on what should essentially be common sense at this point, legal headway continues to be an uphill battle. If we can't even get bar games played for peanuts allowed, how will we ever get widespread online legalization?
4. The End of BLUFF
Back when I first started playing poker around the summer of 2005, I devoured as much media as I could. I read articles online and perused Two Plus Two. I read books that are in hindsight laughable — I think the first one I ever read was a limit strategy book whose starting hand strengths I attempted to port over to no-limit hold'em.
I also picked up every poker magazine I could get my hands on. Of those, BLUFF was easily my favorite. It's where I read and laughed at Wicked Chops Poker, first learned about Galfond Bucks (blew my mind), and followed the adventures of Adam Slutsky, who claimed to do things like play poker with cartel bosses in Mexico.
Well, BLUFF folded up shop ostensibly for good at the conclusion of the 2015 World Series of Poker. The print publication, circulating since October 2004, had already ceased in February, leaving just the website. Although a skeleton site still exists, the staff that made BLUFF what it was has been let go.
It's sad to see veterans of the industry out of work and a fine media entity cease operations here in the U.S. I wish all of the BLUFF staffers the best in the next phases of their careers, whether here in the poker industry or doing something else. Hopefully, I'll see you guys back at the WSOP in 2016 and we'll be huddled together once again, jabbing microphones into winners' faces.
5. Football in the Air
Now, on to a happier note. With the calendar turning to August, that means football is fast approaching. And the arrival of football means countless fantasy football leagues across the nation are scheduling and holding their 2015 drafts. Seemingly every poker player I talk to has at least one fantasy team, if not more — nobody who knows me will be surprised to know I'm participating in three drafts this year.
If you're looking to do a little research in anticipation of your league's draft, I suggest heading on over to FantasyWired, a sister site to PokerNews under the iBus Media umbrella that's chock full of fantasy football content to help you get ready for the fantasy season.
Of course, there will be plenty of daily fantasy content throughout the season too, so if you want the chance to get lucky and pocket a cool $2 million on DraftKings' season-opening Millionaire Maker, FantasyWired will have you covered there as well.
*Photo courtesy of PokerStars.
Want to stay atop all the latest in the poker world? If so, make sure to get PokerNews updates on your social media outlets. Follow us on Twitter and find us on both Facebook and Google+!