Pescatori Close to Third Bracelet in Berlin While POY Eludes Him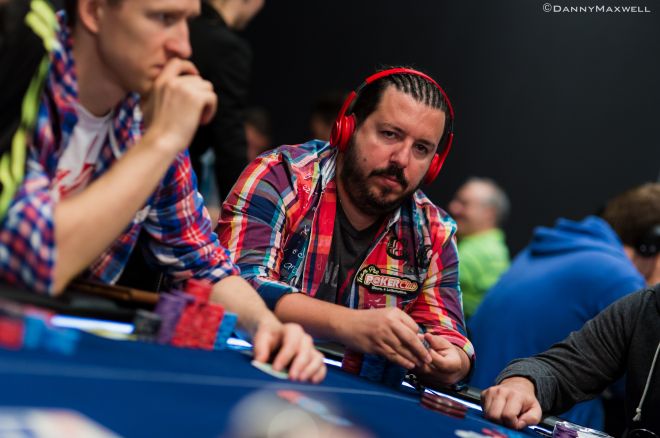 This summer, Max Pescatori put together the kind of World Series of Poker most players only dream of.
He won two WSOP bracelets, made a third final table, and booked a total of seven cashes for close to half a million dollars. But as the leaves change color and summer turns Fall, things may be looking even brighter for the Italian pro.
Friday, Pescatori found himself in what is quickly becoming a rather familiar position, competing for yet another bracelet with an above average stack and just 25 players remaining, approaching the money bubble in Event #1: €2,200 Six-Handed No-Limit Hold'em at the 2015 World Series of Poker Europe in Berlin, Germany.
"I'm feeling good," Pescatori told PokerNews. "I lost a big hand against Stephen Chidwick, but I guess I owe him one since he's the one that I beat heads up for the last bracelet.
"You can't play perfect for the whole three days, so hopefully that's the one mistake I make."
In winner interviews at the 2015 WSOP in Las Vegas, Pescatori attributed a lot of his success to simply playing more cards, having filled his time between summers at the poker table rather than on vacation.
Although he hasn't been able to keep as busy between the end of the 2015 WSOP and the start of the 10-bracelet schedule in Berlin, he said gearing up to fight for World Series of Poker gold again is always easy.
"I didn't play as much, mainly because I was unlucky," he said. "In one place I had cold and another I had a fever. Both times that I wanted to play I was sick. And then there was the fact that I won this summer gave me less desire to play.
"When you win two bracelets in a summer and you go to a smaller tournament, it's like going from Champions League to Community Shield. But of course, coming here I was really pumped to play. They had a WSOP Circuit in Italy. I only played two events, I went there to hang out, but I didn't really feel like competing because I was waiting for this."
Despite his massive summer, Pescatori currently sits outside the top 20 in the GPI WSOP Player of the Year race. Even a win here in Berlin giving him a third bracelet on the year would just barely put him in the top ten.
A pill he finds a little hard to swallow.
"It's absolutely a bad system," he said. "The concept of GPI is awesome, but it doesn't work for the World Series. If I win this event I would be in like seventh place. I would have three bracelets, another final table, and eight cashes. There's something faulty with that.
"Right now I'm 23rd. There is a guy he's 12th, he has ten cashes, but his best position is 36th and he's ahead of me? It would be nice to win it just to make a little fuss about it. The guys on top are OK, because they really had amazing summers, but there are a lot in between that really don't belong. I hope they will do something about it for next year."
POY races aside, Pescatori says he feels nothing but positive vibes when there's a WSOP bracelet on the line and hopes his good run continues here in Berlin as the bubble bursts and the final table is set in Event #1 Thursday.
"I play a cash game in Switzerland and I can't win," he laughed. "It is a game that is average to soft, but I cannot win. I cannot win a hand. There, I always make the wrong decision. If I make it, I lose. But at the World Series it's the opposite.
"It's still far away and my table is really tough. But surely it's nice to have a chance."
In fact, there's no other place he would rather be.
"I don't understand when players say they would rather win another tournament outside the World Series," Pescatori said. "Every victory is good, but it's a different story when you win at the World Series and I'm not just saying that because I have won here. It's a different kind of accomplishment. Bigger."
Be sure to stay tuned to PokerNews.com from now until Oct. 24 as we continue to provide coverage from the 2015 WSOP Europe.
Want to stay atop all the latest in the poker world? If so, make sure to get PokerNews updates on your social media outlets. Follow us on Twitter and find us on both Facebook and Google+!