WSOP November Niner Tom Cannuli Dreaming Big: "My Goal is the Poker Hall of Fame"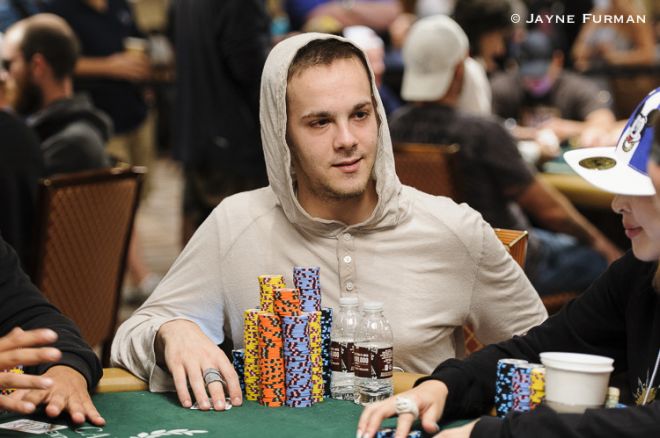 Universal truths can be tough to come by in this world, but few people would disagree with the idea that $7,680,021 is a massive, life-changing sum of money.
For 2015 World Series of Poker November Niner Tom Cannuli, though, it might just mean a nicer car and house, but the same day-to-day grind and life goals. If he ships that hefty sum for taking down the Main Event, it will only be the next step in his goal of being one of the greatest to ever grace the felt.
"If you're in it for the money, I respect that a ton," he said. "I'm here because I love poker. After I win the Main, my next goal is to get to the Poker Hall of Fame."
That hasn't always been the case for Cannuli, a 23-year-old pro who hails from New Jersey. He's been in the game a long time — grinding hours upon hours dating to the time he was 15 years old — but the idea of poker immortality wasn't something that drove him.
Reaching the highest level was always a stated goal, and Cannuli has every poker player's dream within reach if he can conquer just one table of eight opponents. Bagging 12.25 million in chips and heading home was a surreal feeling for Cannuli after he reached the final table, one he described as feeling like he was "in a fantasy land, blessed, a dream come true." At that point, he wasn't sure if he would continue to play if he reached the pinnacle, won the granddaddy of 'em all, and actually shipped the $7.7 million.
When he got home, he realized what his life's work would be.
"A lot of answers came to me," he said. "I realized that this is what I love to do and I'm not going to stop. I want to build my legacy through going to the WSOP and winning bracelets. Next year, I'm going to be there and hopefully when I'm 80 or 90 years old."
Cannuli's aforementioned stack of 12.25 million ranks just sixth of the nine remaining runners, a far cry from chip leader Joe McKeehen's monstrous 63.1 million. As such, Cannuli will has his work cut out for him if he's going to become the next world champion of poker, the first step in his goal of etching his name in poker history.
Preparation for Cannuli has been rigorous.
"I've been preparing every day since the Main," he said. "I've been playing almost every day. I realized I wasn't comfortable sitting around. I realized I had more work to do."
Since online poker is legal and regulated in his home state of New Jersey, Cannuli has been able to grind non-stop. He's been playing online tournaments almost every day and treating them as if they were the Main Event, regardless of how small the buy-in.
The online sessions also tie into another step in Cannuli's march to poker history: he struck up a sponsorship with 888poker. That's served to help promote Cannuli, far from an everyday name in the poker world — he had only about $50,000 in live cashes entering the Main Event.
"888 is a great company," Cannuli said. "It's the best poker site out there for beginners and advanced players. They're a really sturdy company and they've been around a long time. They have a lot to offer."
Many players seek out coaching in preparation for the November Nine, knowing that input from some of the greatest minds in poker can push their games forward, giving them that final edge and making them that much more difficult to prepare for. Cannuli would seem to be primed for such an opportunity, as his buzzed-about rail in the waning minutes of July included Antonio Esfandiari, Jeff Gross, Sorel Mizzi, and Brian Rast, some of the most recognizable faces in poker.
Surely he'll be seeking their help?
"Yes and no," Cannuli said. "I do plan on getting coached, but it's not going to be like a lot of these other players."
That's because although Cannuli values their input greatly — he singled out Gross as his single most important influence in the poker world — he trusts himself above all others.
"I truly want to play my game," he said. "I want to take advice, but not go with advice. They've helped me, but I'm not necessarily going with their game plan."
What will Cannuli's game plan be?
He didn't want to reveal much, but did admit that things will be changing. Like a veteran pitcher who adds a new offering to his repertoire in the offseason, Cannuli plans to ambush the opposition with a new approach.
In an interview with PokerNews the day after he bagged in July, Cannuli described the style that got him to the November Nine as avoiding exposing his stack in any one pot. Constantly controlling the size of the pot enabled him to stay away from situations where he was at risk of elimination, but that won't be a concern at the final table.
"I'll be more aggressive and a little more willing to go with my opinion on a hand," he said. "Now, since we're here, what means the most is winning the bracelet. I'm not playing to money up, I'm playing to win."
Finally, Cannuli must harness his emotions and use them to fuel him to higher levels of poker play. When he sits down in November to take on his eight remaining opponents, he'll be playing for more than just himself.
"Two of my closest buddies died," an emotional Cannuli recalled. "They used to come over when I would grind and just hang out and watch me. I'm not just doing this for me, I'm doing it for them."
Emotion can be a tricky thing in poker, something countless players have labored to minimize as they strive to become poker machines unaffected by the peaks and valleys that are inevitable parts of the game. Cannuli, though, says it will be his edge.
"I'll be the world champion because I have more heart than everyone else," he said. "I'm willing to do things other poker players aren't willing to do to win it."
Ultimately, it all comes down to this moment, the greatest opportunity Cannuli will ever have to answer the one question that drives him.
"In 200 years, what mark did Tom Cannuli leave on this world?"
Come the Main Event final table, Cannuli plans to shape the answer.
Below you can check out Cannuli's interview with PokerNews' Sarah Herring the day after he reached the final table:
Want to stay atop all the latest in the poker world? If so, make sure to get PokerNews updates on your social media outlets. Follow us on Twitter and find us on both Facebook and Google+!