Vincent Fiorenza: How a Father of Two Became the PPC Aruba World Champion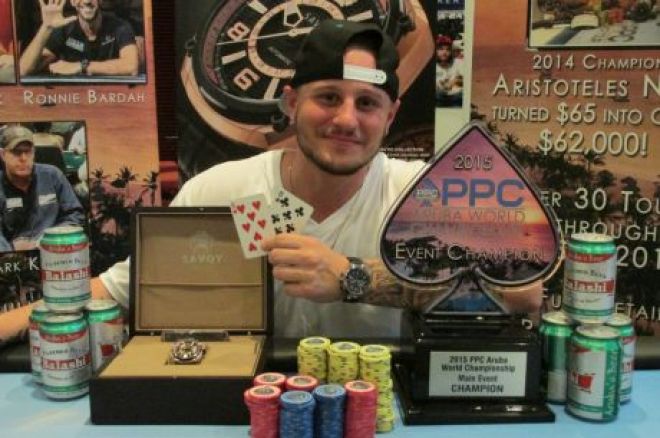 Earlier this month, 29-year-old Vincent Fiorenza topped a field of 274 entrants to win the 2015 PPC Aruba World Championship for $106,02. The $1,700 buy-in tournament, which wrapped up the tour's third season, attracted some big names including PPC Ambassadors Mark "P0ker H0" Kroon, Ronnie Bardah, and Joe Serock; but it was Fiorenza who etched his name in the history books.
"I've been pretty fortunate to jump on the tournament scene and do pretty well so far so it means a lot," Fiorenza told PPC officials after the win. "I've had lots of supporters. Aruba's great and my supporters were great here and it really means a lot to be the PPC Champion."
Fiorenza's latest win was just that latest accomplishment on an impressive poker résumé. In October 2014, Fiorenza had the biggest score of his career when he topped a field of 343 to win the Heartland Poker Tour Daytona Beach Main Event for $122,353.
"I told myself I would quit my job as a bar manager if I won to play poker full time, and that's exactly what I did that following February," Fiorenza told PokerNews. "As expected it's been a long and steady grind. I'm still learning how to manage a larger bankroll, one that is the biggest it's ever been."
Fiorenza has actually been playing poker since he was 17 years old. As he was coming up, he worked as a chef – something he'd done since the age of 15.
"I have always worked hard my whole life and always had a passion to make people smile through food I have prepared for them," Fiorenza explained. "My other passion is poker. It has always been a way for me to make some extra money on the side, and having a competitive background growing up in sports poker was kind of my outlet when I knew I wasn't going to pursue my dream of playing baseball professionally or even at a collegiate level for that matter."
Not only did poker fill a competitive void for Fiorenza, who has two children (Haleigh and Christian ages eight and six respectively), it also helped him when his father passed away when he was 20. Since then, he and his mother have often traveled to play poker together. In fact, it was her who won a satellite into the Aruba event, and Fiorenza simply tagged along and direct bought.
"If I could say one name that would sum up this whole tournament it would be Mark "P0ker H0" Kroon," Fiorenza said of the tournament. "I met him for the first time on Day 2. I sat at his table late in the night, bringing a lot of chips with me. His first words to me were 'man that's a lot of chips, I don't want to lose my chips to you.' I replied with something along the same lines because he actually had more chips than me at that point."
"He obviously didn't care about losing his chips to me because not too long after I sat down I played a hand a little weird when I flopped trip threes on a
board. He tried to bluff me and we bet every street. I ended up calling his river bluff of 200K. From that point I knew I had a great chance to make the final table."
Not only did he make the final table, Fiorenza finished as the last man standing for the second six-figure score of his career, money he plans to invest in the real estate market.
"I just recently bought a house to try and flip to make money on the side as I'm playing poker full time," said Fiorenza. "I've always worked hard and believe that you should always have more than one hustle.
I will be busy flipping my first house for the next month or two, but I will not miss the PCA. Went there this year and had a blast. Very tough tournament as the best in the world will be there, but the cash games are like no other out there. So that's where you can find me next!"
For more on Fiorenza's win, check out our recap of the 2015 PPC Aruba World Championship.
Want to stay atop all the latest in the poker world? If so, make sure to get PokerNews updates on your social media outlets. Follow us on Twitter and find us on both Facebook and Google+!